Responding to a recent post on the "soft" character of modern baseball, some have spoken out, pro and con, with reasons why the term "playing hard" is a subject for debate.
It didn't take long for Hal McCoy's new "At Large" page to get noticed with response relative to generational baseball, now and then.
If you didn't read, our June 12th post from Hal (Tired of Soft Baseball) detailed how the game of baseball at every level has been tweaked for safety reasons beyond the point of hard, competitive play – as the game was originally meant, according to McCoy.
And he should know. For 50 years and at least two full generations of baseball players and baseball fans Hal McCoy has observed, listened to, and chronicled the deeds of some of baseball's most illustrious talents.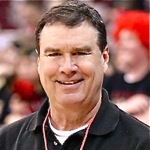 He's heard first-hand, from Willie Mays, Stan Musial, Bob Gibson, Pete Rose, Johnny Bench, and Tom Seaver, the insights of how the game is to be played at a hall-of-fame level.
His instinct for competitive and entertaining baseball is without reproach; his recognition of those who play at something less than the highest level…immediate and beyond question. Bottom line: People like Hal McCoy, Earl Lawson (Cincinnati Post), Greg Hoard (Cincinnati Enquirer), Furman Bisher (Atlanta Constitution), Jim Murray (LA Times) and Dick Young (New York Daily News), are the very best to have ever written about good baseball.
Their subjects for the past half century have made not only a living playing baseball, but a name for themselves among their peers for their commitment to a style of play that's distinguished many with a plaque in Cooperstown. I've been there, and confess…I've never heard someone describe an enshrinee as a good player, but one that tried to hurt people in the process. No, they just say, "He played hard."
So it's revealing this week to receive comments like the following, that without attaching names, say something about this generation, this culture, and the prospects for the future – the difference in playing, playing hard…and playing to win!
"Playing hard can mean running your fastest, throwing your hardest, hitting the ball out of the park, and being the best teammate you can be. It doesn't have to mean you try to break someone's leg."
"I'm turned off by the term 'head-hunting', or the fact of reckless play in any sport. I cannot see how sportsmanship and genuine respect for the game means that we've made it soft."
"We discourage 'bullying' in school, but apparently it's OK if it helps you win a baseball game."
But, there was also support for Hal's contention that generational attitudes about playing are still appreciated, and with those with something more in mind than winning a baseball game.
"I wonder if anyone who's ever been in the military and under fire really understands the value of playing to win. Unfortunately, we've lost that, too. We don't even fight wars to win anymore, even to preserve our way of life."
"The attitude of winning follows you through life, and playing hard to get the job and the life that you want. It's what sets the successful apart form those who just dream of success."
"Playing hard simply means you're there to win, whatever it takes. I don't hire those who believe in anything less."
The comments of those "at large". Keep reading!