Volume 8 of questions from Press Pros readers for Hal:  including conspiracy over Homer Bailey's arm surgery, do major league teams actually lose money if no one shows up for the games, and will there ever be another Big Red Machine in Cincinnati?
From Dave in M/B/C: Would you agree that Adam Duval has some work to do on his home-run trot around the bases?
DAVE: No, I wouldn't agree at all. Practice makes perfect and A.D. has done it 16 times for far this season. What do you want him to do, a flaps-down (left arm stiff at his side) trot like Jeffrey Leonard on the San Francisco Giants used to do, or the controversial bat flip like Jose Bautista before the trot or the Adam Rosales full-out sprint around the bases or maybe the Babe Ruth Waddle? How about the Jimmy Piersall run the bases backward? All the Reds care right no is that he hits home runs and he can crawl around the bases or do handstands over each base.
From Dominic in Middletown: First time writer Hal, and wondered if there's more to Homer Bailey's surgery than we're being told. Wasn't he supposed to be back in action by May?
DOMINIC: No conspiracy theories here. Tommy John surgery reacts differently to each and every pitcher, as it is with kinds of surgeries for people in all walks of life. The May date for Bailey was an optimistic view from the get-go. It usually takes at least a year or more to fully recover from Tommy John surgery. Bailey felt so good in the off-season that he was optimistic that he could toe the rubber quicker than most. As it turns out her was too aggressive and it bit him and the Reds. To me, the Reds should have been more cautious, especially in a rebuilding mode during which they won't be very good. As a result of the setback, the timetable ends up being even longer than at should have. No it is July – and keep your fingers crossed on that one.
From Joe B: I read your recent response to the question about the Reds and who they might draft. My question is about who takes the heat for missed first round picks of the past? What are the repercussions? And is the person who thought Ty Howington was a good idea still with the Reds?
Joe: Don't be so mean, my friend. The baseball draft is so unscientific, nothing more than a crap shoot. It is easy early in the draft, when you have a top five pick overall pick to take a Bryce Harper or Mike Trout or Stephen Strasburg. After that it is a blind folded roll of the dice, taking a hit on 16 against a 10 – just a pure gamble. That's why so many high draft picks fail and why so many lower draft picks unexpectedly turn into stars. As Roseanne Roseannadanna used to say, "Never mind." Pitcher Ty Howington was the Reds' No. 1 draft pick in 1999 when Jim Bowden was general manager. Howington was hurt throughout his career and never made it. Neither did Bowen. He was fired and most of his staff went out the door with him. So nobody responsible for Howington remains. But there are a few recent No. 1 picks who might be suspect and maybe with them you can play the Blame Game.
From Eric in Hilliard: I'm wondering how Fox Sports scored the deal to broadcast every major league team in every market. Or do they?
ERIC: Fox is as smart as a fox, but not THAT smart. They actually only have about a third of the 30 teams — Cincinnati Cleveland, Milwaukee, Arizona, San Diego to name a few. A FoxSportsOhio employee said he believed Fox owned the TV rights for nine teams. The biggest network is the YES network that telecasts the New York Yankees. Fox does own a piece of Yes. It just seems like every time you see a post-game interview on television there is a 'Fox' microphone stuck in a player's face.

From David Waller: Do the Reds actually lose money on years when they're bad and people don't buy tickets? And if they do wouldn't that be incentive enough to get their act together pretty quickly?
DAVID: I flunked Economics 101 at Kent State because I slept through most of the 8 a.m. classes, but I'm told that Major League baseball teams do NOT lose money. They are all money-makers to one extent or the other. And most of them don't care about attendance because that isn't where the money is. One executive told me a few years ago that baseball should just close up the stadiums, have no fans, and just televise games and they'd make money. That's where the money is. TV. If that TV money dries up, half the major league teams (or more) would dry up and blow away. And it is TV that enables teams to spend exorbitantly on marginal players. That's why bad teams could not care less about attendance and, I suspect, you are thinking about the Reds when you asked this.
From George Burich: I enjoyed your book and wondered if you would still enjoy traveling with the team if you had the opportunity?
GEORGE: I traveled with the Reds for 37 years. And for 37 years I covered nearly every game, home and away. Since I semi-retired the only thing I don't miss is the travel — and that is only because of the airport security lines, the cut down to bare bones airline schedules and getting up a 5 a.m. to catch a plane after getting to bed at 2 a.m. after a night game. What I do miss is seeing all the great stadiums and seeing all the great people I met all over the country as I traveled with the Reds. And, oh, I definitely miss all the great restaurants that the Dayton Daily News paid for through my expense account.
From Russ in Portsmouth: If small market teams have trouble keeping the talent they develop, do you think there's any chance that the Reds will again be as good as what they were during the Big Red Machine era?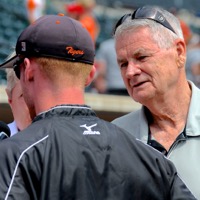 RUSS: The Big Red Machine? That will never happen again. Not here, not anywhere. Every player on The Great Eight of the BRM would be making $25 million or more a year on today's market and not even the New York Yankees or the Los Angele3s Dodgers can afford that. As for keeping talent these days, it is a vicious circle for small market teams. They can't buy big-ticket free agents and they can't trade for high-priced superstars. They have to develop their own talent, which they can do. But as soon one of their players bec0me good and become eligible for free agency they leave for the big money elsewhere and the small market team has to start all over developing more talent, usually for the rich teams. The only solution is a salary cap, a limit on each team as to how much they can spend on salaries. But it won't ever happen. The Players Union, stronger than the Teamsters ever was (and without the violence) won't ever permit it to happen.
From Jasper: Can teams trade draft picks like they do in the NFL to get more than one pick in the first round, or trade their first round pick to get additional picks later in the draft? And would there be any advantage?
JASPER: Just as there is no crying in baseball, there is also no trading of draft spots in baseball. A team can trade a player after he is drafted, but they can't trade players for draft picks. And they can't trade draft spots to move up higher in the draft. Against the rules. I know pro football and pro basketball do it, but not baseball. Why? I have no idea. Like the salary cap, it probably has something to do with the iron grip of the Players Association.