He took the Huntington Park mound Friday on a string of 102 straight innings without giving up an earned run, a state record. And a spunky Versailles team gave it an early scare, but Eric Mullet extended that string to 109 innings. 
COLUMBUS — Eric Mullet stands only 5-foot-8, in platform baseball spikes, but the Versailles baseball team realized beforehand that it had a tall order facing it.
Mullet pitches for Berlin Hiland and he came into Friday's Division III semifinal of the Ohio High School Athletic Association state tournament as an 'Untouchable.' Eliot Ness had nothing on Mullet.
He took the Huntington Park mound Friday on a string of 102 straight innings without giving up an earned run, a state record. And a spunky Versailles team gave it an early scare, but Mullet extended that string to 109 innings.
He shut Versailles down on a three-hit shutout, a 3-0 Hiland victory that once again stifled a Versailles effort at a state baseball championship, something that has eluded the Tigers since 1965, although they
have made it to the final four eight times and the final game four times.
It appeared early that Versailles may have its way with Mullet, a righthander with more moving parts to his wind-up and delivery than a Porsche Carrera. But those parts move together like a Ferrari.
With one out in the first inning, cousins Keaton McEldowney and Brett McEldowney hit back-to-back singles. But Mullet put the lid on, retiring the next two to keep the Tigers caged.
From there he gave up only one more hit and retired the last 13 in a row. His defense almost put him in trouble in the third. With two outs, Brett McEldowney singled, the third and final Versailles hit. Errors on the Hiland third baseman and shortstop on the next two plays filled the bases. But Cole Neikamp's bid for a hit up the middle was stopped and Hiland ended the final threat on a force at second.
Versailles pitcher Brett McEldowney pitched well enough to win on most days, giving up just four hits. Unfortunately for him, Heiland second baseman Tyson Gingerich was in the lineup and contributed a pair of doubles to drive in a run and catcher Bryan Yoder had a two-run single in the third. Its was McEldowney's first loss this season, coming in 10-and-0, while Mullet is 9-0.

Mullet, though, was just too much while zipping through the Versailles lineup with 104 pitches, 68 for strikes. During their 29-2 season, the Hawks have thrown 13 shutouts, but not all by Mullet. And Hiland, the state's No. 1 ranked Division III team, is running rampant through the tournament. They've posted shutouts in five of their six games and outscored the opposition, 35-1.
Versailles had a much more difficult time getting here, winning three of their previous four tournament games by one run, including two by 1-0.
"We knew playing the No. 1 team in the state (and Mullet) was going to be a tough challenge for us," said Versailles coach Ryan Schlater. "I'm proud of the guys, the resiliency we showed, the teams we beat to get here. I'm proud no matter the result today.
"We battled and got guys on base and just couldn't come up with the big hit today like they did," Schlater added. "That's how it goes."

The Tigers stranded six runners in the first three innings, but couldn't push any across and Schlater said, "We've been fortunate in the past to get a good at bat and a hit or a walk in those situations and get the runs in, but we just couldn't do it today, despite our chances."
And Mullet was a big factor in that.
"He really mixes up his pitches," said Schlater. "His fastball is not overpowering, 83 and 84 and sometimes touching 85, but he mixes in two different curveballs and kept us off-balance. When he is throwing like that it is hard to hit."
And when he is displaying a delivery like a three-piece suit, it makes it even more difficult.
"He has a long delivery," said Schlater. "I could see from where I was (first base dugout) how he threw it,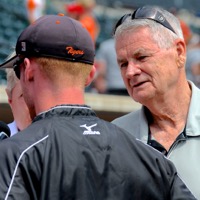 but he hid the ball well from our hitters. We hit him hard but just couldn't get the big hit."
So the Tigers go home with a 23-5 record, a memorable season that just fell two steps short.
Maybe they were confused by the Hiland Millers. There are six Millers on the 22-man roster, three in the starting lineup and they batted seventh, eighth and ninth — Kobe Miller, Derek Miller and Andy Miller. And the three on the bench were Cam Miller, Cordell Miller and Mike Miller.
The three Millers who played did no damage, 0 for 9. It was the Mullet kid who did the damage.