The Lehman Cavaliers finally ran out of answers, and pitching. After 23 wins, and three straight late inning post-season victories, the Cavaliers improbable season finally came to an end as Triad pounded out a run-rule decision in the regional finals.
Springfield – Dave King saw the writing on the wall before the first pitch was thrown Friday afternoon.
"Every time we get to this game, we run out of pitching," Lehman's veteran coach said an hour before his Cavaliers faced Triad with a trip to Columbus on the line. "Triad's good. They beat us up pretty good a couple of weeks ago in a game we added to the schedule. But it was cold and rainy that day. A better day today, maybe a better result."
Well, no.
Triad jumped on Cavalier starter Stephen Monnin for a pair of first-inning runs, added another in the second, and blew the game open with a 6-run fifth to clinch an 11-0 run-rule decision in five innings at Carlton Davidson Stadium.
It marks the fourth time in 6 years that the Cavaliers have advanced to the regional and come home without the big trophy, including three times in the final.
"Obviously, I can't win the big game," said King jokingly after it was over. "You know, this game is all about pitching, and we had only one experienced pitcher all year in Parker Riley. He had a great year and set the school record with 13 wins, but the rest of the time it was inning by inning. I'm really proud of what these guys accomplished."
This one was never in doubt. Dalton Holycross led off with a double against Stephen Monnin, and scored one out later when shortstop Dylan Arnold made a bad throw on a bouncer behind the second base bag. Another run scored when Briley Harlan beat out a slow roller with two out.
Triad scored again in the second. Holycross walked with two out and Shane Ford singled. The ball skipped past right-fielder Ian Smith allowing Holycross to score for a 3-0 lead.
That was more than enough for Cardinals right-hander Trent McIntyre, who held the Cavaliers to three hits over five innings. He walked two and struck-out four in pitching Triad to its first ever regional championship.
Lehman did have some opportunities, however. Parker Riley doubled with two out in the first, Ian Smith doubled with two out in the second, Dylan Arnold singled and took second on a throwing error with one out in the fourth. But in all three cases, McIntyre was up to the task and kept the Cavaliers off the scoreboard.
"The better team won today, obviously," King remarked after his team finished 23-5. "Stephen did his best, and we didn't help him with those two errors behind him. Parker (Riley) gave us everything he had, and Nate (Bosway) really wanted to pitch in the regional final. I thought we owed him that. He wasn't 100% but he felt fine and that was enough for me and his dad (pitching coach Bill). Plain and simple, we owed him that. So that's why we did it."
Bosway, who won nine games as a junior before having off-season surgery, was anything but sharp. In fact, he got just one batter out and was charged with 6 runs as Triad wrapped up the run-rule victory.
The Cardinals finished with 11 runs, 11 hits, 1 error and 6 runners left on. For Lehman, it was three hits, three errors, and 4 runners left on.
"It's hard to win this game," King went on. "Everything had to go right for us today, and obviously that didn't happen. In hindsight, we might have been better served if Tri-County North had beaten Triad yesterday. (The Cardinals won 2-1) They would not have known us and we would not have known them. As it was, because of that game two weeks ago, they were very confident and we could not get anything going."
"It's hard to win this game," King repeated. "I told the guys that when they reflect back, and you can't do it now, but after some time when you think back, we had a heckuva year. We went undefeated in our conference, we won sectional and district titles. And no one would have predicted that at the beginning of the season. There are a lot of teams that didn't play today that would have loved to have been here with our pitching concerns."
The Cavaliers lose 8 seniors, and King praised them for their contributions to the program
"Those guys did a great job leading this team. Four of them started, but the other four contributed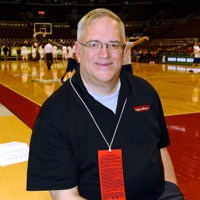 every day too. You have to have that to be successful, and we always seem to have a great senior class."
As for the Cardinals, now 25-7 and headed to their first state tournament, King looks for good things next weekend.
"They'll be very competitive over there. They hit the ball, they have pitching and they can go get it. They had a few cheapies today, but they hit some shots too. That's a very good team."
The better team, at least for today!