Pitching, defense, and baseball mashing were all on display at the D-III regional. Anna and Versailles survived, and will meet in what should be an epic final for a trip to Columbus.
Xenia – The two D-III Regional semifinals at the Athletes in Action Sports Complex could not have been more different.
Game one was, frankly, a mess at times. It took 2 hours and 40 minutes to play, and featured 18 runs, 19 hits, 7 errors, 19 runners left on base, and ten walks. No wait, the ten walks were in the second inning alone!
The second game was clean, pristine baseball: 1 run, 10 hits, one very questionable error, 9 runners left on in just over 90 minutes.
The results, however, were expected. Versailles 1, Cincinnati Hills Christian Academy 0 after Anna mauled Marion Pleasant 14-4 in the opener at Grady's Field. The results set up a rematch on an April; 23rd meeting won by the Rockets 5-1. This time it will be for the Regional championship and a trip to next week's final four in Columbus.
Things got off to a rough start for the Eagles when their bus got stuck in traffic on I-71 because of a fatal accident. The result was a first pitch 65 minutes later than scheduled.
The Tigers got the only run they needed in the bottom of the first. Kyle Subler singled, took second on a ground-out, and scored on a two-out single by Kurtis Rutschilling.
After that, CHCA starter Clay Brock lived on the edge, but kept his team in the game. The Tigers left the bases loaded in the second, stranded a man at third in the third, left a runner at third in the fourth, and another runner on third in the 6th.

Fortunately for Versailles, Brett McEldowney was on the mound, and when the senior right-hander pitches, not much support is needed. He retired the first 11 batters he faced and finished with a three hitter, walking no one and striking out five on just 77 pitches in winning his 10th decision without defeat.
"Everything was going today, working," agreed McEldowney. "I have a lot of confidence in my team behind me, and they made plays all over the field today. I know I don't have to strike everybody out because my teammates will run everything down."
McEldowney's only real moment of stress came in the 6th. Griffen Hughes, hitting in the nine spot for the Eagles, crushed a drive to right-center field that had triple written all over it. Though he didn't catch the ball, Tigers right-fielder Jacob Watren got a great jump on the ball and ran it down near the fence. He made an on-target relay to second baseman Rutschilling, who then threw to third baseman Cole Niekamp. Niekamp slapped the tag down as Hughes arrived in a cloud of dust. OUT!
"I don't even think it was a bad pitch," remembered McEldowney. "It was down around the knees and he just went down and got it. Jacob ran it down and made a heckuva play."
"That was a game-changer," said Versailles head coach Kyle Schlater. "We have some speed in the outfield and Watren did a great job getting to the ball. We had to have two perfect throws, and that's what we got. And Cole made a great tag. Definitely turned the game in our favor."
"Brett pitched a great game," Schlater said of his senior right-hander. "He had a little trouble early adjusting to the mound here, but settled down and pitched a great game, which we needed.
"We left too many runs out there in scoring position, and we have to fix that tomorrow, against an explosive team like Anna. You know they are going to hit the ball and we are going to have to score some runs."
Versailles had 1 run, 7 hits, 1 error and 6 runners left on. The Eagles finished with three hits and three runners stranded.
Friday's championship game will be a rematch of an April 23rd game at Anna won by the Rockets 5-1.  That was the Tigers third straight loss after a 9-0 start; they are 12-1 since.
In the opener, Anna took advantage of, well, everything in advancing to the regional final after semifinal losses the last two years.
"We have been hitting the ball all year," said Rockets coach Kristian Althauser after his team improved to 25-3. "Luthman and Albers have 15 homers between them, Aidan Ensley and Kyle Wuebker have driven the ball up the middle, we have just had a lot of well-placed hitting all season from a lot of guys."
After spotting Pleasant a first inning run, Anna scored 6 times in the second on just 2 hits. Spartan pitchers walked 7 batters in the inning, including four straight with the bases loaded. The Rockets also scored twice on an infield hit in the inning.
The thunder came later, and thankfully it had nothing to do with the weather. With two out in the fourth, Aidan Ensley singled, Nathan Frilling walked, and Kain Luthman hit a majestic three run homer, his 7th of the year, to make it 9-3. The Rockets added another run in the inning on back to back errors.
Luke Albers hit his 7th homer in the fifth for the Rockets, and Luthman made it a two homer afternoon with a solo blast in the 6th.

Anna starter Alex Bergman had trouble adjusting to a tight strike zone by the home plate umpire and was pulled after an inning and a third. Left-hander Joey Cummings threw 3 2/3 innings to get the win, and Drew Boyd finished up with two innings.
"It was a tough matchup for Alex today, because he lives on the outside corner, or the inside corner or the low pitch, and he wasn't getting that call today," Althauser explained. "We decided early if he was going to struggle and throw a lot of pitches, let's just get him out and save him for tomorrow.
"Cummings has been our closer all year. He has 7 saves, so it wasn't anything new for him to come in and relieve Alex. He did a great job today."
Althauser said the win was a big one for the program, but the Rockets aren't ready to stop here.
"We have been here three years in a row, and we finally get to play for the title, so it is a big win. But we aren't satisfied, we want to go further than Anna team has since 1980, when the program won a state title. The kids want it, and we just hope to play well tomorrow and let the chips fall where they may."
Anna had 14 runs, 11 hits, 2 errors, and stranded 8. Pleasant had 4 runs, 8 hits, five errors, and left 11, including the bases loaded in both the second and third innings.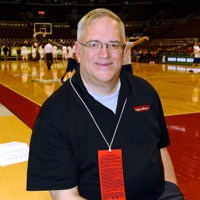 While the Rockets will have their ace ready to go, the Tigers will turn to Cole Niekamp, who is 5-1 with a 2.12 earned run average.
"We'll give the ball to Cole tomorrow," Schlater acknowledged. "He pitched us to a 1-0 win over Arcanum his last time out in the sectional finals. We have all the confidence in the world in him."
Anna has not been to the state tournament since 1980, while the Tigers haven't been to the final four since a runner-up finish in 2000. One team will end their tournament drought tomorrow, with game time at 5pm.
It should be epic!