Junior Ronnie Dawson rose to the occasion Saturday at Siebert Field providing the big blows, but everything that has sustained OSU down the stretch was more than evident, especially that band from the bullpen.
MINNEAPOLIS — It was all there Saturday afternoon; everything that's marked Ohio State's run through the last month of the season: clutch hitting, gutty pitching out of the bullpen and some dazzling defensive play.
Once more, that combination led to a 6-5, 10-innning win over 24th-ranked Minnesota, the Buckeyes fourth straight series win over a Big Ten team, and sixth win over a ranked opponent. It's a stretch run that has earned them the fourth seed in next week's conference tournament and another meeting with Michigan, a team they swept last week at Bill Davis Stadium.
"That was a really, really good baseball game," OSU coach Greg Beals said. "Now that it's over I can say it was enjoyable. What I liked about it was the way our guys competed and fought.
"We took a lead (2-0); then fell behind 4-2. But, we kept on playing, kept fighting. Our guys didn't back down. We scored in five of the next seven innings to comeback and put ourselves in a position to win the ballgame…Our pitching staff and our defense was excellent. We only gave them one walk and a wild pitch. That team is good enough you can't give them anything. You do, and they only get tougher. We didn't do that today. We went after it."
Ronnie Dawson led the pursuit. Down 5-4 entering the eighth, Dawson led off with his 11th home run of the season, a shot to right-center to keep OSU in the game.
With Seth Kinker, Mike Horejsei and Ryan Feltner doing the chores out of the bullpen to that point, the game went to the 10th knotted-up, 5-5.

Dawson came to the plate with one out facing Minnesota's fourth pitcher in the game. On an 0-and-2 pitch from Brian Glowicki, the junior left-fielder hammered his 12th home run of the season to straight-away center.
"Ronnie's performance today says a lot about his maturation process," Beals said. "He grounded into a double play his first two times at-bat. There was a time in his career here when the young man would not have responded like he did after two at-bats like that. He would have gone inside himself. Today, he kept working, kept looking for his pitch."
"I was pressing all weekend," Dawson said. "I wanted to show-up every at bat. Well, it wasn't working. I went to the coaches before today's game and told 'em what was going on in my head. They just said, "Slow down, man, just slow down' That's what I was doing late in the game, and it worked out."
Things have worked out for this team, all around, and there's a sense about the Bucks right now that they are about to make some serious noise. They are riding a wave of confidence and momentum. After the Buckeyes swept Michigan, knocking the Wolverines out of the Top-25, Beals said: "We are not done. We are not done, yet."
"We're excited," Dawson said. "We want to win the Big Ten Tournament. That starts with Michigan, and–with what happened last week, the rivalry and all that–they are gonna come after us, but we will be ready."
If there is a quality that stands out about this team, it is its tenacity. It was there again Saturday, as it has been since May 1st when the Buckeyes completed the sweep against Purdue at West Lafayette.
With starter Adam Niemeyer forced to rely on his off-speed stuff due to the number of left-handed hitters in the line-up and their success against fastball pitchers, Ohio State jumped to a 2-0 lead in the the second manufacturing both runs on three hits and an error.
Niemeyer held the Golden Gophers scoreless until the fourth when he ran into trouble. He allowed four hits, including a two-run triple by Dan Motl, walked a man and threw a costly wild pitch. It added up to a four-run inning.
Down 4-2, OSU scratched out a run in the fifth on Tre' Gantt's double, a right-side ground out and Craig Nennig's sacrifice bunt.
Niemeyer gave up another run in the fifth and left the game having given up five runs on 10 hits in 4.2. Seth Kinker followed to close out the fifth. He kept the Gophers in check through the sixth, and by that time OSU had pulled within one run on Troy Kuhn's double and a right-side single by Troy Montgomery.
The seventh was a thing of beauty. Matt Fiedler reached Kinker for a leadoff double to left-center. But Austin Athmann followed with a slow grounder to Nennig at short. He made a heads-up play, throwing to Nick Sergakis for the out at third.
Horejsei came on and closed the inning on a double-play ground ball. "Holding them right there, that was a big time sequence," Beals said.
Horejsei took it to the ninth, when Ryan Feltner took over. With the game tied 5-5 on Dawson's first homer, Feltner went after Minnesota hard.
With a man on second and two outs, Feltner faced the Gopher's clean-up man, Austin Athmann.
"The thing I liked about our bullpen was the freshman, Ryan Feltner, coming in there and just taking care of business," Beals said. "He strikes out there clean-up hitter to end the ninth and he does it with a 96 mile-per-hour fastball. That pitch had some real hair on it."
With Dawson providing the go ahead run, Yianni Pavlopolous pitched a 1-2-3 10th.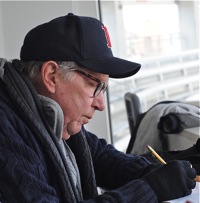 "I love our bullpen," Dawson said, laughing. "Those boys, they got some nasty in 'em. That's what I like to say, some real nasty…Tell ya what, I wouldn't want to face 'em."
Kinker described the recent performance by the bullpen and the Buckeyes succinctly: "We definitely get down and dirty when it needs to happen."