With working capital in hand the Buckeyes are off to Minnesota this weekend to improve their portfolio.  Some notes on their remarkable run currently, and the people who have helped them do it.
COLUMBUS — Jalen Washington has probably not received enough recognition for his contributions to the Ohio State baseball team this season, but that makes little difference to the starting catcher and junior co-captain.
He's remarkably reserved for a young man, and has no more interest in personal headlines than the latest escapades of the Kardashians.
But during OSU's stretch run to the Big Ten Conference Tournament—8-1 in the last three series—Washington has played a pivotal role. He not only handled a pitching staff that is the backbone of the team and No. 1 staff in the Big Ten at 2.48, his bat has started to sing.
In the last nine conference games—Purdue, Iowa and Michigan—Washington hit .290 (9-for-31), driven in 10 runs and homered twice.
In Sunday's 8-3 win over 19th ranked Michigan, Washington was 1-for-4 with his second homer in three games, a two-run shot, and a stolen base, prompting high praise from OSU coach Greg Beals.
"How about a kid who catches 27 innings, hits an opposite field home run and steals third in the eighth inning of the third game in a series," Beals said. "Pretty damned good athlete."
Sturdy, too. Washington has caught in 53 of OSU's 56 games, and has quietly put together a nice season. He's third on the team in RBI with 31 behind Nick Sergakis (44) and Ronnie Dawson (39). His 14 stolen bases is third behind Troy Montgomery (18) and Dawson (16).
"He's not the typical catcher," Montgomery said, recently. "He's a guy can steal a base a score from first on a single…This team wouldn't be where it is without 'Wash'.
————–
Washington got the night off Tuesday in the Buck's 2-0 win over Eastern Michigan, a game that followed a familiar script.
The Bucks picked up both runs in the first inning. Nick Sergakis started things with a base hit, stole second and went to third o a passed ball. Craig Nenning brought him home with ground out. Dawson followed with a base hit, stole second and eventually scored on Montgomery's infield hit.
The pitching staff took it from there allowing EMU a total of three hits.
Lefty Daulton Mosbarger worked four innings allowing two hits, while Austin Woodby, Kyle Michalik, Ryan Feltner, Seth Kinker and Yianni Pavlopolous each pitched an inning. Pavlopolous earned his 12th save.
Ohio State finished the home schedule 23-4, and heads to Minnesota for the final series of the season (Thursday, Friday and Saturday) tied for third in the Big Ten with Nebraska at 13-8.
————–
This is curious. While OSU knocked off 17th ranked Florida Atlantic and swept No. 19 Michigan, the Buckeyes did not make their way into the top-25.
FAU dropped to 25th and Michigan fell from rankings.
"I've paid less attention to rankings and standings this year than ever before," Beals said. "That's because of our focus and approach. I know, it sounds old—cliché—but we really have, and are, looking at this one game at a time. I've said it all season: we can't do anything about what's past or what's ahead. The only thing we can control is the now."
—————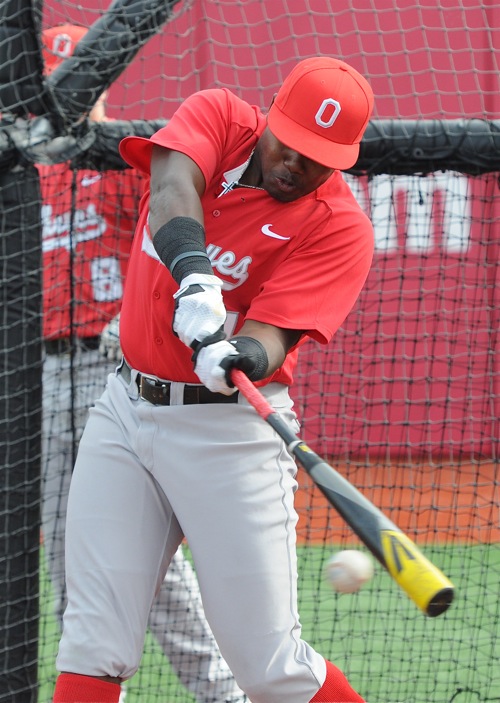 Becoming a big time ballplayer is no different than becoming a man. Every day brings another test – another mystery and answers don't always come easily.
Earlier this season Dawson was scuffling at the plate. He was hitting, but not as well as he wanted to with runners on base. He was troubled; couldn't figure it out. Finally, one day he sat down with the coaches to talk about it.
"I said, 'I don't get it. I hit a lot better when there is no one on base. It doesn't make sense.'" Dawson recalled. "We talked it over and I didn't get better right away. I was hitting the ball hard but with no results.
"Then, one day, I realized what was going on. I was trying to live-up to the expectations, you know, the reputation. I was forcing things, a little anxious up there. It sounds funny but I was trying to live up to Ronnie Dawson.
"Once I relax," he continued, "that's when I am Ronnie Dawson, and you know what? It feels good. Man, does it feel good."
In the six games against Iowa and Michigan, Dawson was 6-for-20 (.300) with six RBI and his 10th home run of the season.
 —————
Sophomore reliever Seth Kinker was the 2014 West Virginia Gatorade Player of the Year at Cabell-Midland High School in Huntington, West Virginia, and a two-time All-State selection. Yet, he wasn't heavily recruited.
The fact that he was a three-time All-State selection in golf might have had something to do with it, but Ohio State slipped in and snatched him up.
He contributed as a freshman, but didn't play a large role in a bullpen that suffered its share of problems.
This year, the right-hander is one of the main cogs in a bullpen that has served as the Buckeyes' trump card all season. Kinker is often one of the first out of the bullpen working the sixth or seventh, setting the stage for lefty Mike Horejsei and closer Yianni Pavlopolous.
He leads the staff with a 5-1 record and a 1.45 ERA. Kinker has allowed sic earned runs in 37.1 innings and has strike outs-to-walks ratio is impeccable: 33-to-5.
"Seth is a very confident kid," Beals said. "He knows what he is and he doesn't stray from it…He is going to sink his fastball in to right-handers and run his slider away, and he's coming at you with that side-arm motion that adds an element of deception."
That "element of deception" was what attracted Beals and his staff to Kinker as a recruit.
"You are always looking for that something, that difference," Beals said, "the piece that completes the whole. He had that and that competitive spirit we look for in all our players. That's very important to what we do here."