Ranked 19th in the country, Michigan came to Bill Davis Stadium with a little swagger. But for a second straight game Ohio State was the better team. 
COLUMBUS — All season long, Greg Beals has been steadfast about one thing. When the team was going well, he stuck with his belief. When things went badly, Ohio State's coach didn't abandon his mantra.
"How many times," he said Saturday afternoon, "have we sat here and I've said: 'I don't think we have reached our potential.' Or, 'I don't think we are clicking on all cylinders—not yet.' How many times?"
The answer is: countless.
The fact is: they are real close, and if they haven't the Ohio State baseball team may turn out to be the shocker of the Big Ten Tournament two weeks from now in Omaha.
The latest evidence: a second straight win over 19th ranked Michigan.
Saturday afternoon, the Buckeyes clipped their archrival, 7-3, and made them look bad in the process. This came on the heels of a hard-fought 3-2 win over the Wolverines Friday night, and followed a 10-2 win over 17th ranked Florida Atlantic Wednesday night.
And, should one need further substantiation, there was last weekend's showing against Iowa, when the Buckeyes took 2-of-3, and in noteworthy fashion. The won the first game, 6-0, with flawless play, dropped the second, 12-0, playing as poorly as they have all season, and came back on Sunday, taking a 3-0 lead in the first and—on the strength of impressive pitching—rode that lead to the wire.
They have won five of their last six and done so in the heat of the conference race to the tournament.
"I think," said junior Ronnie Dawson, "that we are coming together, and we are doing it at the right time. It's just like in the majors—anywhere else—it's who gets hot at the right time. That's who usually gets it done."
Dawson did his share of dismantling Michigan Saturday. He tripled, homered—his 10th of the season—scored three runs and drove in two more.
"I think with the numbers and everything, the ranking, they might have come in taking us for granted a little bit," he said. "But today you could kinda see it. It was a different story."
Indeed, it was.
Michigan jumped on starter John Havird for a 2-0 lead in the first on the strength of Carmen Benedetti's two-run homer.
But Havird, the loose, lanky lefthander who's always smiling except when he's on the mound, settled in at that point and pitched six straight scoreless innings. The senior lefty worked backwards and forwards—mixing his off-speed stuff with a fastball that, on this day, had an uncharacteristic amount of movement.
"I don't think my fastball has ever moved as much as it did today," he said.
After Benedetti's home run, Havird retired 15 of 17 hitters, and by that time—through five innings—OSU had built a 6-2 lead that was never challenged.
Things became interesting in the first. With two outs and two on. Troy Montgomery hit a scorching liner back to the mound that caught starter Oliver Jaskie on the shoulder. The ball bounced off Jaskie and Montgomery was safe at first.
At that point, Michigan coach Erik Bakich came out of the dugout shouting and pointing at the OSU dugout. He was hot.
"Our guys probably responded a little too much after the ball hit (Jaskie)," Beals said. "He (Bakich) was telling our guys to shut-up. That it was 'bush'. But I think our guys reacted after they saw Jaskie was okay and could go on."
Beals came onto the field, approached plate umpire Mark Winters and said, "I'll take care of my guys. He doesn't need to be talking to my dugout."
Both benches were warned. It was a tempest in a teapot. It was Ohio State and Michigan. Play resumed, but it was clear Michigan was not comfortable with the turn of events, and events continued to turn against them.
In the second, OSU cut Michigan's lead to one on a two out double by Tre' Gantt to the base of the wall in center, and a soft single by senior captain Nick Sergakis, who's hitting .372 and setting the pace from the lead-off spot.
The Buckeyes picked up two more in the third when a nightmare of day began for Michigan second baseman Ako Thomas, a freshman, who committed three of the Wolverines four errors.
Dawson led off the inning with a routine ground ball to Thomas. He lobbed the throw to first. It was well-off target. Troy Kuhn doubled, sending Dawson to third. Montgomery followed with a grounder to second and Thomas muffed that one; two runs score and it's 3-2 Ohio State.
Jaskie's day ended after the Bucks' two-out rally in the fourth: Craig Nennig singled and came around on Dawson's triple. Thomas took Jonathan Englemann's throw from right, but launched it over Jake Bivens at third.
"Ronnie never quit playing," Beals said. "He never slowed down, He just kept running."
Dawson was safe at home on a head first slide. Jaskie, who entered the game with a 3.13 ERA and a 7-2 record, was lifted after he walked the next two hitters. Keith Lehman walked Jalen Washington to load the bases, but struck out freshman Brady Cherry, escaping further damage.
Havird handed the game to the bullpen in the eighth with 6-2 lead. Mike Horejsei yielded a two-out homer to Drew Lugbauer, bringing right-hander Seth Kinker to the mound.
The sophomore took it home, earning his first save of the season.
"I'm confident with any of those guys (relievers Horejsei, Kinker or Yianni Pavlopolous) out there at the end of the game in the right situation," Beals said. "I believe in all those guys."
Dawson's 10th of the season—a no-doubter to right—closed the scoring.
"It's funny," Havird said, smiling, "Friday night those guys (the Michigan players) were pretty chirpy. Not so much today."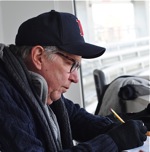 Taking the first two games decreases the pressure Ohio State faced entering this series, and—admittedly—gives them a bit of a comfort zone entering Sunday's finale. But they weren't thinking about what had been done. They were more interested in what could be achieved.
"That's Michigan over there," Beals said. "That's their arch rival. You have to know what these games mean. I've been on the sideline during football games with Michigan. Those guys are fighting before the game begins. Every guy in (our) locker room wants a sweep tomorrow. Are you kidding me?"