There were multiple standouts in Ohio State's series opening win against Michigan, but Troy Montgomery's ninth inning catch sealed a gutty show by the Buckeyes.
COLUMBUS — When the ball was struck, OSU coach Greg Beals had one thought: "Stay up. Stay up!"
Starting pitcher Tanner Tully, who had given Ohio State eight stellar innings, allowing Michigan one run on five hits, held his breath. "Yep," he said. "Couldn't help it."
No one wearing OSU colors could. It was top of the ninth, Ohio State leading Michigan, 3-2. There were two out and two on; Bucks closer Yianni Pavlopolous on the mound.
Dominic Jamett hit a shot to center, an old-fashioned "humpback" liner. OSU center Troy Montgomery closed on the ball, while Michigan's base runners broke from first and second. One run would tie the game; a second would establish the lead and a drastic momentum shift that could very well have affected—not only Friday night's game—but, quite possibly, the entire weekend series.
Montgomery charged the ball, slid on his left leg and made the catch inches above the turf. Ohio State had won the first game of an essential three-game Big Ten series with 19th ranked Michigan, 3-2.
It was their second win over a nationally ranked team in three days. Wednesday night, they clobbered 16th-ranked Florida Atlantic, 10-2.
As Montgomery popped from the turf at Bill Davis Stadium, his teammates could breath again, and think, and the thoughts ran from one event to another in this hard-fought, hard-won contest.
"I didn't know at first," said senior captain Nick Sergakis, whose two-run single in the third gave Ohio State a 3-1 lead. "But Troy has made one big play after another for us out there, and this was another one. It was good to see, too, because he has been struggling at the plate, and you can tell it's getting to him. But that happens. It happens to all of us. He'll come out of it (the slump). I'm certain of that. Maybe this will help. He has the best, the most complete swing of anybody on the team. Everybody knows that."
Montgomery, who drew an 0-for-4 Friday night, his average dropping to .253, chose not to speak with reporters. But others did his talking for him—even the stoic Tully, who struck out eight and retired 16 in a row after allowing Michigan a run in the second.
"I wasn't surprised," he said. "He does that kinda thing all the time."
Beals was more effusive.
"I've got one of the best center fielders in the country," he said. "If that ball stays up just a little, he's gonna make that play…Big time play. This time of year with the competition we are playing, we need our best players to make big plays. Montgomery—give him credit, getting beat at the plate a little bit right now—makes a big time play, makes the difference in tonight's ballgame."
"It was definitely a big out," Tully said. "Definitely helps our momentum going into the rest of the weekend."
"I knew (Jamett) hit it pretty good," said junior captain Jalen Washington, whose second home run of the season tied the game, 1-1, in the fifth. "But I also noticed it was hanging up…Troy's been making great plays all year. Anytime the ball is hit out there I have every confidence he is going to make the play…I held my breath a little bit, but when I saw that little bit of back-spin; that it was gonna stay up, I knew he had it."
Getting to that point in the game was not nearly as dramatic, but it was Ohio State near its 2016 best–except for a flurry of baselining problems in the third: Tre' Gantt out at the plate, trying to score from third on a wild pitch, and Sergakis picked-off at third, 2-1-5.
Michigan took the 1-0 lead in the second, when Tully allowed three of the five hits he allowed in his eight innings of work. With one out, Jon Engleman doubled to right center. He took third on a deep fly ball and scored when Tully threw a wild pitch. The inning could have worsened.
Tully was touched for two two-out singles, but got out of the inning on a soft liner to Sergakis at third.
From that point on, he retired 16 straight Wolverines, who start five players hitting better than .310.
"(Tully) threw a bunch of strikes (70 of his 99 pitches)," Beals said. "He hit with his curveball; his change-up. He mixed 'em both in…We recruited Tanner Tully as a competitor. The number one trait was how he competed. We nailed it on that one."

OSU took the lead in the fifth. Washington led-off with a home run to left and Brady Cherry, back in the starting lineup at DH, doubled to left center. Tre' Gantt drew a walk and Sergakis came through with a line single to center.
Those were the only dents in Michigan starter Brett Adcock, who mixed a serious breaking ball with his fastball.
"Whew," Beals said. "He's a pitcher. He's got some serious tilt on that breaking ball."
At times, Adcock made OSU hitters look pretty bad, but they reached him just enough.
Beals opened the ninth with lefty Michael Horejsei, who struck out the only hitter he faced. Then, it was Pavlopolous, who immediately gave up a double off the right field wall by Cody Bruder.
The righty closer got clean-up hitter Harrison Wenson on a called third strike. Then came a single by Drew Lugbauer and a walk to Engelman.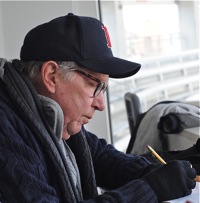 Jamett was the next hitter and Montgomery made the play.
"It wasn't crisp and clean there at the end," Beals said, referring to his bullpen's work. "But it came together—thanks to Troy."
Friday night's game was the first of three Beals predicted would be a "heavyweight fight."
"I told the guys, 'Be ready to play with a bloody lip 'cause you are gonna get hit,'" Beals said. "We just got to keep pitching and playing."