In a critical conference game and on Mother's Day, OSU gets one gem after another to claim Sunday's game and a series that may go a long way in terms of defining the season.
COLUMBUS — On Friday night, Ohio State played great baseball against Iowa, dropping the Hawkeyes, 6-0. It was, in the words of Seth Kinker, "almost pretty to watch." Afterward, they spoke of hitting their stride, finally settling in.
The following day, they stunk; couldn't do anything right. They were held to two hits and lost, 12-0.
But on Mother's Day—in a game that in all probability meant a spot in the Big Ten Tournament—their performance would have made any mother, brother–even a shirttail cousin–more than proud.
They took a 3-0 lead in the first and hung on to it like the last bone in the bowl. They did it with good, solid, down-in-the-zone pitching and a defense that answered any and every demand, turning a season high four double plays. Even missed plays led to  outs, or played a significant role in the game. It was as far removed from Saturday's showing as chess is from checkers.
"Big game," OSU coach Greg Beals said. "Big, big game…Our guys met the challenge today."
It was, indeed, a critical game.
OSU was 9-8 in the Big Ten, holding a slim hold on seventh place. Iowa was on their heels, right behind them at 8-9. Eight teams advance to the conference tournament, and an Iowa win in the rubber game would have given the Hawkeyes a share of seventh place and the first tiebreaker, head-to-head competition.
There was a lot on the line, and as much as Beals dislikes the term "must win," this was, admittedly, a contest that consumed his thoughts.
"When I got out of bed this morning, I was locked-in on this game," Beals said. "Shower. Go. I back my car out of the driveway and get down the street and I think, 'Oh, crap.' Pull back in the garage, run in the house, give my wife a hug and kiss. Tell her happy Mother's Day. I almost missed it. If that gives you any idea how I was locked in—yeah."
So, too, was the team.
With Adam Niemeyer, the usual Sunday starter on the mend with a strained hamstring, the start fell to freshman Ryan Feltner. He was, he said, "a little jumpy, mostly excited" in the first. He allowed a lead off single and with one out, walked a hitter.Daniel Aaron Moriel followed with a single to right, loading the bases.
Despite 32 pitches in the first, Feltner, as did all those that followed him—Kinker, Michael Horejsei and Yanni Pavlopoulos—kept the ball down in the strike zone and pitched to contact. It resulted in 15 ground-ball outs and, in this case, the first of those four double plays, ending the inning.
"That was huge," Beals said. "That double play in the first set the tone for the entire game."
"Those double plays," Ronnie Dawson said, "momentum killers…I was on first. Their first baseman, good player (Tyler Peyton) says, 'How many double plays you gonna turn?' That told me."
Ohio State jumped on Iowa starter Rick Gallagher in the first. Troy Montgomery and Craig Nennig drew back-to-back walks and Dawson followed with a dart down the third base line for a double, scoring two.
"I wasn't getting anything to hit early in the series," Dawson said. "That was a fastball low and away, and I just stayed on it."
It was a splendid piece of hitting; another display of how far the junior left fielder has come in three years at OSU.
Two outs later, Tre' Gantt, who entered the game hitting .207, singled up the middle scoring Dawson, and that was that. The rest of the game belonged to the pitchers and the defense.
Iowa got the leadoff runner aboard in four innings and failed to score, each potential threat spoiled by double plays; Nennig, at short, and second baseman L Grant Davis working together like the Righteous Brothers, fluidly, efficiently–in complete harmony. On the day, OSU forced Iowa to strand 11 runners on base.
"When you have that kind of defense behind you," said Kinker, "it just adds to your confidence and, obviously, it makes your job a whole lot easier."
Kinker worked 1.2 innings, picking up his fifth win against one loss, and benefited from two double plays, one of those a solo number by Nennig, fielding the ball, tagging second and throwing to first.
With two outs and two on in the sixth, Beals went to his best lefty in the bullpen. Horejsei got a ground out to close the inning, and pitched a scoreless seventh and eighth, coming off the mound to get the final out in the inning on a short ground ball with a man on first.
Pavlopoulos took the mound for the ninth, and made short work of the Hawkeyes, striking out two and earning his 10th save of the season.
"We knew we had to play today," Dawson said, "and we did, everybody!"
Even when things didn't go right, they turned out right.
In the sixth with two out and a man on first, Iowa's Austin Guzzo slashed a liner down the third base line. It appeared to be destined for the left field corner and extra bases. But, third baseman Troy Kuhn, who robbed Moriel of line drive hit in the 5-6 gap in the fourth, was able to knock it down. It probably saved a run. It definitely held the runner at second.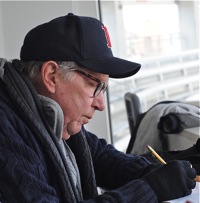 The following inning with one out and a runner on first, Peyton dropped a single in front of Dawson in short left. He played it on a hop, but muffed it. Still, he kept the ball in front of him, picked it up and threw a perfect peg to Kuhn at third for the putout. "I wish I could say it was on purpose," he said. "I just rushed it, but I kept on playing."
It was that kind of day.
"This was just a weird weekend, the way things went Friday and then Saturday," Kinker said. "But down in the bullpen we talk about it all the time…Get us three or four runs and we got a great chance to win the ballgame.
"Today was not a great win, but it was a good win and it was a good series win…This was a series we had to win. There were a lot of bright, huge moments in this game…the kind that can really build momentum."