What goes around, comes around. On Friday night, OSU played peerless baseball grounding the Hawkeyes. But the tables turned Saturday, and it was not a pretty sight–in any respect.
COLUMBUS—Less than 24 hours after playing spotless baseball, beating Iowa, 6-0, and dominating every aspect of the game, Ohio State found the shoe squarely on the other foot.
On Saturday, the Hawkeyes handed OSU a humbling loss. Iowa cranked out a 12-0 shutout, putting 19 hits on the board, and starter Tyler Peyton, who entered the game with a 1-5 record and a 6.87 ERA, held OSU to two hits over seven inning.
Peyton, who combines a 90-plus fastball with a wicked change, didn't allow a hit until the fifth, a one-out single by Jacob Bosiokovic. To that point, OSU had just two base runners—both reaching on walks.
Peyton had it all going on. The senior right-hander was also 3-for-5 with two runs scored, and retired 13 of 15 hitters to start the game. By that time it was Iowa, 6-0, Peyton was on cruise control, and Iowa hitters had an answer for every pitch.
"They were just barreled and in the gaps," senior captain Nick Sergakis said. "Didn't matter what it was: fastball, curveball, change—they were on it. They just steamrolled and rolled right over us."
OSU didn't hit, and didn't play particularly good defense. Starting pitcher John Havird, usually 'Mister Reliable', gave up three runs in the first, two in the fifth, and one in the sixth, before OSU coach Greg Beals went to the bullpen.
Nothing went right for the Buckeyes. They couldn't even get the forecast right. The game was delayed for an hour and half because of rain; it never rained. Okay, it drizzled—a puny little meteorological event that matched OSU's performance on the field.
"As good as we were yesterday, we were equally flat today," Beals said. "We weren't a factor in any part of the game today…They played well. They swung the bats. They capitalized on every pitch to hit.
"Their starting pitcher set the tempo for the ball game. He hit with every breaking pitch he threw today—every one.
"I don't know what to say," Beals continued. "It's a simple as the tale of two ballgames. You do everything right one night; and the next…"
He didn't complete the thought. He shrugged his shoulders. "I don't know what else to say," he said.
Baseball does include an element of mystery, but such inconsistencies mark this 2015 season: win big and play well one night, then suffer a demeaning loss the next, and in this run for a spot in the conference tournament, there is little room for the latter.
"Tomorrow (Sunday at Bill Davis Stadium) it will be Mano A Mano and neither team has used its bullpen," Beals said. "It's going to be a critical game for each team to establish its self with two weeks left in the season."
The loss dropped OSU to 9-8 in the Big Ten. Iowa is 8-9 with the win. Each team has seven games remaining in conference play. Entering Sunday's game, the Buckeyes are eighth in the league. Eight teams advance to the tournament in Omaha, Nebraska.
"If they beat us tomorrow, they are tied with us," Beals said, "and they get the tiebreaker because they beat us head-to-head."
Still, Saturday's loss was not cataclysmic, in and of itself.
"No, it's not," Sergakis said. "We got nine wins, 11 or 12 should get us in the tournament…It's not devastating, but Iowa being down near the bottom with us, we need to win tomorrow. We need to take advantage of the situation."
The fly in the ointment—the usual Sunday starter, Adam Niemeyer, is down with a hamstring injury, scheduled to return next weekend against Michigan.
In his stead, OSU will turn to freshman Ryan Feltner, who has shown both high-end talent and impressive growth on the mound.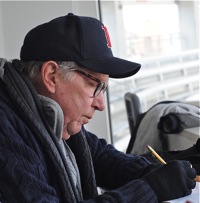 "Just since the fall, he has really grown," Sergakis said, "and he made big steps over the winter. He's also had good run and always had good juice in his arm…But since the beginning of the season, he's using his stuff. He's letting hitters get them selves out. He's not jut trying to blow it past hitter. He's pitching."
On April 29th at Purdue, Feltner turned in a superb performance in relief. He threw four scoreless innings, allowing just three hits earning his second save of the season.
Feltner will take the mound Sunday with a 1-3 record and a 4.14 ERA, but the numbers don't always tell the story. Just ask Iowa's Tyler Peyton. Better yet, ask any of the Buckeye hitters Peyton baffled and bewildered Saturday afternoon.