They have played well at times this season, but that had yet to put together they type of game they did Friday night against the Hawkeyes. This was 'Buckeyes baseball'.
COLUMBUS—The lights at Bill Davis Stadium had not yet dimmed Friday night, when OSU baseball coach Greg Beals eased back, scanned the room and smiled at all around. It was a smile filled with gratification; a smile reporters had not seen through the previous 45 games.
"I'm pleased," Beals said, tugging at his cap. "That was Ohio State baseball. That's how we are capable of playing. That was a really good baseball game."
The game was a 6-0 win over Iowa in a critical Big Ten contest – nine innings of dominant play by the Buckeyes, now 30-15-1 overall and 9-7 in Big Ten play. It was not a rout. It was spotless baseball. If a game could be called 'correct', it was this one. The Buckeyes did everything right.
Consider:
OSU's six runs came on 11 hits, five for extra bases (two doubles, L Grant Davis and Jalen Washington; two triples, Craig Nennig and Jacob Bosiokovic; and a home run, Ronnie Dawson)
They turned three double play, each thwarting a potential scoring rally by the Hawkeyes.
Starting pitcher Tanner Tully—who "didn't have his best stuff," according to Beals and Washington, the pitcher allowed four hits through seven innings and just two over the first five. Four times Iowa's leadoff hitter reached base, but Tully never folded. That was the best measure of his performance. "It was his most competitive performance of the season," Beals said, "his most workman-like."
Right-handed reliever Kyle Michalik worked the final two innings, facing the six hitters, thanks in part to OSU's third DP of the game, closing the eighth.
Offensively, Nennig, Washington and Bosiokovic each had three hits and scored four of Ohio State's six runs.
"This was a game where everyone contributed," said Washington. "Everyone plays their part on this team, but this is the way we should play every game."
OSU took a 2-0 lead in the second when Bosiokovic reached on a one-out bunt single. Davis followed with a double down the right field line, and Washington's rip-single up the middle scored both runners.
In the fourth, they put up a three-spot. Washington opened the inning with a double to right. One out later, Nennig tripled to center scoring Washington. Dawson was the next hitter and he belted his ninth home run of the season over the wall in right-center.
OSU's final run came in the fifth, the result of Bosiokovic's triple and a single to right by Washington.
And through it all, senior Troy Kuhn, who started at third while Nick Sergakis rested a strained shoulder, took one of the most difficult "hang-with-'em" 0-for-3's imaginable. He crushed the ball in his first three at bats, hitting into two double plays and lining out to left in his third at-bat. His last time up, he was hit by a pitch. At times, there is no justice in baseball.
Friday night's win came at a time when OSU cannot afford to slip. To gain a slot in the Big Ten Tournament there can be no slumps, no time when they are not on their game. That reality offered a sober note to a night when all went right for the Buckeyes.
"My challenge to the team (after the game) was, 'Great job. Let's see if we can do that again and again,'" Beals said. "This is time of year when we need to play that well and be that dynamic…Extra base hits. Double plays. Doing special things, not just the routine."
Special things, like Tully's first when the first two hitters reached base—on a walk and an error—and getting out of the inning. "That," Beals said, "set the tone for the ballgame."
If the game belonged to a single player Friday night, it was Washington, the junior co-captain and man behind the plate, who continually draws praise from his teammates.
His line—3-for-4, a run scored and three RBI—would highlight any box score, but in this stretch run he adds an intangible that is too often overlooked.
"Jalen has swag," Beals said. "He has that 'it' factor. He's just a rock-solid human being…That's a guy I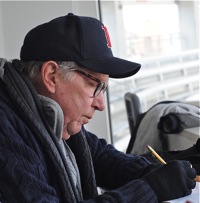 trust any where doing any thing. I don't know what more to say. He's just consistent. Sergakis is the same way."
They need that and they need more nights like this one. There are no more easy outs.
""I'm hoping these guys have finally settled in," Beals said. "This is a big series. We got to win this weekend. But our players responded. They were ready to go tonight."
"This is how we have seen ourselves playing all season…hitting the ball like we did tonight," Washington said. "Hopefully, we are starting to click and we can prolong this and keep it going."