Changes on the defensive side of the ball leads to offensive results and a more relaxed performance through and through. Could this be what the Buckeyes needed for a stretch run?
COLUMBUS—There were a lot of crooked numbers on the scoreboard Saturday at Bill Davis Stadium, most linee up in the Ohio State column. But what stood out was the straight-on, straight-up defense and pure money pitching that underlined an 11-3 win over Rutgers.
Ohio State pounded out 17 hits—four short of its season high 21—and scored in six of eight innings to take a needed Big Ten win over the Scarlet Knights.
The win pushed the Buckeyes to 22-12-1 overall and 3-5 in the Big Ten. It also delivered something that has been somewhat missing of late—a big broad smile for coach Greg Beals. The win followed four straight conference losses and beyond that, it was an example of baseball the way Beals likes it.
"First of all, pitching: John Havird, solid, seven strong innings, no earned runs. He was in command of the game the whole way."
Havird, a prototypical off-speed lefty with a maddening change, allowed just three hits. He walked one and the two runs that did cross against him were the product of two tough errors, one on Craig Nennig, who slipped on an attempted double play, and another on reliever Kyle Michalik, who followed Havird in the eighth.
The errors were not only harmless—in addition to being tough calls for the scorekeepers—they came on a day when Ohio State turned in one standout play after another:
Center fielder Troy Montgomery on a sliding catch in the first
Tre' Gantt ranging far to his right for a sliding catch in right-center in the second
Nick Sergakis picking a ball in the hole and getting a force at second in the third
Jacob Bosiokovic, making his fourth start of the season, using his 6-foot, 7-inch frame to snag a liner headed for right
Second baseman Troy Kuhn fielding what appeared to be a sure single in the sixth, and then combining with Craig Nennig, who had six assists, for a slick inning-ending double play
And Nennig again in the seventh, cutting down a shot and throwing to first for the third out in the seventh with a runner on third
"Craig Nennig played a great shortstop today," Beals said.
But Nennig's performance, like the overall defensive display delivered by Ohio State, was, at least, partially the product of a line-up change, Beals made following Friday night's lackluster performance, a 7-4 loss to the Scarlet Knights.
"We made a little adjustment in the line-up today," Beals said. "You saw athleticism (throughout)."
Beals brought Bosiokovic in from right, where he's started most of the season, to first base. He moved Kuhn from first to his natural position, second base, and installed the fleet Gantt in right. The odd man out, unfortunately, was L Grant Davis, who has not hit well since an ankle injury sidelined him for a week earlier in the season.
"Troy (Kuhn) is rangy. He makes that play on the ball up the middle," Beals said. "Bo-Si is a big target over there at first. He makes that line drive look like a routine play…Tre' Gantt comes in and makes that sliding catch in right. He made me look smart today."
Not only did Gantt contribute to the defense, he was 2-for-3 with two RBI. Kuhn, back to second base, was 3-for-4 with two RBI, and Bosiokovic, though hit-less, had 15 putouts and played as if he slept with a Rawlings trap.
In short, the Buckeyes looked natural in the field, and that comfort level seemed to have positive effects at the plate.
So, is this lineup here for the foreseeable future?
"The one thing it does is you see how fast we can be," Beals said. "It's probably our most athletic lineup. L Grant Davis has been solid for us defensively (at second) and he will get his shots, but I feel like this (new alignment) makes us as dynamic as we can be…We played as freely today as we have been in awhile."
Montgomery was another example of that "free" play. Beyond his play in center, he was 3-for-5 with a pair of runs scored, the last – a pure product of speed. His grounder to second in the fifth led to a two-base error. Once at second, he stole third and scored on catcher R.J. Darvish's throwing error, but his attention was on the overall play of the club.
"This is the way we should play every day," he said. "When one through nine is clicking, we have that capability and we're a dangerous team. But, we need to be more consistent with that.
"Sometimes we don't show-up at the ballpark and put good swings on the ball like we should…Today, we all just did our jobs. We need to build on this."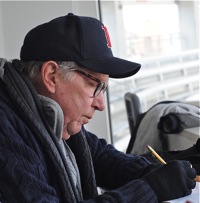 NOTES: There was a back-story Saturday, and one that could not go without mention. Former Buckeye Zach Farmer, who died last year as a result of leukemia, and his family were honored in pre-game ceremonies…Zach's father, Larry, threw out the first pitch, while his mother, Tammy, and his wife, Kelsey, looked on…Former team captain Tim Wetzel, who organized a bone-marrow match program among teammates and supporters, caught Larry's pitch…Afterwards, the entire Buckeye team—all 35 players—stood in line to hug Zach's mom…
"There were some wet eyes out there," Beals said. "It's part of who we are and we embrace it…It's a hit of reality. We're fortunate to be where we are and lucky to have a chance to do what we are doing…You embrace it, and you go forward."