Sophomore Adam Niemeyer carries the load as the Buckeyes make the most of five hits and another "clean" game.
 COLUMBUS—This was clean baseball, the kind of baseball that sets a team apart—the kind that can provide the cornerstone for better things ahead
On Sunday afternoon—under a glorious sky at Bill Davis Stadium—the Buckeyes dropped Rutgers, 2-1, winning their second Big Ten Conference series of the season.
It started with sophomore right-hander Adam Niemeyer, who tossed six innings of three-hit ball.
It included: some clutch, if scarce, base hits; a sprinkle or two of stellar defensive play, and ended with a rested bullpen that ran through the Scarlet Knights yielding one hit, one walk and nothing more.
"That's clean baseball," said left fielder Ronnie Dawson, who was 2-for-3 with an impressive running catch to close the fifth. "When we play like that, clean—no errors, good pitching—it's hard to beat us. We're gonna win a lot of games, and we are capable of playing like that all the time."
The win lifted OSU to 23-12-1 overall. More important, it allowed the Buckeyes to get a leg up in the Big Ten. They entered the series 2-4, tied with Rutgers for 10th place in the 13-team league. Eight teams advance to the conference tournament in Omaha, Nebraska.
They are now 4-5 with Illinois, Purdue, Iowa, Michigan and Minnesota still ahead. But this weekend just may have provided the impetus this club needed.
On Friday night, after Ohio State's 7-4 loss—their fourth straight in the league—senior Nick Sergakis, the Buckeyes undisputed leader, expressed his belief in the team, but he was quick to add a qualifier.
"As a whole," he said, "we definitely have to start having more of a sense of urgency…Every weekend is so critical. I mean, we are only three weeks in (to the conference schedule) and we are already sweating…These games are within our grasp. We just have to take hold of them."
In the next two games, OSU did just that. Coach Greg Beals tweaked the line-up Saturday—moving Jacob Bosiokovic to first from right field; Troy Kuhn from first to his natural position at second; and installed Tre' Gantt in right field. The result was an 11-3 win that was highlighted by John Havird's seven innings of two-run pitching and one strong defensive play after another.
On Sunday, the same spirit seemed apparent.
Niemeyer, mixing his change with a 90-plus fastball, was nails, and the offense though spare was opportunistic. "We certainly got what we needed from Adam Niemeyer," Beals said. "He gave us everything we needed."
Niemeyer held the Knights in relative check, retiring 14 of the first 16 he faced. The lone flaw in that span was a fastball up in the third that Rutgers third baseman Milo Freeman read and parked over the fence in right.
The 1-0 lead didn't last long. In the fourth, Jacob Bosiokovic led off with a single to left and Dawson followed with a double to right, putting runners at second and third.
Sergakis followed with a right-side ground ball, scoring Bosiokovic and tying the game, 1-1.
Niemeyer gave no more ground, but Rutgers stood just as firms until the sixth, when Troy Montgomery started the inning with a drive to the corner in right. The Buckeyes center fielder turned on the burners and busted into third for a triple.
Bosiokovic provided the go-ahead and, eventual, game winning run with soft single. From that point on, it was all pitching.
Seth Kinker pitched a perfect seventh and a scoreless eighth—helped by Kuhn's over-the-shoulder running catch in short right near foul territory with one on and one out.
"Troy Kuhn is a terrific athlete," Beals said. "That catch he made…That was a big time play in a big time situation. That was a big out. That ball lands and it's a whole different situation."
Lefty Michael Horejsei opened the ninth. With two outs, a man on and a right handed hitter, John Jennings, coming to the plate. Beals opted for his closer, Yianni Pavlopoulos, who faced one hitter, retired him on a routine fly ball and earned his eighth save of the season.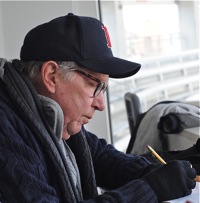 "That bullpen was fresh and hot today," Beals said, "and it really played out well for us."
And now comes a tough run in the Big Ten. Other than Purdue, which scuffles along in the cellar, there are no soft spots from here on in.
"We're kind of in the thick of things," Niemeyer said. "It's gonna be fun…I always look at it—whether you are hitting or pitching—when you are playing baseball, you have to have fun. You got to be relaxed. You can't try to do too much. That's when you run into trouble."
That's the mysterious mixture and measure of baseball, and that's what lies ahead.