Behind a dominant pitching effort by Kyle McKibben, Coldwater bested Marion Local Tuesday with plans for bigger things, much bigger, come May and June.
Maria Stein – Nobody really enjoyed it.  It's hard to appreciate baseball in 40-degree weather when your bones feel the chill of the average Ohio April.
But anyone who watched Coldwater win a 6-2 decision over Marion Local Tuesday afternoon…anyone who really watched…got a glimpse of a team that has the aptitude to be very good in Division III baseball this spring – that is, if they could only play.
The 2014 state champions entered the game with having played just four games in the season's first three weeks, they'd won three of them, and coach Brian Harlamert makes no bones about it…it's hard to played spring baseball in Ohio.
"You need the consistency of being out there every day,"  he said Monday's win.  "Hard to do that with the kind of spring we've had so far."
One should not take from the title of this column that Harlamert's Cavaliers are the "presumptive" favorites to win the Midwest Athletic Conference title this spring, but they do represent a third of what most people concede as the serious challengers, along with Versailles and Ft. Recovery.
Monday they showed why.
Kyle McKibben threw an even 100 pitches in six innings of work, striking out 13 and walking four.
And first baseman Malave Bettinger, a commit to play at Toledo next year, was the hitting star with a pair of doubles and three RBIs.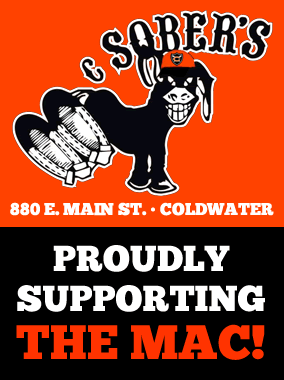 Marion did not go easy, though.
Duane Leugers made a good impression of his own from the mound, holding the Cavaliers in check, and maintaining a 2-2 tie, until a disastrous sixth that saw a pair of errors and a two run double by Bettinger stretch the deficit to the final 6-2 score.  Leugers deserved a better fate.  Only two of Coldwater's runs were of the earned variety as the Flyers committed a whopping five errors on the afternoon.
They've won six state titles in baseball at Colwater, well-spaced over the years, and always, it seems, on those years when they have that combination of veteran leadership, a couple of thumpers in the middle of the lineup….and pitching.  Harlamert thinks he has that very combination again to make a tournament run in May and June.
"I would agree with you that the presumptive favorites would be us, Recovery and Versailles,"  he said.  "But I think Minster will have something to say about it, too, because they have two very good pitchers.  With the league going to Tuesday and Thursday (games) you're going to need two pitchers, and it's going to be a matter of being consistent.  Today was the first time in a week we've gotten on the field and we had some mental mistakes today because of that.  But overall, today was a start and a big win to get us going.
"The league's going to be a battle.  Leugers threw well against us tonight.  But I like our team because we have experience, and we have offense like you saw late in the game.  I like our chances and you want to play in June, but first you've got to play in April.  We'll worry about winning today and move on to the next day."
It should be enjoyable (weather permitting) when Recovery, Versailles, Coldwater and Minster play each other because each has the pedigree of a champion, and three of the four are past state champions.  Versailles last won in 1965, but have finished second on three other occasions.  Recovery fell in the state semi-final round last year.
All four of these teams have the one enviable attribute that Harlamert spoke of, and that's pitching.  And that will be tested as games pile up and rescheduled games in coming weeks mean short turnarounds and little rest.
"This has been hard because your pitchers are throwing inside, you can't get enough ground balls for your infield, and offensively you have the same disadvantage of trying to hit inside,"  added Harlamert.  "You need to play under live conditions and it's about getting into a daily routine where the sun comes out and we can play a few games back to back."
It didn't seem to impede McKibben, who struck out the side in the first and seemed to gain momentum through his final two innings.
"I felt good the whole game, but obviously I was nice and loose for the first inning,"  he said.  "I lost a little bit in the middle because they had a couple of hits and I walked some guys, but once I settled back down I felt fine.  The strikeouts felt good and getting out in the sun was nice.  It was a little cold, but it was just good to get outside and play."
Consistency is what they talk about in Coldwater, as if it's a matter of time until they click on all cylinders.  Presumptive favorites?  Well, you could make a case for having to fear teams that wear black and orange, as Coldwater, Minster and Versailles do.  And purple, of course.  Everyone one them have been sitting at home…just waiting for the sun to shine.  Waiting to play.
Presumptive?  We'll see.  May and June will be here before you know it!