Not many would endure so much to preserve the job he loves.  Cory Luebke is one of of the few and now appears to have beaten the odds.
CINCINNATI — When Cory Luebke emerged from the Pittsburgh Pirates bullpen last Wednesday in PNC Park and jogged to the mound, there was a special feeling, a sense of accomplishment, the end of a long road traveled filled with back road pot holes.
The road back to the majors was four years long and the highway was strewn with a couple of Tommy John surgeries, a staph infection, a nerve adjustment and enough hard work to cover a coal miner's lifetime.
There always seem to be jobs for left-handed pitchers if they can walk upright and stick out their tongues at the same time. So there was no reason for Luebke to quit when adversity kept slapping him across the face.
LUEBKE WAS BORN in Maria Stein and attended Marion Local High School and was selected as a first-round supplemental pick by the San Diego Padres in 2007. He made the club in 2010 and his career path seemed smooth in early 2012 — a 3-and-1 record with a 2.61 earned run average in five starts.
Then came April 27, 2012 — going back four years. It was his last major league appearance, until last Wednesday.
And Luebke remembers it as if it happened late last night.
"It was in San Francisco," he said. "It had previously torn in a start against the Phillies earlier that week. I tried to get through a few innings on my next start but I could tell something drastic was wrong."
INDEED, DRASTIC. IT was a torn ligament in the elbow, necessitating the dreaded Tommy John surgery, a procedure that requires months and months of rehabilitation, if the surgery works.
Luebke's first one was a dud. He had to do it all over again and how disheartening must that be?
"I rehabbed after the first surgery for 18 months and it wasn't going well," he said. "They did an MRI and tried some cortisone but the MRI showed that the graft was torn. Dr. James Andrews went into it and said it looked as if the graft never took. It was dead."
So they did it again and this time it took. But it has been a lifetime in baseball years, enough to make a weaker man quit.
"The second Tommy John went so well and my rehab went so smooth, I was up on the mound after 14 months, getting close to pitching in games."
THEN, A SETBACK. WHAT else in Luebke legacy but another setback?
"Yeah, we had another unfortunate setback," he said. "A nerve got out of place and got stuck and they had to go in and move the nerve and clean it off. So that took a little bit more time.
"But, honestly, every time I had a surgery and came back I felt good again," he said. Then he laughed as in humor is the best medicine. "After the second surgery I came down with a staph infection. Can you believe that? I could have done without that one. I get back to that point and, of all things, a staph infection knocks me out. That ended my comeback last year when it looked as if I might get in some games (with San Diego)."
He did pitch in seven minor league games in rehab assignments last year and all went well. But his contract with the Padres expired after the season and he became a free agent.
IT WAS JOB-HUNTING time. Less than a week before spring training this year, the Pirates signed him to a minor-league contract with an invite to the major league camp. And he made the team.
Pirates manager Clint Hurdle says Luebke can be a useful trinket on his pitching staff, a guy with multiple roles.
"He is a very interesting guy," said Hurdle. "We plan to use him out of the buillpen, initially. I want to start him with clean innings to start with.
"His is not just a left-on-left guy, so we're not looking for him to be a field goal kicker," Hurdle added, meaning Luebke will not be a specialist.
"We believe he has stuff to play above both right and left handed hitters.
"We also have comfort in using him on back-to-back days and/or in multiple innings because we used him that way in spring training and we'll monitor that.
"We believe this guy has himself in a great position at getting back at the ceiling (he had) earlier when he was pitching so effectively," said Hurdle.
THERE IS NO DOUBT, from the smile on his face and the lightness of his step, that Luebke is cherishing the moment.
"It has been fun because it has been a little bit of a long road to get back here," he said. "To be back pitching in a good organization like this has been a good few months for me.
"It has all been worth it," he said. "You can always find a silver lining in everything. The extra time, due to all the hiccups, has let that ligament calm down. The second graft took well and Dr. Tim Kremchek (Reds medical director) did the moving of the nerve and he said while he was in there everything looked good."
Why the Pirates?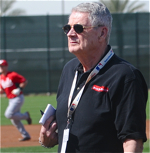 "I was in the last year of my contract with San Diego so I knew we would have to have talks with some other teams," he said. "Talking to other players who have been in this organization I found out they have done really well with guys in my situation, have some medical struggles and struggles in general. It was a combination of how well they've dealt with guys who have gone through it.
"I knew it was going to be tough after knocking off from pitching for four years," he said. "But Pittsburgh's reputation and pitching coach Ray Searage's reputation are really solid. And it is nice to get back close to home."