Most say that signing RG III as a renovation project for starting quarterback is a reach.  But don't worry, Browns fans, the team that's had 24 quarterbacks in 17 seasons, that hasn't won since 2007, and went 3-13 last year, has finally figured it all out.
Columbus – It will likely be too cold or too windy for 18 holes on Monday, but golf season of sorts will nevertheless open in Cleveland when the Browns begin their first mini-camp under new coach Hue Jackson.
Coming off a 3-13 season, owner Jimmy Haslam fired his third head coach, third general manager and second team president in 3 1/2 years to bring Jackson aboard from the Cincinnati Bengals with a team of Harvard graduates in a new front office.
This is not unlike hackers who purchase the newest set of irons, hottest driver, longest ball or most miraculous training aid they're sure will convert them from a mid-90s player into their club champion.
Haslam and his crew from Cambridge must be frustrated golfers, given how they clearly believe anything that's new to them must also be an improvement over what came before.
That's the only way the signing of Robert Griffin III makes any sense.
The Browns guaranteed Griffin $6.75 million in a two-year deal that will make him the 25th starting quarterback the team has had since coming back into existence in 1999.
Griffin was the NFL's offensive rookie of the year in 2012, but he's been significantly hurt in each of his four seasons and the Washington Redskins didn't activate him even once last season for fear that he'd get hurt again and they'd then owe him $16 million for the final year of his contract.
So, Washington – a playoff team without Griffin playing a snap – cut him.
The Browns promptly went down to the NFL's clearance rack and brought Griffin aboard to either start or mentor the QB they take in the upcoming NFL draft.
There are several problems with that.
First, Griffin is always hurt. He's suffered a significant injury each year he's been in the league. For a guy so athletic he once had designs on becoming an Olympic hurdler, Griffin has shown no ability to slide, other than awkwardly, or get out of bounds to avoid contact.
Those are two bad traits to have when you're a spindly-framed guy like Griffin.
So if the Browns are counting on him to play until a rookie is adequately-prepared to start, the likelier outcome is Griffin limping or being carried off and the No. 2 pick being hurried into action before he's ready.
Second, Griffin is only 26 himself. He has to look at the Browns as his chance to reinvent himself and revitalize his career. He's saying all the right things about helping a rookie learn and develop, but you know Griffin has to view the Browns as his chance to make a comeback, not tutor some kid.
The Browns actually have the perfect guy to start until a rookie is ready, and to teach that rookie during the approach to his debut. But that guy, Josh McCown, is a product of the regime the Browns new braintrust replaced, and the new guys seemingly have no interest in retaining much of anyone from the past.
They've sold or given away those clubs – linebacker Karlos Dansby, safety Donte Whitner and free-agent escapees Alex Mack, Teshaun Gipson, receiver Travis Benjamin and tackle Mitchell Schwartz – because they're tired of them.
The Browns also cut loose Johnny Manziel, the 22nd pick in the 2014, draft because of his incessant partying, his inept play and the mammoth distraction he'd become.
So then they signed Griffin, who although not a serial knucklehead like Manziel, will bring almost as big a media circus to Cleveland as Manziel.  That's because Griffin remains a hot-button celebrity throughout the NFL, hence attracting national scrutiny during mini-camp and training camp, which is the last thing the Browns need as they try to find their bearings under new leadership.
Haslam hasn't learned yet that the best NFL franchises are often the most boring. They seldom change coaches, rarely fire their front office leadership, they avoid distractions like the plague and they never brag about their brilliance before they actually do something to prove it might be true….something besides hiring Harvard grads for top management positions that none have ever attempted to do anywhere in the NFL.
No one else in the NFL wanted Robert Griffin III. But the Browns signed him, at the same time they may take their franchise quarterback of the future early in the draft.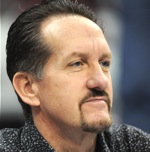 Salvaging Griffin's career, and training a rookie to take over the team, are two all-in projects that require every minute of a franchise's resources and focus.
It is not possible to do both on parallel tracks at the same time.
But if you're a Browns fan, don't worry.
The team with 24 starting quarterbacks in 17 seasons, the one in the midst of a 13-year playoff drought, the one that hasn't had a winning season since 2007, the one that went 3-13 last year, has finally figured it all out.
*  Bruce Hooley is the former sports editor of the Troy Daily News