You expect marquee names and marquee deeds on the season's first big stage.  But it was a bunch of "Average Joes" that showed up Monday to win it for the Reds.
 CINCINNATI — Opening Day in Cincinnati is supposed to be a lot of things, but it isn't supposed to be frost-bite on the tip of the nose and numb toes.
But that's what it was Monday afternoon during the Cincinnati Reds come-from-behind victory over the Philadelphia Phillies, 6-2, a game matching two teams predicted by most to lose 95 games or more each.
Once upon a time, back before big bucks wasn't more important than bunts and base hits, Opening Day in Cincinnati meant the first game of the season. Nobody else played until the Reds began their game, an honor bestowed upon them years ago because they were the original professional franchise back in 1869.
No more. There were three Opening Day games Sunday on ESPN and there were four games that started Monday before Cincinnati's 4:05 start.
And as long as television rules, and television rules with a throat-choking grip, that isn't ever going to change.
Opening Day is serious business in Cincinnati, close to a religion, even closer to a cult. There is little room for levity.
So why didn't Joey Votto run out of the dugout, shake hands with all his teammates and take his place on the first base line during pre-game introductions.
When they announced his name, he was AWOL. Never appeared. Was he, uh, indisposed, locked in a bathroom. No, he did it on purpose.
"Yeah, I did it on purpose," he said. "I've done my LeBron and I've done my Reynaldo. Now I've done my no-show."
Why? No explanations. It was Joey being Joey.
Opening Day, with a full house of 43,000-plus, is supposed to be a stage for the big guys, the super stars — like Joey Votto. Opening Day isn't a day for the $225 Million Man to strike out on his first three at-bats of 2016. But that's what he did. A complete no-show.
He finally showed up in the eighth inning by breaking up a 2-2 tie with a two-run single and said with a shrug, "That's why I'm paid the big bucks." Indeed, he certainly is.
Opening Day usually isn't a stage for the Average Joe, or Average Zack, like light-hitting shortstop Zack Cozart. It isn't a day where he gets three hits in his first three at bats of the season and when the eighth inning arrives he has the only three hits on the team, then hits the game-tying sacrifice fly.
But that's what he did, despite the heebie-jeebies before the game.
There was a lot for Cozart to think about. It was Opening Day. He was batting leadoff when a week ago he wasn't even thought about manning the spot. He hadn't played a game-for-real in 9½ months after wrecking his knee last mid-season. And guess who he did it against. Yep, the Philadelphia Phillies.
"I just wanted to get the pre-game ceremonies over and get on with it," he said. "With all those thoughts in my head and coincidences, I was pretty nervous. But once I got that first hit (a double to right field), I was relaxed and OK."

Opening Day is supposed to be for pitching aces — the Clayton Kershaws, the Zack Greinkes, the David Prices, the Adam Wainwrights, the Madison Bumgarners, the Matt Harveys.
Opening Day isn't supposed to be for 26-year-old Cuban defectors making their first Opening Day start. But for several injurious reasons, Homer Bailey couldn't make it. Michael Lorenzon couldn't make it. Anthony DeSclafani couldn't make it. John Lamb couldn't make it. Jon Moscot couldn't make it.
So, by default, there was Raisel Iglesias on the mound. He hates cold weather and was distracted by it early. But perhaps by envisioning palm trees and Cuban beaches, he shoved it aside. He was as cool as the bitingly cold afternoon. He gave up a two-run home run in the second inning, but nothing else and Opening Day was in his hands. He pitched six innings, 90 pitches, and gave up two runs and six hits, didn't walk anybody and struck out seven.
Opening Day is for frayed nerve-endings, but Iglesias calmly went about his duties and said, "No, no, no, no. I wasn't nervous at all." Probably not. It is probably certain that he pitched in some pressure-sealed conditions in his native Cuba.
Opening Day isn't for the 25th man on the roster to shed his jacket at the end of the bench and energize the team. Opening Day reduces extra players to Silly Putty.
Not the case for Tyler Holt, who wasn't sure if his uniform would say 'Cincinnati' or 'Louisville' when the 2016 season began.
But in the eighth inning, with the Reds down, 2-1, he entered the game as a pinch-runner. Soon he found himself at third base. Soon he watched Zack Cozart loft a medium-depth fly ball to right field. He broke for home and scored the tying run, sliding in a cloud of frozen mud across home plate.
Holt stayed in the game in left field. As always happens to a guy just entering a game, a line drive was sent sizzling toward the left field corner. Holt dove head-first, belly down, toward the wall and snagged the ball.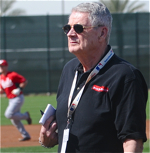 When the game ended, Holt walked up to manager Bryan Price and said, "I told you I belong on this team."
Price smiled and said, "Yes, you certainly do."
Opening Day isn't supposed to be about relief pitchers, who usually aren't sharp this time of year and especially a bullpen-in-progress operated by the Reds.
But on this Opening Day, four Reds bullpenners pitched three hitless innings and only one runner reached base, a walk by Tony Cingrani. But there were no hits off Jumbo Diaz, Cingrani, Russ Ohlendorf and J.J. Hoover.
All this is to say, Opening Day isn't always what it is supposed to be. In fact, it seldom is.