All the things Jim Harbaugh's required to do to win at Michigan form an exhilarating adventure made all the more exhilarating by the coaches and empty suits he ticks off doing what he does.
Columbus – Puppies are cute and impossible not to love, despite their misbehavior. We put up with the digging and chewing and potty accidents because we know they'll eventually grow out of their youthful indiscretions and become loyal, manageable members of the family.
It would be quite different if the tulip bulbs were perpetually unearthed, your favorite running shoes routinely turned into open-toed shoes and the rug always held a smelly surprise for you every time you turned your back year, after year, after year.
No one would put up with that unless they had no choice, which brings us to the life that awaits Urban Meyer and every other college football coach as long as Jim Harbaugh is the coach at Michigan.
Harbaugh is the puppy that never grows up. He has boundless energy and is forever in the face of his counterparts, panting and barking, trying to get them to come out and play.
Harbaugh's favorite playground is Twitter, the social media platform where he yaps incessantly, creatively, sharply and, not to mention, better than anyone else in his profession.
He's made Arkansas Bret Bielema, South Carolina's Will Muschamp, Tennessee's Butch Jones and, just last week, Ohio State athletic director Gene Smith, look foolish when they've tried to out-snark the master.
Engaging Harbaugh anywhere in the media harkens back to the ominous reaction of Admiral Yamamoto after the Japanese bombed Pearl Harbor: "I fear that all we have done is to awaken a sleeping giant and fill him with a terrible resolve."
Harbaugh guided Michigan to a 10-win season in his first year, despite a thorough beating from Meyer and OSU in the regular-season finale.
But the story ever since has been all about Harbaugh's recruiting exploits — staying overnight at some recruits' homes, climbing trees with others, accompanying a few to class — and about his mobile spring football practice held for a week on the campus of a Florida high school rich in college prospects.
Predictably, coaches from around the country have howled, and Harbaugh has made every one look foolish with his barbed retorts.
The cold reality of why coaches are so upset with Harbaugh's antics is they don't want to work as hard he does.
And the colder reality is, to him, it's not work at all. It's something he enjoys.
When Harbaugh was the head coach of the San Francisco 49ers, the popular argument against his return to the college ranks was that he'd never willingly endure the tedium of recruiting.
That couldn't have been more inaccurate.
At his core, Harbaugh is two things — an old soul and an agitator.
Both those character traits make him take to the college game like a Labrador to water.
Harbaugh delights in the chance to channel the inner little boy who used to sit in Bo Schembechler's chair as a grade-schooler, dreaming of how he'd turn the game on its ear if he ever got the shot.
Now he has it, and he loves it. That's what people missed about Harbaugh. All the things he's required to do to win at Michigan don't compose some boring routine, they form an exhilarating adventure made all the more exhilarating by the coaches and empty suits he ticks off doing what he does.
Only one guy has been too smart to walk into that trap, and his name is, Urban Meyer.
Meyer already has the buzz Harbaugh is trying to create, and so he won't take the bait, no matter how inventively Harbaugh tweaks college football's stale routines.
Meyer loves his job, too, but in a different way. He's made no bones about the fact he won't stay overnight in some kid's home to get him to sign with Ohio State, nor will he engage in any of the other exuberant puppy-like behavior of his rival to the north.
Meyer doesn't need to do the same goofy stuff to try to keep up with Harbaugh's Minister of Cool persona.
That's because Meyer has three national championship rings and in-state recruiting monopoly where he can choose from among multiple difference-makers who grow up wanting to be Buckeyes.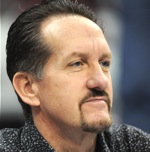 All that affords Meyer the luxury of being able to stick to his routine and still have success.
Harbaugh won't truly engage his OSU counterpart until he beats him on the field, or goes into an Ohio State bastion like Glenville High School in Cleveland and gets a prospect Meyer truly wants.
Still, it will be interesting to see if Meyer adds some showbiz to OSU's recruiting day press conference next year, given the mileage Harbaugh got out of his over-the-top, headline-grabbing event in Ann Arbor that made use of everyone from Derek Jeter to Tom Brady to James Earl Jones.
However long these two titans compete on the field and off, the one certainty is that it will definitely not be boring.