Behind another ace from Adam Niemeyer, the Bucks shrugged off Friday night's loss to even the weekend series with Northwestern.
COLUMBUS — Some viewed this as a "must" win. Others thought not. "Too early," they said. "The Big Ten season is just starting."
But, know this. After dropping the conference opener to Northwestern, 6-5, and in rather regrettable fashion, you could bet your bottom, darned dollar Ohio State attached a bundle of significance to Game Two of this Easter Weekend series, and it showed on the field Saturday afternoon.
Adam Niemeyer pitched superbly, the offense rolled out 10 hits, the defense was spotless, and the day ended with a 5-2 Buckeye win, and a sense OSU was back on track.
Ohio State coach Greg Beals left no doubt about how he felt about the game. "It's awfully early in Big Ten play to say this was a 'must' win," he said. "But this was a 'must' win. We created a sense of urgency…I think we all felt like one got away from us last night."
Given the maturity of his team and respect for their awareness, Beals did not stomp and storm. Instead, he painted an optimistic but realistic picture. "All I said was, 'It's a new day.'"
Certain things did not need, or have to be stressed. "They know we play a 24-game conference schedule and the first series is just as important as the last," he said. "Everybody in that clubhouse knew last night was not good enough."
Niemeyer did not start well. Northwestern got to him for a run in the first on three hits, but the Wildcat's inning was cut short by a stellar play by right fielder Jacob Bosiokovic.
With a runner on first, one run in and two out, Connor Lind lined a single to right. Bosiokovic played the ball on the bounce and fired a strike to Nick Sergakis at third to nail Matt Hoepfner and close the inning.
In their first at-bat, the Buckeyes tied the game 1-1, taking advantage of a Northwestern error. With one out, Bosiokovic drew a four-pitch walk. One out later, Nick Sergakis concluded an 11-pitch AB with a flare single to right, sending Bosiokovic to third.
With Brady Cherry at the plate, Sergakis danced off first and drew a pick-off throw. He was dead to rights, but first baseman Zach Jones' throw to third was high and wild. Bosiokovic scored to tie the game, 1-1.
OSU picked up two more in the second on four hits, including the first of Troy Montgomery's two doubles, to make it a 3-1 game.
Niemeyer, a redshirt sophomore from Minster with a gaggle of friends and family in the stands, gave up another run in the third on a pair of hits and a hit batsman, but after that the right-hander was lights out.
He struck out a career high eight in his seven innings, but five of those came after the third. He allowed a total of nine hits. Three of those came after the third. Of his 100 pitches—75 for strikes—45 came in the first three innings. He required 55 for his final four innings.
"Nemo (Niemeyer) knew we needed a good outing, and he gave it to us," Beals said. "(From the fourth inning on) he was able to zero down in the bottom of the strike zone…Early on, he might have been a little too hot."
"He (Niemeyer) just settled in," Montgomery said. "For some pitchers it's a little tougher to find the zone in the early innings. But he settled in and did a great job with his fastball and his off-speed stuff hitting his spots. He located well. He's a good pitcher and he did his job today."
For Niemeyer, it was a simple matter.
"It was just making better pitches, hitting my spots," he said. "We made an adjustment because they were hunting fastballs early in the count, first-pitch, second-pitch fastballs. So we started mixing it up later in the game, starting guys with change-ups and sliders. That really made a difference because they were so aggressive earlier in the game."
For his part, this was a "must" win.
"Definitely," he said. "To have a shot in the Big Ten you got to win every series you can, especially at home. So, coming off last night's loss it was big to set ourselves up to win (Sunday)."
By the time, Niemeyer was out of the game and lefty Daulton Mosbarger came on to close, Ohio State was up 5-2, and the story of the game was settled.
"Pitching and defense," Beals said. "We struck them out 11 times. We allowed one free base on a hit batsman. We didn't commit an error and we rolled a couple of double plays (in the fifth and eighth), which were key. That's pretty clean baseball."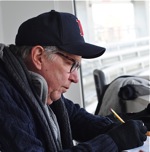 Of course, there was one hole in the game—13 men left on base, three in the sixth when Ronnie Dawson grounded into a double play in the sixth, and three in the eighth, when Troy Kuhn, who had three hits earlier in the game, struck out to end the inning.
"We left a small army on base today," Beals said. "We were two hits away from breaking this game open."
That said, it was a far cry from Friday night's performance.
"This was more like we have been playing (in the five-game winning streak)," Montgomery said. "It was important in that it got us back on that track."
NOTES: Closer Yianni Pavlopoulos, who took a line-shot off his left calf in the ninth inning Friday night, was walking with a significant limp on Saturday. Beals said he had a "helluva bruise," but no serious damage, would probably not be available until the Maryland series in two weeks.