Top-ranked New Concord John Glenn rode a devastating second quarter to an easy win and set up what could be an epic D-II final. Read more in our continuing coverage from the state tournament.
Columbus-After the first 8 minutes of the D-II state semifinal with top-ranked New Concord John Glenn, the Bay Rockets must have felt pretty good.
Three 3-pointers and 8 points from 6-7 senior Scott Durham had the upstart Rockets with a 17-16 lead.
Whatever good feelings they had didn't last long.
The Muskies used a devastating 31-11 2nd quarter run to blow the game open and coasted to an 84-56 win before 11,152 at Value City Arena. It set up a championship game with Akron St Vincent-St Mary Saturday at 2pm.
During the game-deciding blitz, Tanner Slack hit two treys and scored nine points, Drew Rackley had a three and 7 points, Matt Weir hit two threes and Austin Blatt added a triple as the Muskies went 6 of 10 behind the arc.
Bay also hurt itself with 15 turnovers that led to 21 Muskie points in the first half. John Glenn also had a 22-2 advantage in fast break points.
The Rockets, making their first final four appearance, made a late third quarter run to get back to within 16, but simply couldn't make enough stops to get closer.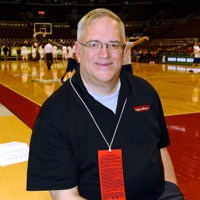 Weir, a 6 foot senior, led John Glenn with 26 points. Rackley matched his average with 22 points, Slack had 14 and Blatt finished with 11.
John Koz scored 15 of his 21 points in the third quarter to lead Bay, Durham finished with 14 and freshman Erik Painter had 11.
The Muskies take a 27-1 record into Saturday's final against the 6-time champion Fighting Irish from Akron St Vincent St Mary. John Glenn beat the Irish 54-51 during the regular season, part of the Muskies current 18 game winning streak. The Irish have not lost since, and will bring a 15 game winning streak into Saturday's showdown.