Armed with some talent, they're young, and even younger.  But the beauty of University of Dayton baseball is the universal and timeless process…of planting a seed and watching it grow.
Dayton – Wham, came the email Monday following our posting of the University of Dayton winning its first game of the 2016 baseball season on Sunday, a 5-1 decision over High Point College, in North Carolina.
"Why are you making a big deal out of Dayton baseball?"  it read, from Gary (just Gary, no last name).  "They finally win a game over who, High Point?  High Point what?  How about you look at the other side of town for once and pay some attention to Wright State.  They're playing winning baseball against teams that matter."
Take a breath, Gary.  My first thought when I read the email was not High Point what?  But Gary who?
And to the ageless issue of Wright State vs. Dayton, and attention deserving for their respective programs and profiles, kudos to Greg Lovelady's program that indeed is 7-6 after 13 games.  But guess what, Gary?  The Raiders lost to the same High Point "Whats" (their new, unofficial nickname) just last week…TWICE!
As to teams that matter?
Dayton lost to Stony Brook (NCAA College World Series team two years ago) and Kentucky in their opening weekend.  Too much, too soon?  Absolutely.  Thorobreds running against ponies.
Wright State, on the other hand, is coming off an NCAA tourney appearance last year and has played North Carolina State (ACC) and Georgia (SEC)…and lost two of three to both.  But kudos for taking the high road, because you only get better by playing the best available.
As to the relative quality of the two programs?  Wright State had a spectacular year in 2015, while Dayton muddled through a 16-38 campaign that at times looked like a daily open tryout…and survival against the cruel fates that only come with baseball.  You may never be as good as your record, or as bad!
"Definitely,"  agrees senior pitcher Charlie Dant, who led the Flyers in games started and innings pitched a year ago…as well as games lost.  Dant finished with an uncharitable record of 1-11.
"It was a tough year for everyone,"  he mentioned during their opening weekend in South Carolina.  "We weren't 38 games bad, and I definitely pitched better than 11 losses."
So why Dayton?  And why now?
Well one, because of Tony Vittorio, who in 17 seasons has had his ups and downs in building a program that seriously labors in the shadow of Dayton basketball for the sake of relevance.  Ask Rick Chamberlain (football coach) about being in that role.
Or, ask a top Ohio basketball recruit about Dayton basketball and they can give you chapter and verse.  Ask a top baseball recruit and you might get a blank stare.  It is what it is.
But Vittorio has a way, and a baseball charm, that makes young wannabes somehow see the relevance in baseball regardless of profile and geography.  All it takes is one good pitching performance, like the Flyers got from Ben Logan High School freshman Austin Cline on Tuesday to make you relevant against Wright State, Ohio State, or even Arizona State.  Pitching is the trump, the great equalizer of baseball.  It beats good hitting every time, and it makes hall of famers out of coaches and managers like Casey Stengel, Walter Alston, and a guy named Rod Dedeaux, who did pretty well at USC forty years ago on the shirttails of a guy named…Tom Seaver!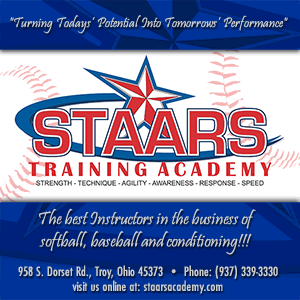 And if recruiting is the life blood (or bane) of college sports, pity the baseball coach who has 11 scholarships trying to convince talent to come to the most expensive Division I school in the Ohio.  They come for the school of business and engineering, which is superb, not for baseball in 40 degree weather.  I've never seen a bikini worn at a Dayton baseball game.  I've seen plenty of thinsulate and hats with ear flaps.
In truth, Dayton baseball is nothing more, or less, than any other spring plant that does better on some years than others.  You bring in a seed, nurture it, and hope that it grows and blossoms.
I do like some of the arms I've seen this spring, including Cline.  They just haven't had enough time against the likes of Division I baseball from any conference.  Unlike football and basketball, parity is REAL in college baseball on a daily basis.  You're just one Austin Cline away, everyday, from being truly humbled.
I like some of the skills I've seen at the plate and in the field.  Junior Nick Gobert has swung the bat with authority in early games.  Third baseman Robbie Doring is hitting .368 and has 4 home runs through 10 games.  The top three hitters, Doring, Gobert, and Aaron Huesman are hitting a collective .342.
And second baseman Nick Ryan, from Naperville, Illinois, turns the double play as well as anyone I've seen in college baseball.   The rest of the cast, to this point, are the proverbial seeds trying to germinate and blossom.
Pitching is no different.  In ten games the Flyers have gotten maybe five quality starts…from Zach Beaver, Dant (twice), Sam Brunner, and Cline.  But it's early, remember, and there's a reason the Reds play 34 spring training games to get their house in order.  And based on standings the last few years, apparently that isn't enough.  So why beat on a college baseball team that's expected to be good right out of the chute wearing all the clothes they have to stay warm…and then improve?  Eh, Gary?
I particularly like the staff that Vittorio has assembled.
Ryne Romick really impresses me as a young pitching coach who's capable of making sense of pitching to young pitchers.  His approach is throw strikes, quality strikes, and take your chances.  Go with what you've got until someone proves they've figured you out, then change.  Translation:  Don't get cute out there.
Ryan Cypret has been around a lot of good baseball, and a lot of good baseball coaches.  He has the enthusiasm of seeing the glass half full, notwithstanding 2-8.
Terry Bell is a former professional catcher whose brief time in the big leagues with Kansas City and Atlanta gives him great perspective on the journey of baseball, if not the destination.  Translation:  You can't have one without the other.
And former Miami East, Wake Forest, and Akron coach Fred Worth is the Jonathan Winters figure in the dugout and on the bus that every baseball team needs to keep yesterday behind them (win or lose) and the next day doable.
The Flyers have been good some years. They played .540 baseball from 2005 through the NCAA tournament team in 2012 and have one A-10 regular season title during that time, in 2009.  The average big league team is just marginally better, relative to that level of competition.
If you want to compare with Miami, BG, Ohio State, UC and other Ohio Division I schools during the same decade, they all boast (or moan) of the same ups and downs, of recruiting to a cold weather program, and the uncertainty of playing teams like High Point that on a given day can embarrass you with a future major leaguer throwing 94 miles per hour…that no one ever heard of, or suspected.  That's baseball!
And to its credit, Dayton baseball has two active major leaguers of its own, Craig Stammen (Indians)  and Jerry Blevins (Mets), and one well on his way, Mike Hauschild (Astros).  It's important to remember…that that's baseball, too.
You plant a seed, and you see what grows.  Like the old Ray Milland movie, It Happens Every Spring.