OSU dropped two of three in the Snowbird Classic at Port Charlotte, Fla., where they were, once again, subject to shaky fielding and solid pitching.
COLUMBUS—This was not a successful trip. Instead, the Ohio State Buckeyes revealed themselves as a team still in search of an identity, still seeking consistent play.
"We have not found ourselves," said coach Greg Beals, "…not at all."
On the surface the weekend went like this:
OSU dropped two of three in the Snowbird Classic at Port Charlotte, Fla., where they were, once again, subject to shaky fielding and solid pitching.
After taking Seton Hall, 9-2, in Friday's opener, pounding out 12 hits, the Buckeyes fell victim to poor fielding and poor base running Saturday in a 5-4 loss to Illinois State. On Sunday, Boston College handed OSU a 6-2 loss, holding the Bucks, now 6-4-1, to two hits.
"The Saturday game is the one that bothers me," Beals said. "We lost that game. On Sunday, we got beat…Their pitcher (left-hander Jesse Adams) was just on. We hit some balls hard, but they were right at people or they made a good play…We could never get going. Sunday it was just the cruel game of baseball, and you are going to have those games."
That game, however, magnified the significance of Saturday's loss, a game OSU virtually handed to Illinois State. OSU committed three errors, allowing three unearned runs. And, there was more that was plainly regrettable.
"It wasn't like we made an error with two outs and nobody on and we were able to get away from it," Beals said. "We made three errors when we needed to make plays…

"And," Beals continued, "the box score doesn't show it, but we made three outs on the bases. We got picked-off three times. That doesn't fly. In a one-run game, we gave them an extra inning of hitting, and took an inning of hitting away from ourselves–three errors on the defensive side; three outs on the offensive side."
After BC shutdown OSU on Sunday, Beals drove his point home. "There are too many occasions,"  he said, "when you run into a hot team or a good pitcher and you get beat, far too many of those to spit away a game with errors and base running blunders as the Buckeyes did Saturday."
"Well, they heard it. They heard it pretty good," said Beals, who is not quick to fire on his players.
The weekend was worsened by injury. Starting second baseman L Grant Davis turned an ankle in Friday's win and Jacob Bosiokovic, the starting right fielder and primary power threat at this point, pulled a hamstring.
The injury to Davis', whom it appears will return to the lineup this coming weekend, forced Beals to juggle the infield, moving Nick Sergakis from short to second and inserting Craig Nennig, who has been struggling at the plate, at shortstop.
"Boi-Zee has a pretty good pull," Beals said. "There's a good chance he will not be able to go this weekend.
"That's tough," he added. "Here we are trying to get our offense going and two guys who were in the starting lineup go down with injuries…L Grant is solid and Boi-Zee was 4-for-5 the day before. That's a blow."
Meanwhile, Beals waits for two of his "Dudes," as he refers to them, to get out of the blocks with the bats.
"I'm not pointing fingers," he said, "but if our offense is going to go, then (Troy) Montgomery and (Ronnie) Dawson need to get after it. They were 3-for-23 over the weekend…
"They need to settle in and get over all the hype, that scouts are coming to see them play, and it's their (draft) year, and focus on their season.
"We go to take batting practice at some high school field on Saturday before our game and 13 scouts show up to watch us on some crappy high school field. I've told 'em, 'You got to focus on the now or, those guys won't be there tomorrow to see ya.' But, it's easier said than done."
Here's a brief rundown on what took place and who did what in the three games at Port Charlotte.
Seton Hall 3, Ohio State 9
Jacob Bosiokovic went off against the Pirates with another display of his ability to drive the ball, and, from time-to-time, show remarkable power. After a bit of a scuffle during the four-game stretch at Myrtle Beach, the junior right fielder was 4-for-5 with three doubles, a home run, his conference leading fifth, scored three runs and drove in three.
Of his 12 hits to this point in the season, eight have been for extra bases.
Adding to the 12-hit attack, 1B-DH Zach Ratcliff, who finally got untracked. The senior came into the game hitting .150 (3-for-20), but was 3-for-4 with two runs scored and an RBI.
Freshman Brady Cherry drew the start at third base and contributed a double. Though Beals has not said so, Cherry appears to be very close to nailing down the starting job at third.
Dawson also doubled, while senior co-captain Nick Sergakis extended his streak of hitting safely to nine straight games.
The pitching was solid. Starter Tanner Tully fell behind 3-0 in the fourth, but kept OSU in the game until the bats warmed up. He worked 5.1 allowing six hits and three runs, while striking out five and not walking a batter.
The bullpen—proving to be a genuine strength—gave OSU 3.2 shutout innings. The trio of Austin Woodby, Michael Horejsei and Seth Kinker did not allow a hit and walked but two. Horejsei struck out two.
Illinois State 5, OSU 4
This will be a game that will gnaw at Beals for some time. It's the kind of game that wakes him in the middle of the night and keeps him up until the wee hours of the morning.
It was a one-run loss with the bases left loaded in the bottom of the ninth on a called third strike. Worse yet, it was a game in which the go-ahead run was the product of an error, one of three committed in the game, two by the usually smooth Sergakis; the third by Cherry.
Above all else, Beals wants "clean" baseball. This was anything but. Besides the three errors, OSU had a wild pitch, a hit batsman, a balk, a passed ball and three men were picked-off base.
Illinois State had just six hits against Buckeye pitching.
OSU 2, Boston College 6
On Sunday afternoon, the trip took another losing turn. The Buckeyes ran into a tough left-hander—Jesse Adams—who worked six-plus innings, allowing but one run on one hit.
BC's bullpen was just as efficient, tossing six innings of one-run, one hit ball. On the day, BC pitching struck out 10 and issued three walks.
Sunday's loss was the fourth time this season the Buckeyes were held to three runs or less.
The only hits belonged to Sergakis, a double, and Cherry with an RBI single. Cherry has now reached in eight straight games.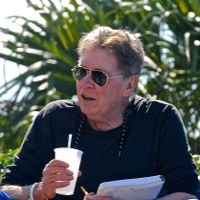 OSU blew a major scoring opportunity in the fifth. With the bases loaded and one out, they failed to get a run in.
The Buckeyes are now 6-4-1 with a trip to Las Vegas coming up Thursday and a four-game set with UNLV. The Runnin' Rebels are 3-6 with two games this week against UC-Riverside.
Through Sunday, they had lost two to Texas, three to West Virginia and one to San Jose State. In UNLV's six losses thus far, the Rebs have allowed 60 runs. In their three wins, they have scored a total of 10 runs.