You might not know his name, but you know his music.  On this date, in 1932, John Phillip Sousa…the March King…died.
I love writing these, and I've done a bunch of short post-mortems over the years on significant names in music, and entertainers.
But none of them…Ray Charles, Red Sovine, Patsy Cline, Percy Faith, George Jones, or Tammy Wynette…had more cultural impact on music in America than former United States Marine Band leader, and composer, John Phillip Sousa.
Sousa had the greatest, and most popular, band of his day…a real "4th of July" band…that traveled the country, performing, and delighting listeners with martial music, light operatic ballads, and waltzes, most of which were his own original works.  Indeed, he wrote a bit of everything, but it was his military marches for which he was best-known.
His service at the White House covered the terms of Presidents Hayes, Garfield, Arthur, Cleveland and Harrison. Many of his most famous musical works were composed during this period. One of these, "The Washington Post March," was adopted by many dancing masters for use in teaching the two-step, which was just being introduced at the time. He sold that composition, which is still widely played, for $35.
In no particular order of their composition:  Semper Fidelis (official march of the Marine Corps), The Thunderer, Hands Across The Sea, King Cotton, Hands Across The Sea, The Liberty Bell, El Capitan, The Washington Post, and of course, his most famous and most familiar, The Stars And Stripes Forever.
Small in stature, Sousa was a big personality in his day.  A creative marketer of his work, he was a bit irascible with it, demanding always that concerts, travel, accommodations, and of course, the music, be done on his terms, or not at all.  He was immensely American in his allegiance and loyalty to all things, and frequently turned down offers from foreign countries, especially in Europe, to guest conduct, or have his band led by the grand maestros of that continent.  He did however, lead his band on five tours of Europe, always performing for enthusiastic crowds.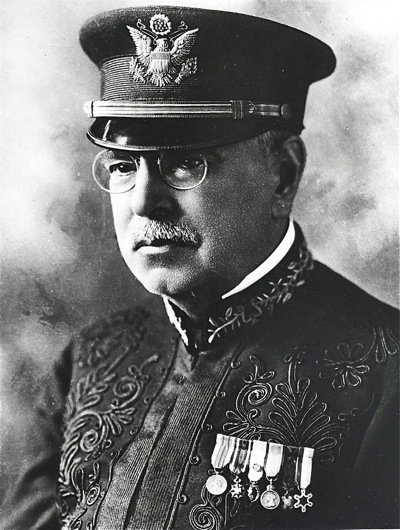 An outstanding musician in his own right, the violin and clarinet being his specialties, he's noted for inventing several of the instruments common to brass and marching bands of this day.  The modern "bass" horn was his creation, and it's commonly known now as the "Sousaphone".
He had a terrible disdain for new technology of the day, principally radio, and refused to be recorded, or to perform on that medium as he believed it would destroy live audience appreciation for the arts.  He got over that, however, in 1929, when he was offered an enormous sum of cash, $50,000, to conduct his Sousa band for a Independence Day concert to be broadcast nationally.
He was 5'6″ tall, but was an avid athlete and shooter.  His principle hobby was trapshooting, and the Ithaca Gun Company built customized shotguns that he enjoyed using, and with great pride, delighted in the fact that the highest grade model was named in his honor.
He died quietly of a heart attack in a Reading, Pennsylvania on March 6, 1932, the night before guest conducting a local band performing tunes of his composing in his honor.  He is buried in the Congressional National Cemetery, in Washington D.C.