It wasn't pretty, but they found a way.  The Flyers collected themselves behind Scoochie Smith win over VCU, win a league title, and win the #1 seed in this weeks A-10 tourney.
DAYTON — The University of Dayton basketball team cut down the nets after Saturday night's game in UD Arena, a game they spent trying to cut their own throats.
But they won, somehow they won, beating Virginia Commonwealth University in overtime, 68-67. With the victory came the spoils of the Atlantic-10 conference championship and the No. 1 seed in next week's A-10 league tournament.
As UD coach Archie Miller said after the game, "They don't ask how you did it, they ask if you did it. And the answer is yes."
The fans were ready but the Flyers weren't. A capacity crowd of 13,455 was assaulting ear drums before the tip-off.
It was Senior Night and they played the Canadian national anthem in honor of senior Dyshawn Pierre, UD's first Canadian-born player. Then when they played the Star Spangled Banner, the student section sang along and soon the rest of the crowd joined in at the to apex of their lungs. Indeed, the crowd was 'Flyered up.'
Then the game began and within two minutes three different VCU players hit three-pointers and UD was down, 9-0.
And as the game progressed, the Flyers committed 10 turnovers in the first half to four for VCU. They made only 8 of 25 shots and there were enough air ball to fill a dirigible.
The game was a wart on the end of a witch's nose, pure ugliness for a game to determine the league champion.
Pierre, definitely over-ramped on his night, bent the iron on the rims with an assortment of off-balance and forced shots to go 1 for 5 in the first half. Charles Cooke, normally a sharpshooter, air-mailed a few shots and was 1 for six in the first half.
Fortunately for the Flyers, VCU was far from pretty as a picture and only led at the half, 28-26, mostly because they were 5 of 10 from the foul line and missed their final 10 three-point attempts after making those first three.
Then came the second half and more basketball you never want to see. Exciting? You bet. Well-played? Absolutely not.
The difference, though, was point guard Scoochie Smith. He made his game in the second half, scoring 20 of his 29 points.
UD trailed, 55-51, with 44 second left and it looked as if the Flyers would topple from a possible first-place finish all the way to fourth and a No. 4 seed.
But Kendall Pollard hit two free throws and VCU's Doug Brooks missed two freebies with 26 seconds left.
Smith drove for the tying basket at 00:11 to tie it, 55-55. VCU had two shots under the basket as time ran out. When the buzzer sounded, a VCU shot was sitting on the rim like a mother robin on her nest, but somehow it fell off without going in.
Overtime.
Pierre already had fouled out with 1:16 left in regulation and Kendall Pollard fouled out with 3:22 left in overtime — UD's two most veteran players on the bench with the game dangling on the precipice. When Pollard fouled out the Flyers trailed 62-59.
"When they both fouled out, I just told everybody, 'We're still going to win this game,' said Scoochie. "We've been in this situation too many times and I just told everybody the game is too close and I wasn't worried and tried to give everybody else confidence."
And Smith made sure it happened. For the game he had 29 points, eight rebounds and five assists. His 29 points, a career-high, followed his previous career-high of 26 Tuesday night against Richmond, 24 in the second half.
Miller said he had a chat with Scoochie before the Richmond game, emphasizing that he was the engine on this team and needed to pull harder. On this night, he was the engine, the box cars and the caboose.
"Coach is always telling me to be more aggressive with my shots," he said. "I needed to step up for my team because we've been fighting adversities the past few weeks. I'm just trying to take over some leadership on and off the court."
After Pollard fouled out, Scoochie made three free throws, freshman Steve McElvene scored underneath, but UD trailed, 67-66, with 27 seconds left.

VCU's JeQuan Lewis missed a free throw and Scoochie grabbed the rebound and hit Kyle Davis on the right wing. He drove hard to the basket and scored with 16 seconds left to give the Flyers a 68-67 lead.
Amazingly, VCU committed two turnovers in the final seconds, but Kyle Davis missed two free throws at 0:06. VCU's best three-point shooter, Melvin Johnson, had an open look from the left corner as the clock ticked down and his shot whizzed past the rim as the horn sounded.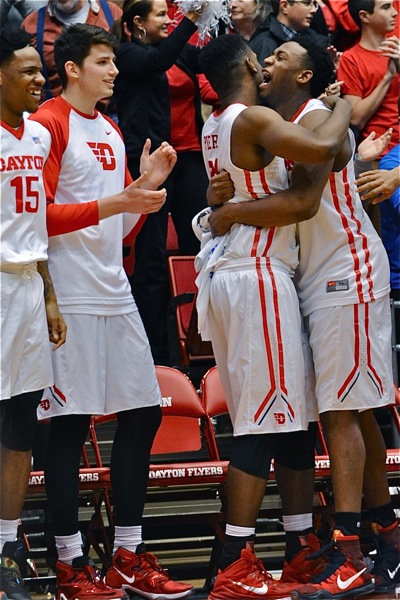 "They play a ragged defense, all over the court," said Scoochie. "You have to play more off instincts. I was just trying to be a basketball player instead of a robot. I tried not to run plays as much because that's what they want you to do. I just played natural basketball."
On this night, Scoochie certainly wasn't R2D2.
About Smith, Miller said, "Scooch had an all-conference week. We talked before we left for Richmond and I told him, 'We need you, you're our engine.' If he plays well, has a voice and is being a leader. . .well, he had one heck of a week.
"We just hung around tonight," said Miller. "Our guys understand that if we hang around we have a chance to win. It hasn't been easy on us the last 3 ½ weeks. We haven't played good ball, haven't been as tough-minded or tight-knit as we needed to be.
"We found a way to play really, really hard in some dark moments," Miller added. "That's a good sign because if we get it clicking again and get our chemistry going again I think we're a team that can make some things happen.
"But it's not easy," he said. "The path for us started in August (practice) and we set out to try to do something special. The end of the path was today (a league championship) and how we got here wasn't easy. But at the same time nothing is easy if it is worth having. I'm proud of our guys because we did it the old-fashioned way."
After the victory and before they cut down the nets, the Flyers ran into the stands at the north end of the arena to pay tribute to the Red Scare, the student section, most of whom were wearing basketball jerseys with either the No. 21 (Pierre) or No. 22 (Bobby Wehrli), the team's two seniors
The No. 1-seeded Flyers open the Atlantic-10 tournament Friday in Brooklyn, N.Y.