His is a baseball odyssey, an odd journey, with an unlikely legacy thrown in.  No one…appreciates now being a Buckeye more than L Grant Davis!
COLUMBUS—Practice was over. Homework was in check. L Grant Davis had a rare moment to just sit back and think, let his mind travel wherever it chose to go.
It had been another good day on the field. Things were going his way and somehow—maybe because of that—his mind turned to his parents and his grandparents. At first, it seemed odd to Davis that he would think of his family, but not really. His grandma, Isabelle, had recently passed. A stroke had taken here and though some time had passed, he still thought of her every day.
He thought about growing up in the kind climate of Southern California, Little League games under a high blue sky, going to Dodger games with his grandpa, Harold, and how he told him about the season tickets that had been passed down from his great grandfather.
He remembered sitting there at Chavez Ravine, watching Nomar Garciaparra and Eric Karros and wondering how they could do what they did so well, looking out beyond the scoreboard at the palms on the brown hills beyond the fences in right-center field—sitting there with his grandpa and being so perfectly content and excited.
They were good times and there were so many: listening to Angel games on the radio with his dad and mom, pictures in family albums—him in a baggy uniform, maybe three years old, with a baseball in his hand.
He couldn't help but smile.
He thought of the hard times, the days at Arizona State, when playing time came in slow drips and thin slices; days when he wondered if he should go on, if he shouldn't just give up. There was the wrist injury that put him on the shelf and made him wonder if could recover enough to continue and succeed, and pneumonia that cost him 20 pounds and robbed his strength.
"I've been through a lot," he thought, "and they have always been there for me, my parents, my grandpa and grandma. They always knew what to say and how to say it to keep me going."
He looked out the window. The sky was leaden and low. It was spitting snow and 30 degrees. He looked across the room at his Ohio State letterman's jacket and he laughed. It was just like one he remembered from long ago. He had, indeed, come full circle.
Here he was in the heart of Midwest, the starting second baseman for Ohio State University and he was happy, as happy as he had ever been in his life.
"Wow," he said. "I can't believe where I am. I'm fortunate to be where I am. It's something I've always dreamt of doing…I'm beyond happy. I'm proud. I'm proud to be a Buckeye, and I look forward to whatever the season has in store."
He was on his way to the team charter and the flight to Myrtle Beach, S.C., where the Buckeyes would face the sternest test of the young season, games against Duke, No. 19 Coastal Carolina and Liberty. The Buckeyes had just concluded their first southern swing going 3-0-1 in the Dodgertown Classic at Vero Beach, Fla., where Davis hit .400 (6-for-15) and played his typical solid game at second.
"How does a guy get from Orange County, California to Ohio State?" he said and laughed. "It was kind of an odd journey in one way. In another it wasn't at all."
In fact, it was a short hop and one that couldn't have made his family more proud.
"We lived in Southern California, but OSU was always in my house," he said. "It was OSU this, OSU that…My friends—everybody it seemed like—were USC fans. Not us. It was Ohio State all the time."
His father, Lenny, graduated from OSU and was a manager for the football team in the Woody Hayes era.
"My father shared all kinds of Woody stories, all kinds," he laughed then. It was deep and full, filled with memories and coming from someplace deep and real.
"I remember walking around the house in my dad's letterman's jacket," he said. "It was massive on me. It dragged the floor. Now, that I have my own it's even more special."
He earned that jacket with a spunky style of play that made it hard on coach Greg Beals to keep him out of the lineup. Last year, Davis' first in Columbus after two years at Arizona State and a year at Orange Coast JC, the Buckeye infield was anchored by: Troy Kuhn (third base), Craig Nennig (short) and Nick Sergakis (second).
Consequently, playing time was short, but every time Davis was called on he delivered a scrappy play or scratched out a hit or two. Slowly, he made his mark, closing the season with a .282 average in 22 starts (32 appearances). He was 3-for-3 in OSU's 2-0 win over then fourth-ranked Louisville, perhaps the Buckeyes best performance of the season.
"I started off slow last year," Davis said, "and I'd like to believe it was because of the pneumonia. It hit me in January right after we got back from break."
He lost 20 pounds, but the greater loss was strength and stamina. What he didn't lose—what he's never lost—was his determination, especially after arriving at OSU.
"That," he said, "was a dream come true for my family and me."
Through the 2015 season, fall ball and spring practice, Davis emerged as a player who could not be ignored or denied, a player who forced Beals to shift his starting line-up. When the season opened Feb. 19th at Vero Beach , Fla., in the Dodgertown Classic, Beals had moved the versatile Sergakis to third, Kuhn to first and installed Davis at second.
"L Grant Davis is a great guy to have on the field," Beals said. "He's not the best player on the field, but he's a great guy to have out there. He communicates well. He knows exactly what we want to do on the field and when we want to do it…
"He does all the little stuff well which adds up to being a good player, and if he can hack out a couple of hits a game—which he does, and however he can get 'em—all the better. We'll take it."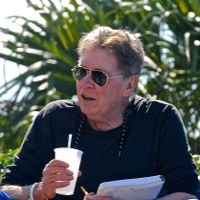 Davis responded by hitting .400 (5-for-12) in the opening four-game series. After this past weekend's tournament at Coastal Carolina, he's at .276 (8-for-29), a tough out in the lower third of the lineup—a gamer.
"I've always considered myself as a consistent player," Davis said. "I'm not a guy who is going to wow anybody or be on top of everybody's radar. But I'm not so far under the radar that no one notices.
"I work hard with what I have and the opportunity I've been given. I put as much effort into it as I can. I do not want to let this get away."
He's caught a dream, a dream that was not only his, but one shared and fostered by his family—his grandma and grandpa, his dad and his mom.
"I guess," he said, "I'm working and playing for them as much as myself."