It was a good and impressive start, but it was just that — a start. There's a long and difficult road ahead for the Ohio State Buckeyes but they are buckled-up, buttoned-down and ready to get down to the business at hand.  And take it from them, in 2016 it's serious business.
VERO BEACH, Fla.—They cracked the seal on this season by answering a few questions. Ohio State opened the 2016 campaign here Saturday, topping Toledo, 7-1, in the Dodgertown Classic.
"Well, starting to (answer questions)," Buckeyes coach Greg Beals said. "It was a start – and a good one."
Faced with skepticism about their pitching and run production, issues that placed OSU in the middle of the pack in Big Ten preseason polls, the Buckeyes delivered on all fronts.
They had 11 hits, five for extra bases including home runs by Jacob Bosiokovic in the first, establishing a lead that was never challenged, a two-run shot in the three-run fifth by Jalen Washington, and a two-run bomb by Troy Montgomery in the sixth, that rounded out the scoring.
They played errorless ball behind starter Tanner Tully, who pitched six shutout innings, allowing six hits and walking one, and capitalized on one of two Toledo errors.
That came in the fifth, an inning that may be indicative of how this team will perform. With one out, Bosiokovic, the starter in right field, beat out an infield single. One out later, Nick Sergakis worked his way deep in the count then dropped a slow roller toward third.
Sergakis beat it out and the throw was wide and wild. Bosiokovic scored from first and Sergakis went all the way to third. Next hitter, Washington, went deep down the left field line—5-0 Ohio State.

"We played clean baseball," Beals said, "seven runs, 11 hits, no errors, Tanner (Tully) gives us six scoreless, walks one. The only run we allow is by a new guy to the program, Austin Woodby, who is still trying to, you know, find his way. He gets a three inning save. Clean. Throwing strikes…I'll take it. That kind of effort, that kind of performance will win some ballgames…It was good to see.
"But it was just the start, and our guys know that. That's the important thing…We've got a lot of experience on this team (11 seniors, six juniors), but we also have maturity…That counts for a lot – and will for this team. They've been through a lot together and it's led to a solidarity that's, well, rare."
For the most part, they witnessed the injuries that helped contribute to a disappointing finish in 2014. Last season, they were part of a late-season collapse, a 1-8 finish in the Big Ten that crashed the year. "Nobody feels good about the way the (2015) season ended," Beals said. "Everybody feels like the fish got off the hook."
And, there was the tragic death of teammate Zach Farmer, who passed last summer after battling Leukemia. He was 21.
"All but two guys made it back for Zach's funeral," Beals said, "and those guys were on family vacation and couldn't get back. Ronnie (Dawson) and Tully drove all night from the Cape (where they were playing summer ball) to get to us, to be with the team. That's what started this bond—this commitment. They are pushing one another. They, the players, are taking the lead. It's not me always beating them over the head, telling them, 'You need to do this. You need to do that.' They are doing it."
That's more than a coach's wish or wishful portrayal. It's real and easily witnessed.
Thursday night after a two-hour flight and two-hour bus ride from Orlando, the team arrived at the Dodgertown complex just after eight o'clock. There was a chill in the air and the night air rattled through the palms along the main drive.
The players filed off the buses, went to their rooms, changed into practice clothes and went straight to Diamond Two for an 8:30 workout. There was no slap-and-tickle, no goofin' or spoofin' around. They went to work.
Batting practice was spirited, but business like. Hitters worked the ball around the field, checking on who was doing what. When a loud whack was heard and a ball went well over the 340 fence in left, someone said. "Wait, who was that?"
Infielders checked the bounce and skim of the grass and dirt. Outfielders tried to get a handle on the winds that seemed to circle and shift. In an hour or so, they were done. Time spent efficiently. Back to their rooms. Breakfast at nine.
It was all about preparation, and that's the way it's been since Fall Ball, and that's the way it will be.
"We just know that every thing, every game counts," said Washington. "You have to be ready for the play – the moment. We've talked about that a lot…"
"We're experienced," Montgomery said. "We know what it takes, what's at stake and we're ready to go, I'm tellin' ya. There's really no time to be, you know, messin' around."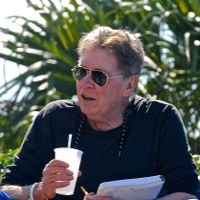 NOTES: OSU plays Niagra and Pitt in a doubleheader Saturday. The first game at Holman Field is at 1:00, the nightcap at 6:00…Friday's lineup was not exactly what most expected. Sergakis started at third instead of second, Troy Kuhn opened at first, instead of third, and L Grant Davis drew the start at second…Davis responded by going 2-for-3 with a run scored. Beals said the shift was an example of the "versatility" of his club, but it's clear he likes what Davis brings to the club…Bosiokovic, who was a redshirt last season, was 3-for-5 in the two-hole with two runs scored and an RBI…Sergakis was 2-for-4 and turned in another stellar play at third…He's making a habit of doing that…Montgomery put on a show chasing down fly balls in the wind…Woodby allowed Toledo's only run on a solo homer by A.J. Montoya, but he had two strike outs and didn't walk a batter in his three innings of work, his first appearance as a Buckeye….Adam Niemeyer starts Saturday versus Niagra. Senior lefty John Havird starts the second game against Pitt.
(Edited By Julie McMaken Wright)