In an age of bigger, stronger, and faster, it's baseball that continues to hold the trump card for the athlete that's neither, bigger, stronger, or faster.  Just better.
Spartanburg, SC – I'm reminded every baseball season, because baseball comes at the end of the high school and college sports calendar year.  It comes after football and basketball.
I was reminded yesterday when freshman pitcher Austin Cline, from Ben Logan High School, made his college debut for the Dayton Flyers against Stoney Brook University.
The reminder?  Well, generally, the athletes in football and basketball continue to get bigger, stronger, and faster with each passing year.  If you're going to compete you have to keep pace.  To even make the team you might have to at least look the part.
But baseball?  Different.  In a day where baseball players are, in fact, bigger, it's the Austin Clines of the world that still prove that if you can throw it where they can't reach it;  if you can't disrupt a hitter's timing…you can beat the odds.
You see, Austin Cline isn't 6'4″, and 210 pounds.  Far from it.  He's listed on the Dayton baseball roster as being 5'11" and 170 pounds.  And if he's 5'11" I'll boil his glove and eat soup off it.  Baseball was invented for guys like him.
Don't get me wrong.  Cline is hardly what my high school coach, Jim Hardman, used to call a "cunny-thumber".  A soft-tosser, in other words.  An all-stater last year at Ben Logan, he's armed with an 85-87 mile-per-hour fastball that has enough pace and late movement to make hitters miss.  Think of 87 miles per hour on the interstate, for perspective.
But if he threw five miles per hour faster that's still not imposing to dominant Division I college hitters, and that's the cunundrum in modern baseball.  90 miles per hour, in this day's game, is what the scouts call "hitting speed"!
For that matter, none of the impressive arms seen on day one of the Dayton Flyers opening weekend has been any threat to Nolan Ryan.  And yet, there have been some impressive pitching…all in the 85 to 87 mile-per-hour range, with movement, and as the realtors say, location, location, and more location.
It's what sets baseball apart from football and basketball.
In football you have to have size, strength, and speed.  Being small and slow is a horrible combination.
In basketball, you have to have size, or speed, or jumping ability.  It's true that the essence of the game is shooting, but if you don't have one of those three attributes the only shot you can get off is a free throw.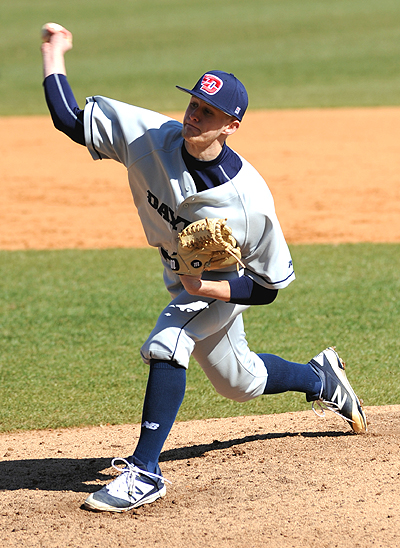 Yet, in baseball, if you have at least two of the five requisite skills…speed, arm strength, you can catch the ball, hit, and hit with power…you can make an impact.  Even the skinny shortstop from Stoney Bro0k (155 lbs) made an impression on those watching yesterday when he routinely caught every ball hit at him and threw it the first base with laser speed and accuracy.
He couldn't play football at 155 pounds.  And at 5'9″, I doubt if he had much of a shot in basketball.  But with baseball, he's relevant because he has a skill set that fits the challenge of his position.
"We really got acquainted with Austin playing summer ball in Dayton for Greg Beamer,"  says Flyers coach Tony Vittorio.  "We just really liked his makeup, his competitiveness.  He didn't throw overly hard when we first saw him, maybe in that 82-mile-per-hour range, but when he showed up on campus for fall ball he was throwing in the 85-87 range.  And, he could throw three pitches for strikes…fastball, curve, and a changeup."
A non-scholarship player looking for an opportunity to continue his baseball dream, Cline made an impression.
"We knew about him…knew that he came from a good high school league in the Central Buckeye, with Tipp City, Kenton Ridge, Bellefontaine, and some other schools.  He wasn't overpowering, he just impressed by his ability to compete,"  adds Vittorio.
He made his college debut Friday in the fifth inning of an 8-3 deficit to Stoney Brook.  Cline promptly threw a fastball past the leadoff hitter for a swinging strike three.  The next hitter swung and missed a couple of sharp-breaking curveballs before locking up on a 87-mile-per-hour fastball for a called third strike.
Easy.  But wait!
Two outs does not an inning make, and before he could close the inning he'd surrendered a base hit, a hit batsman, and a walk on an ever-so-close 3-2 pitch that was called ball four.  He went 3-2 on the next hitter before giving up an opposite-field cue shot double that cleared the bases and tarnished his dream debut.
Down 11-3, he didn't hang his head.  Rather, he came out for the sixth and flashed that competitiveness that landed him a roster spot in Division I baseball.  He mixed his pitches confidently, pitched a scoreless inning, and exited on a positive note.
"I made a couple of mistakes,"  he said later.  "I was a little nervous.  But I was confident that I could pitch.  I made some pitches and got some outs."
His line score:  2 innings, 3 hits, 3 earned runs, 2 strikeouts, 1 walk, and one hit batter.
His prognosis:  Good.  Excellent, in fact.  Austin Cline had proven that you don't have to be bigger, faster and stronger to be better.  In baseball, you see, you just have to throw strikes with movement and location.  Picture Don Knotts, if you will, beating J.J. Watt in a game of chess.
"I feel great,"  he said on the bus ride back to the hotel Friday.  "I'm ready to go back out there."
And he'll get that chance.  He has exactly what he needs to play baseball.
What no other sport can offer Austin Cline.
*  Cover of Dayton Flyer baseball is sponsored, in part, by team members from the class of 2004!