An eight-hour bus ride, ear-splitting movies on the bus, and they ran out of eggs for breakfast.  But no one on this trip would trade college baseball for anything.
Spartanburg, S.C. — There is nothing like baseball's Opening Day, be it at the pomp and circumstance of Great American Ball Park in Cincinnati or be it at quaint and cozy Russell C. King Field on the campus of Wofford College in the upper reaches of South Carolina.
The fresh smell of grass is the same, the smoky odor of grilling hot dogs is the same and the dimensions on the carefully-groomed field are the same.
The college game is deep-seated in baseball, although there are no multi-millionaires swinging the bats and there is not $125-a-day meal money and there is not five-star hotels and there is not a chartered Boeing 767 to take the team from city-to-city.
Did somebody say deep-seated? That's the way it was for the University of Dayton baseball team this weekend. On Thursday, they were deep-seated in a chartered Buckeye bus for 8 ½ hours. There was one 10-minute stop at a rest area for relief, and the relief had nothing to do with a bullpen.
There was a 40-minute stop just off -75 at a cluster of fast food stops north of Knoxville, Tenn., where the players could select the burger joint of their choice.
How long is a butt-numbing bus trip? It is four full length movies, classics like Ted, I Am Legacy and Dodgeball, played at high decibels. And there was a box lunch tossed in.
The Flyers are in South Carolina for three games in three days, starting Friday afternoon and ending Sunday morning.
It is grass roots baseball, played by kids who love the game, play it for nothing other than partial scholarships (and not all of them even have partial scholarships), enduring the 8 ½ -hour trips that get them to their destination at midnight, where coach Tony Vittorio orders immediate, "Lights out," and breakfast (free at the Marriott Courtyard) is at 8:30 and the bus leaves for the first game Friday at 9:30.

Unfortunately for the Flyers, their Opening Day assignment was against the Stony Brook Seawolves, one of the best, if unknown, baseball program in the country. The Seawolves made it the College World Series a few years ago and began this season as the 26th-ranked team in the nation. They return 21 lettermen and seven players who started last season on a team that was 35-16-1.
The Flyers lost, 11-6, but put up a gallant effort. They trailed by only 3-2 going into fourth inning before Stony Brook's five-run fourth and three-run fifth put UD down, 11-2. They didn't quit, they didn't hang heads, they didn't cry uncle. They scored two in the eighth and two in the ninth to make it respectable.
And, hey, the weather was great — sunshine, blue cloudless skies and 60 degrees.
"I can remember coming here a couple of years ago and we got snowed out," said junior outfielder Mitch Coughlin of Bellefontaine. "We were supposed to play Gardner-Webb, so the two teams had a snowball fight instead. You know baseball players; we always find something to do."
Coughlin who led the Flyers last season with a .340 batting average, began the new season on the upswing with two hits. Catcher Matt Poland (Pickerington North) led UD last year with 21 RBI and also began the season belligerently with three hits and two RBI. Shortstop Nick Weybright (Indianapolis) and center field Glenn Jones (Indianapolis) each had ( two hits as the Flyers matched Stony Brook with 12 hits.
The Flyers, though, couldn't get out from under a walk on the wild side by starting pitcher Sam Brunner (Fort Collins, Colo). He gave up only four hits in 3 1/3 innings, but walked seven Seawolves, a team of discerning and well-schooled hitters on recognizing the strike zone.
With the Flyers down, 3-1, in the second inning, first baseman Nick Gobert cleared the left field wall and disturbed some branches on tall trees beyond the fence for a home run.
Then he led the seventh with a high drive that put the Stony Brook left fielder's posterior against the fence before he made the catch.
"One more bagel for breakfast and you would have had two homers," he was told.
"Nah, I think it was the eggs," he said. "They were out of eggs when I went through the line. If I had had some eggs. Actually, I just got under that second one a little bit."
Gobert is a junior from Jasper, Ind., a town made famous by former All-Star third baseman Scott Rolen, who finished his illustrious career with the Cincinnati Reds.
Does Gobert know Rolen? Does he ever?
"My dad (Terry) is head coach at Jasper High School and he coached Rolen there," said Gobert. "Scott gave me a PlayStation One when I was a kid. That was pretty cool. He was at our house a lot. He's my idol."
Of the game, Gobert said, "I thought we played all right overall. We just gave 'em too much. But offensively and defensively it was pretty clean."
The Flyers didn't commit an error, nor did Stony Brook. And UD turned three double plays, one started by second baseman Nick Ryan (Naperville, Ill.) that would have made Brandon Phillips proud. Ryan roamed to his right and backhanded the ball, then flipped it to shortstop Nick Weybright to make the turn.
Vittorio, who coaches third base (something major league managers never have to do), bemoaned the walks that put his team down under in a hurry.
"We needed a better start out of our pitcher," he said. "We weren't working to advantage counts. We forced them to play right into their game."
Incredibly, last season Stony Brook had more walks (246) than strikeouts (224). And it was more of the same Friday as UD pitchers walked 10 and struck out six.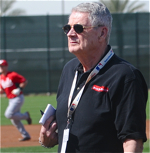 "They have veteran selective hitters and we got off to a bad start with our starting pitcher," Vittorio added. "But I thought we did a great job with our offensive approach. For about a three-inning span we had a lot of flyouts with runners on base so we weren't able to use our aggressive style of game. Our guys did battle right to the end."
The Flyers play again Saturday afternoon against the University of South Carolina-Upstate, then play the University of Kentucky Sunday morning at 10 before embarking on the 8 1/2-hour trip back to Dayton — four movies, a box lunch, a rest area stop, a quick fast food stop and 40 numb carcasses.
College baseball — ya gotta love it.
*  Coverage of the UD Flyers is sponsored, in part, by team members of the class of 2004.