The Piqua Indians have clinched their third straight winning season. Now they have a bigger goal in sight – he program's first tournament win in 9 years.
Piqua – History comes in many shapes and sizes.
There is big history (for example, UCLA's 10 national championships in 12 years in the 60s and 70s), really big history (Neal Armstrong walking on the moon on July 20,1969), and smaller bits of history that are remembered by only a relative few.
Of course, there is also good history and bad history.
The Piqua boys basketball team has suffered through a lot of bad history through the years. Now, led by a determined group of seniors, the Indians are making some positive history for the long-moribund program.
The Indians recently clinched its third consecutive winning season, and while 3 straight 12 win seasons doesn't compare to, say, walking on the moon, it is significant for a program that has won just 34% of its games since the 1999-2000 season.
"It's been almost thirty years since the program has had three straight winning seasons," said fifth year head coach Heath Butler. "So that's very exciting. It's great for the program, great for the kids, and it's also great for the community. Now when you come to our games the stands are filled and it's just a great atmosphere."
The Indians rank third in the GWOC North in wins over the past three seasons, with their 36 trailing Trotwood (60) and Greenville (44). Piqua snapped a 26 game losing streak to Trotwood with an 86-79 win at home in December of 2014, the marquee win of the last three years.
Butler, who has a record of 49-63 heading into Saturday night's tournament opener against Beavercreek, took over a program that had gone 5-58 the previous three seasons and had lost an almost hard to believe 55 of its last 57 games.
"We had to teach kids the right way to play the game, and we took our lumps the first couple of years," Butler explained. "We started at the third grade and built the program from there. Piqua has always had good athletes, but we had to rejuvenate some excitement for the program. These seniors did not have a lot of success as freshmen, but they have always done the right things, on and off the court and it's something to be very proud of.
Butler has been an assistant in Bill Nees' football program for several years and brought an important attribute of that program to the basketball court.
"There is a great sense of pride surrounding that program. You just get a feel of greatness when you walk into Alexander Stadium on a Friday night. We wanted to bring pride back to this program. We have had the 1969 team back (District title), we have had the 1984 team back (last league title). We want the kids to know where the program has been, to know the history. Now when you walk into Garbry gym, you know the Indians are going to play the game in the right way.
"Our senior class has been just tremendous. You start with Colton Bachman, our thousand- point scorer. He brings so many things to the court every night. What he has done this season (Second in the GWOC in scoring at 22 points a game) without an ACL is remarkable."
The 6-4 Bachman, who has scored more than 1500 points in his four-year career, thought the worst when he tore his ACL in August.
"I did think my season was done," he acknowledged. "It was heartbreaking for a while. But I'm blessed to be in the position that I am in. Thank God for the doctors that made it possible and for everyone that has my back."
"Bradley Hohlbein has had a breakout season for us," Butler continued, referring to the 6-2 senior. " He scores, he rebounds, he's made a lot of big plays for us. Derrick Gullett and CJ Davis do a lot of things that don't show up on the scoreboard, and they are ok with that. As long as we win, that's all that matters to them.
Then you have guys like Nash Black, Tyren Cox and Brady Hill who contribute every day in practice and in games when we have called on them. They are all leaders."
Not to be overlooked is the leading junior on the team, 6-3 Nate Monnin. He averaged a double-double on the season, 11 points and almost 11 rebounds a game, and has been a force inside all year.
While the program has seen slow but steady improvement over the last three seasons, there is still an elephant in the room. A tournament drought that extends back to 2007, one the Indians narrowly missed ending last year against Tecumseh.
Butler said ending that drought is the next step for the program to take.
"To see all the struggles these kids have gone through, dating back to their freshman year, to see all their hard work over the years, to get our first tournament win would be great. It is important for the program, to give the kids some validation for all their hard work. They deserve it."
Beavercreek will be no push-over for the Indians. Despite a 5-16 record, the Beavers have a great tradition, and play a very tough schedule. Butler knows his team will have to be ready to play.
"We can't afford to get off to a slow start. Tournament games go by so much quicker than regular season games. There may not be many in the stands at the beginning, and a big crowd by the end. So the atmosphere changes during the game. There aren't as many fouls called, the games run smoother, and part of that is you have been preparing for that opponent for two weeks. To win in the tournament, you have to make plays down the stretch. That's what we didn't do last year against Tecumseh."
The 6-0 Gullett, who is third on the team in three point shots, said the Indians know there is no tomorrow.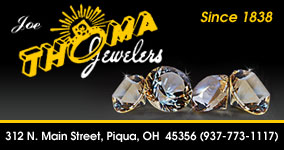 "There's definitely a different vibe for the tournament, especially the for us seniors. We know we have to go as hard as we can because this could be the end. To win a tournament game after such a long time would be amazing. We just have to have a good week of preparation, then play the way we can Saturday night.
Hohlbein, who shoots better than 50% from the floor and 70% from the line, said the Indians have made a lot of memories this season.
"Some of the best ones have been off the court, just hanging out with the guys. It will be hard to move on at the end of the season, but we hope that we haven't reached that point yet."
Hohlbein made a memory of his own when he decided to serve in the Army reserves after graduation.
"I have always wanted to be a part of something bigger than myself. It will be a challenge and a great opportunity to grow as a person."
CJ Davis, a 6-3 senior, is the emotional leader of the Indians. He was ready for the tournament game Tuesday afternoon when we chatted before practice.
"We have been looking forward to this all season. It's a chance to make history since it been so long since our last tournament win. There is a definite increase in intensity at tournament time, because both teams know that if they lose they go home.
"As a kid, you dream about being on the team, and having success, and being remembered for that. We don't take that lightly, and hopefully teams in the future can continue what we have started."
Bachman said it's a special week for the seniors.
"We know that this could be it, and that's heartbreaking. To get the first tournament win since 2007 would be awesome. If we play the way we can, I think we can do it."
Finally, Butler looked into the future, and likes what he sees.
"The future is very bright," he nodded. We have some talented sophomores ready to step up, and some juniors who have filled important roles for us on the bench this season. Our bench is always very excited and into the game, because these guys love it. The kids have learned you have to put in the work in the off-season and they are willing to do that. We had 40 kids tryout for the junior high team, and several came out for the freshman team after getting cut as eighth graders. Excitement for the game is high, and we are going to play it the right way. Win or lose, you can always hang your hat on that."
They wouldn't mind having a tournament win Saturday night to hang their hats on either. One more small piece of history; a building block for the future!