Russia overcame turnovers and poor free throw shooting to snap a five game losing streak to the Marion Local Flyers.
Maria Stein – One night after clinching their third straight Shelby County League championship, the Russia Raiders knew they were in for a battle when they traveled to Marion Local to meet the Flyers.
The host team did not disappoint.
In a physical, hotly contested game that swung back and forth the entire second half, Russia junior Cole Tebbe made the biggest play of the night in overtime, lifting his team to a 60-57 win, a decision that snapped Marion's five game winning streak in the series.
Tebbe's drive and score with 61 seconds left in the extra session gave the Raiders a 59-57 lead, and after a made free throw, the Raiders survived when Cole Griesdorn rimmed a game tying three point attempt at the buzzer.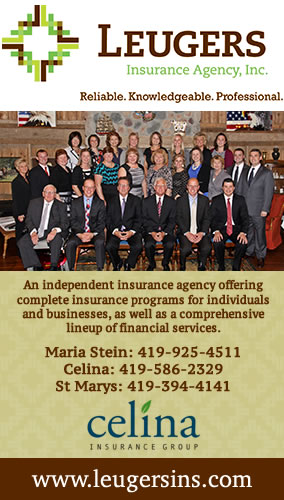 "It was a typical Marion-Russia game," said Flyer head coach Kurt Goettemoeller. "It was a physical battle all night. The JV game went into overtime, the varsity game went overtime. When these two communities get together there is always a lot of respect for each other. It's always good, clean, physical basketball, and that's what it was tonight.
"Unfortunately, they made one more play than we did at the end. Give them credit. That' a heckuva basketball team. "
"It's a dogfight every time you play Marion," echoed Russia mentor Spencer Cordonnier. "We told the kids that they were going to be up in your face and you have to be a little sharper, cut harder and be quicker. They caused us all kinds of problems all night."
"Our offense is struggling right now," he continued. "We didn't play defense particularly well, and we didn't rebound like we should. If these kids are to go where they want to go, let's face it. Our offense has got to get better and we have to rebound the ball a lot better than we did tonight."
Sophomore Jack Dapore hit a pair of first half threes to help the Raiders to a 27-24 halftime advantage. Marion Local finally took the lead for the first time midway through the third period, and had a 51-47 advantage after a three-point play by senior Kyle Homan with 2:24 to play.
The Raiders refused to fold in the face of adversity, and battled back to tie the game at 53, forcing the extra session.
"We had what we wanted at the end," Goettemoeller said, referring to Griesdorn's near miss at the overtime buzzer. "At that point, you are almost drawing plays up in the dirt. We tried to run a dribble hand-off, and Cole faked it and dribbled right into a three. It was a good look and there is no one I would rather have shooting the basketball than Cole. He's been a four -year starter for us, and I told him that the next time that thing will go down when we need it the most."
Tebbe finished with a team high 16 for Russia, while Dapore added 13. Josh York added 8, while Jake Gareity and Jonah Counts each had 7 for the Raiders, who finished the regular season at 19-3.
"It was a very physical game," said Tebbe, a junior. "It was that way on both ends of the floor, and the refs let us play a little bit, which was nice."
"Winning the Shelby County League title was one of our biggest goals at the end of the season," he continued. "Now that we have that, we have to keep going. It's tournament time and none of us want this to end any time soon."
Cordonnier did have good things to say about his team.
"Not many people thought that group would go 19-3, and that's on the kids. That' what they are about. They work and they work. They felt like they had something to prove this year, and I think they have proved to a lot of people that they can play."
The Flyers, now 11-10 with a season finale against Fort recovery next week, got 18 points from senior Derek Albers and 14 from senior Kyle Homan. Those two combined to score 23 of the Flyers 33 points after intermission. Matt Kahlig added 11 for Marion.

Russia was 23 of 49 from the floor for 47%, compared to the Flyers 20 of 55 for 36%. Neither team did much from the arc, as the Flyers were 3 of 12 and the raiders 4 of 12.
Free throws were almost the Raiders undoing, as they shot just 50% from the line while Marion made 13 of 19 for 68%
"We have won some games at the free throw line, but that wasn't the case tonight," Cordonnier said with a shake of his head. "That has to improve. But we kept battling and got the job done, even though we did not play particularly well."
The Flyers out-rebounded the Raiders 29-23, including 11-5 on the offensive glass, and had 18 turnovers to the Raiders 21.
Tebbe feels the Raiders are on the right track heading into sectional tournament play next week.
"We need to work on our offense, and our defense can improve too. We just have to keep working hard. Tonight, we didn't panic when we got behind. We just kept working, kept calm, and hit the shots at the end."
With tournament rapidly approaching, Goettemoeller said his team needs some up-coming days off.
"We have guys who are banged up that are playing and gutting it through. You can't ask any more than we got tonight. Matt Kahlig has really come on, and I told him that we couldn't afford to not have him on the floor tonight. Ryan Thobe and Tyler Prenger are giving us some good minutes, and if we keep developing, we'll hopefully peak at the right time.
"This is a great game to have at this time of the season.," the Flyers fourth-year coach continued. "You're playing a team that is ninth in the state, they have won 18 games, won the Shelby County League, and we really feel like we should have won the game. It will definitely help us. It was a tournament-like atmosphere tonight, and that's what we will face when we go up to Van Wert in a week or so."
"The Shelby County League title meant a lot to these kids,"  Cordonnier said, as he headed to the bus for a cold tide home. "Their class will be represented on a banner in the gym, and people will always remember what they have accomplished. That was very, very important to these kids. They have worked hard, and they deserve that title."
Just another Saturday night of good, clean, physical basketball…just the way you like it!