Nick Sergakis won't wow anyone with a power stroke or dazzle you with the grace of Roberto Clemente, his hero, but he's remarkably reminiscent of Boston's Dustin Pedroia — his jaw set with determination; his uniform always dirty.
(Ed. Note:  The college baseball season kicks off this coming week and Press Pros will share player profiles on the 2016 Buckeyes as they begin their season with the Dodgertown Classic, in Vero Beach, Florida next weekend.)
COLUMBUS — He's a tough kid. He doesn't give. He's Nick Sergakis and he's a living metaphor for what the 2016 Ohio State baseball team is all about.
"Nick's a fighter, a scrappy guy who understands what it takes to win and succeed in our league," says Buckeyes coach Greg Beals. "He will battle you every step of the way."
Sergakis is a senior, and co-captain, along with junior catcher Jalen Washington. He's the Buckeyes starting second baseman and more than capable back-up at short and third. Last season, during a 2-0 win over fourth-ranked Louisville while filling in at third, Sergakis made diving grab down the third base line, lifted himself to one knee and delivered a bullet to first for a critical out. It was a Manny Machado play, Gold Glove written all over it.
The play, which topped ESPN's Top Plays segment that night, was a product of sure hands, instinct, a plus arm, but most of all — effort. "I don't know any other way," Sergakis said. "You got to give it your all. Anything else and you're cheating yourself, cheating your team."
Sergakis will not wow anyone with a power stroke or dazzle you with the grace of Roberto Clemente, his hero, but he's remarkably reminiscent of Boston's Dustin Pedroia — his jaw set with determination; his uniform always dirty.
His heart is as impressive as his size is undistinguished. He's maybe 5-8, 180 pounds. But he comes up big in big moments. "I've pitched against him in fall ball, workouts," said former Buckeye Ryan Riga, now in the Chicago White Sox organization. "He's a tough out. He doesn't give anything away. He isn't exactly a power threat, but he hits the ball hard. You give him his pitch and he'll hurt you. He's stronger than he looks."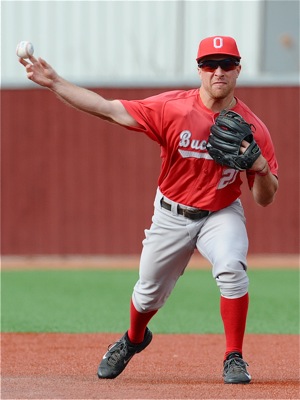 "He'll surprise you with what he can do," said first baseman Zach Ratcliff, who played with Sergakis on summer travel teams during high school. "He's always been like that. You can never count him out."
He was always the guy viewed as too small, not strong enough or durable enough. Consequently, he battled his way through Columbus Academy to become a four-year letterman and fought for playing time for two years at Coastal Carolina before transferring to OSU. This year he's prepared to fight like he has never fought before.
"This is a very talented team," he said. "Coach (Beals) says it is the most athletic team he's had here…But we've got some holes, weaknesses…Starting pitching, the bullpen, a couple of spots in the line-up (first base and right field) and there's competition for spots, capable guys and guys who are ready for their time: L Grant Davis, Ryan Leffel, Tres' Gantt—guys like that.
"Competition is a good thing. It can lead to a lot of good things, things you don't expect. I think everybody is ready for that, kind of looking forward to it, I know I am. We're all preparing for it."
Few, he says, are immune to the changes that may result from competition and he includes himself in the group that could be vulnerable.
"I need to bounce back and have a better season at the plate, more like my first year here (2014, when he hit .318, second on the team, and produced nine extra base hits and 13 RBI in 37 starts)," he said.
Last year, Sergakis dropped off to .251. In 51 games, he scored 30 runs and drove in 23. He attributes some of that to losing focus and the frustration that came with the swoon that swallowed the final weeks of the season.
From April 26th,, when OSU stood 31-10 until the conclusion of the season, the Buckeyes were 4-10, overall; 1-8 in Big Ten play.
"It was bad," Sergakis said. "It began when we were swept by Illinois (outscored, 20-8, at Bill Davis Stadium). Then it's Maryland (losses in two of three games). I think we played with fear. 'What's going to happen next? When is it going to happen? When are we going to break down?' It wasn't anything like us. We tried everything to get out of that frame of mind. We couldn't .
"You can't win like that…You can't win playing not to lose. But the good thing about it is that so many of us are back from last season (10 seniors, most of whom were starters or key reserves). We lived it and we learned from it."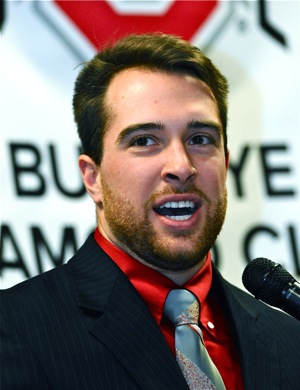 Still, there is always more to learn. This fall Beals enlisted the help of former Navy Seal Scott Daley of Focus 3. "He talked with us a lot about living in the moment because you play in the moment, not the next or not what's past," Sergakis said. "Last year, we focused on next pitch, next play. He (Daley) stressed this pitch, this play. It made a lot of sense…especially in light of what happened at the end of last season."
Daley also emphasized accountability as individuals and teammates. The whole is stronger and more apt to succeed than the individual, an approach Sergakis says has already paid dividends.
"We're older. We're more experienced and guys like Ronnie (Dawson) and Troy (Montgomery) made great strides over the summer," he said. "But we're much more honest with one another and we trust one another. No one guy has to do it all by himself."
Something else is new, something Sergakis welcomes. It's the quality of leadership his co-captain Jalen Washington brings to the table. "Even though he's never started, Jalen is voted as a captain," Sergakis said. "That should tell you something right there about the respect this guy has on the team."
But there is something else Washington provides that may help the Buckeyes surpass the pre-season projection of a seventh place finish in a league that grows stronger with each passing year.
"I'm a quiet kinda guy. I try to lead with my play and my approach," he said. "Jalen is outspoken. If something needs to be said—if a guy is not doing his work or isn't prepared—he will get in their face and say something about it, and guys listen. We haven't always had that.
"Every body who has played knows that it's one thing when a coach says something to you, but when it's a teammate, well, that's a whole different thing."
Much is new with these Buckeyes this season and much of it isn't. Where it will go, only time will tell, and time begins Friday at 1:00 p.m. in the Dodgertown Classic at Vero Beach, Fla., when OSU plays Toledo.
One thing, however, is absolutely certain. By the third inning, Nick Sergakis' uniform will be dirty. He's that kind of guy.