Key contributions from players up and down the roster led the defending Division IV state champions to their biggest win of the season.
Fort Loramie – The most anticipated moment around Ft. Loramie has been coming for a couple of weeks now.
Many have been waiting for a Fort Loramie Lady Redskins win that makes other Division IV opponents say, "Uh oh. They're back."
The anticipation began before New Year's with a win over Maysville, the 8th ranked team in Div. II this week. Then a road win at Versailles.
But back-to-back losses to Summit Country Day, ranked ninth in Div. III this week, and Minster, # 8 in Div. IV, still had people wondering when, or if, the Redskins would hit their stride.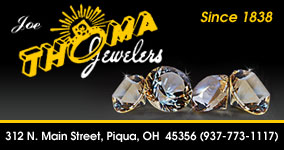 They got their moment Saturday afternoon at Fort Loramie High School.
Following blow-out wins over Miami East and Russia, the Redskins battled Anna, the second-ranked Div. III team in the state this week, evenly for a half. The Redskins then played perhaps their finest quarter of the season after halftime and then hung on to hand the Rockets their second loss of the season, 52-43.
The win avenges a last-second, one-point loss to the Rockets last month, and leaves both teams tied atop the Shelby County League at 9-1 with two games to play.
The Rockets, now 18-2 overall, and the Redskins, now 14-4, battled through an even first quarter. Jessica Boerger, who scored a game-high 16 points for the Redskins, hit back-to-back three point plays to give the Redskins a 19-15 lead midway through the second period, and Fort Loramie never trailed again.
"This win means a lot because it ties us for the league lead," said Boerger. "This win gives us a big boost with the tournament just ahead. Anna is a really good team, so it's a big confidence boost to know we can beat them."
Leading 23-21 at the break, the Redskins ran off the first 8 points of the second half, forcing Anna coach Doug Martin to take a time-out. After a Nicole Barhorst three cut the lead to 7 for the Rockets, the Redskins took off again and finished the quarter on an 11-4 run. Anna made just 2 of 10 shots in the quarter and trailed by 14 after three.
"I can't say enough about our defense the first three quarters," Fort Loramie head coach Carla Siegel said. "To hold a team like Anna to 28 points, we did a great a job. We had a hand in their face and had them rattled a little bit."
"We knew coming in here that Loramie always has good third quarters," said a disappointed Anna coach Doug Martin. They are well-coached and make good adjustments. We just didn't play well in the third quarter and it cost us."
The Rockets are not the second-ranked team in the state because they have nice uniforms, however. After the Redskins stretched the lead to 45-28, the Rockets went to work, cranking up the defensive pressure and igniting an 11-1 run that cut the margin to 7.
"My kids don't quit," Martin continued. "They play hard and they never give up. We are 18 and 2 for a reason, and the credit goes to them."
That, however, was as close as the Rockets would get. Kaitlyn Luebke, Maddi Brandewie, Boerger and Hattie Meyer all made free throws down the stretch for Fort Loramie, which held on despite not making a basket in the fourth quarter.
Anna, meanwhile, missed five straight free throws in the final minutes, making sure there would be no last minute comeback victory this time around.
"We weren't very good from the line in the second half," Martin said, shaking his head. "That was a chance to get back in the game, but we ended up having to foul them and give them credit, they knocked theirs down."
Barhorst led the Rockets with 16 points, while Avery Bensman added 10.
"Kaitlyn Luebke was our player of the game today," Siegel said of her 5-6 junior guard. "We asked her to pick Bensman up at mid-court, because Avery's a phenomenal player. If she gets to the key, she is either going to score or find someone else to score. Kaitlyn did a great job all day for us. Benman had 10 points but she had to work for every one of them."
Boerger had 16 for the Redskins despite being in foul trouble all day. Holly Frey had 12 points, 8 during the big third quarter run, and Maddi Brandewie added nine, including three free throws down the stretch.
"It was hard to get into a flow being in foul trouble," Boerger said. "I got a couple in the second quarter and then one in the third and early in the fourth and I had to sit out for a little bit. It was frustrating but my teammates picked me up and we got a great win."
"We really wanted to win today, because it ties us for the league, and that's a goal of ours every year," said the 5-9 Frey, who continued her streak of big games. "This is awesome. We have been working on our post game a lot in practice, and we have to rebound. We dominated in those areas today."
"We have played really well the last three or four games, because my players who are supposed to show up are showing up." Siegel said with a smile. "Holly had a really slow start , but has really been playing well the last three or four games. Jess is playing well, girls are playing great defense. Maddi Brandewie had a great game today, and Hattie Meyer, a sophomore we brought up five or 6 games ago, brings a lot of fire and fight to our team. It was a great team win and I'm really proud of my team."
For the game, the Redskins shot 40% from the floor while holding the Rockets to 36%. Anna was 4 of n9 from the arc, while the Redskins were 2 of three. Anna was just 9 of 16 at the line for 56% compared to 17 of 23 for the Redskins for 74%.
The Redskins out-rebounded the Rockets 27-22, and had 18 turnovers to Anna's 15.
The Redskins have made their biggest strides when the 5-10 Boerger is not on the floor.
"We had no confidence early in the season when Jess was off the floor," agreed Siegel. "It was almost like we were a one-person team, and that is so what I am not about. Everybody has to contribute. Slowly, players have started to emerge and contribute when Jess is off the floor. Taylor Gasson did a great job at point guard today with their pressure. Our girls are feeling good about themselves, and beating a good team like we did today is only going to make that confidence grow."