The Browns stunk again, and have already made the moves expected with a losing football franchise.  They fired the coach and general manager.  They should have started higher.
The Cleveland Browns fired head coach Mike Pettine Sunday evening, just hours after the team lost to the Steelers and finished with a dismal 3-13 record for the 2015 season.
In fact, the headline in the Cleveland paper Monday was…Browns Clean House!  Meaning, they fired general manager Ray Farmer along with Pettine.  And if you keep track of things like this it marks the fifth time since 2008 that the Browns have "cleaned house", meaning, of course, they've made a habit of firing coaches and general managers.
Look, I'm not a Browns fan.  Nor am I a Bengals fan, or a fan of the NFL for that matter.  It's a brand of football that frankly showcases the worst fears of participation in a sport that's now under intense societal scrutiny.  Football, in its root form, pee-wee, high school, and college, is a great game.
Professional football, in contrast, appears to be a continual stream of injuries and questions about the long-term effects of concussion and head injuries.  Pure and simple, the NFL game is probably too big, too fast, and too violent for the good of those who play – those who take the money and run…usually for about two to three years.  That's the average longevity of a professional football athlete.
The Browns, frankly, have made some curious moves over the years, starting with Art Modell moving the team to Baltimore in the mid-90s.  He did it as a business decision because the city stonewalled on the issues of a new stadium and revenue opportunities commensurate with the rest of the league.
They re-entered the league in 1999 as an expansion franchise and began the painful process of starting over – drafting, signing free agents, and one coach after another, after another.  No Browns coach since Chris Palmer, in 1999, has enjoyed a tenure of more than three years – and there's been seven of them:  Palmer, Butch Davis, Romeo Crennel, Eric Mangini, Pat Shurmur, Rob Chudzinski and Pettine.
The revolving door of coaches and management was highlighted by the purchase of the team by truck stop magnate Jimmy Haslam two years ago.  What Haslam knows about football and managing to win at football I probably know about changing the oil in a Peterbilt.  And typical of other owners whose short-term methods for improvement are firing your last mistake and hiring a new one, if I were a dye-in-the-wool Browns fan I wouldn't expect improvement soon, or at all.  Not under the Haslam regime.
In the first place there are subtle signs of ignorance and disrespect of the Browns, their traditions, and their fans.  They changed the uniforms last season from the iconic look that went all the way back to Paul Brown – one of the storied NFL looks, along with Chicago, Green Bay and the New York Giants – to a clown-look, beer league uniform that resembles something from channel 296, the cartoon channel.  Too much orange…garish.  They hurt your eyes, and they hurt the pride of a lot of long-standing supporters, too.
Frankly, they did it for money…to sell more jerseys and rake in a percentage from the NFL marketing of its paraphernalia.  It had nothing to do with improvement on the field, despite Haslam's claim of the "new look" Browns.
That's the simple stuff.
The more poignant example of imbecility at the top begins with the curious draft choices of the past, magnified by the first-round choice of Johnny Manziel to build around as quarterback.  In the tradition of the new uniforms, Manziel has proven to be a beer league quarterback, as well, more noted for his issues with alcohol and questionable off-field judgment than his ability to read defenses and inspire confidence among veteran teammates.
People who read this web site and actually live in Cleveland cite one example of questionable practice after another, and largely "cronyism".  That is, if you know someone with the Browns that's all the resume' you need, from accountants to ushers.
There's no question that the Browns have some good players, starting with pro-bowl tackle Joe Thomas and center Alex Mack, both first round draft choices.
But unlike the Bengals over the past five years, the Browns have not drafted well, or well enough, in terms of "difference makers" on the field…Kamerion Wimbley, Trent Richardson and Brandon Weeden.  And, they've particularly suffered in their selections of quarterbacks since coming back to the NFL –  Tim Couch, Weeden, Manziel and Brady Quinn.  All were first-round picks, and busts!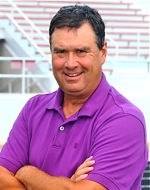 This is a reflection of management, not coaching.  And that's where the finger should be pointed.  And regarding the kind of personality that usually comes with the Jimmy Haslams of the world, it doesn't portend an attitude of employment development and stability.  It's too easy to fire and replace.  That at least sounds more dynamic…the man in charge demanding improvement, and improvement between now and next training camp.
If you're a Browns fan, good luck with that.  You've had plenty of time, and plenty of years to see the alternatives, of other franchises passing you by.  I give you the Carolina Panthers as an example.
In fact, I give you any number of examples of stable people out there who own and manage successful professional franchises – people who aren't running truck stops, selling T-shirts and wallets on a chain.
Because at the end of the day, if your team looks like a truck stop outfit…how do you expect it to beat the Steelers?