After missing half of last season with a freak injury, the Reds' rookie shortstop has returned with the form he showed in his impressive 2011 debut.
During the first few games of the 2012 season for the Cincinnati Reds, only one player is using a baseball bat for something more than a lean-on cane.
And who is that Mozart of the diamond?  Rookie Zack Cozart.
One of the major questions for the Reds evolves around two positions — shortstop and catcher.
The critics ask: "How can you play two regulars at the two most important positions on the field?"
And manager Dusty Baker says, "Just watch me." Highly criticized for favoring veteran players and ignoring young, Baker is playing Cozart at shortstop and easing rookie catcher Devin Mesoraco into at least half the games.
With the 26-year-old Cozart, a second-round draft pick out of the University of Mississippi, it is so far, so great.
Quicker than a third-grader can spell M-i-s-s-i-s-s-i-p-p-i, Cozart is showing that he is major-league ready.
There was never a question about his glove — major-league all the way. But how about his bat?
On Opening Day, Cozart had a hit and scored a run. In Game 2, he had three hits, including a home run and a triple. In Game 3, he doubled and scored a run in the first inning, then drew a walk in the eighth inning with one out and the Reds down by a run. In Game 4 against the defending World Series champion St. Louis Cardinals, he had one of only three hits the Reds could shake out of the bat rack.
The Reds didn't score when Cozart drew that big walk in Game 3, but the Reds scored two runs in the bottom of the ninth, first on Jay Bruce's third home run that tied it, then on pinch-hitter Scott Rolen's infield single that scored the winning run, a 6-5 victory.
"I'm glad for Cozart," said Baker. "He is just picking up where he left off from spring training, that's all. They say spring training doesn't count, but it helps your confidence to do well, especially when you are a young player.
"Brandon Phillips (leadoff hitter) isn't getting on base yet," said Baker, "so that second hitter (Cozart) is your second leadoff hitter, which he batted in Triple-A last year for the first time."
Cozart realized a fast start with a bat was good for both his own well-being and to display his relevance to his teammates.
"I feel great and my swing is great, but it sure makes it a lot easier hitting in front of Joey Votto," he said. "I'm getting a lot of good pitches and putting good swings on them.
"As far as playing good in spring training, well, I hadn't played since last July, so coming to spring training I had to be ready."
Cozart was into just his 11th game in the majors last July after a call-up from Triple-A Louisville when he was involved in a freak mishap covering second base.
While making a tag, the runner bent his left elbow in a untenable position and Cozart ended up undergoing the pitcher's procedure, Tommy John surgery. Fortunately it was on his non-throwing elbow.
"Coming out and getting a good start is important for everybody," he said. "I felt like for me, to get the team behind me, I had a brief stint last year and played well, but it was only 11 games, so tried to improve off that. I want to prove mostly to my teammates that I can help them win."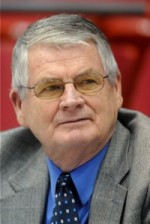 Cozart is in an unique situation in that everywhere he looks around the infield he is surrounded by Gold Glove defenders — Scott Rolen at third, Brandon Phillips at second as his double play combination and Joey Votto at first.
"That makes it easier on me, especially playing up the middle with Brandon," he said. "He keeps me out of harm's way. Then I have Scott to my right
and Joey is makingh some great picks out of the dirt at first base. The pitchers sure like it, even more than me but defense is a big thing for us."
The Reds like Cozart so much that even after only 11 games last season and a visit to the surgeon's table, they anointed him the starting shortstop over the winter, even though the man who started at shortstop on Opening Day, Paul Janish, was still on the team.
But by the end of spring training, Janish was optioned back to Class AAA Louisville and Cozart stood alone at shortstop.
One could have forgiven Cozart for having jittery and cold feet on Opening Day, a special day in Cincinnati. But he didn't.
"Opening Day was fun," he said. "I'd a big deal here in Cincinnati, but it was lot more than even I expected. Winning made it nice. And we sold out our second game, too, the first time since 1970. You can tell the fans are pumped up about the team."

Hal McCoy's Reds' spring training reports are proudly sponsored by the Buckeye Insurance Group…insuring the Heartland for over 130 years!