State parks and other lakes ready for lottery drawings to determine who will have blind locations for the upcoming hunting season in Ohio.
It's time for hunters to reserve blind positions at state park lakes with most of the opportunities in southwest Ohio. Lottery drawings will be held on Aug. 18, mostly at state park offices.
Interested applicants must appear in person at a participating state park or wildlife area office with proof of a 2012 Ohio hunting license, state wetlands stamp endorsement in the applicant's name and a signed 2012 or 2011 federal duck stamp. Applicants under the age of 18 must have a parent or legal guardian present sign the permit contract, and they must provide the required license and stamps. Lottery participants must also have a current Harvest Information Program (HIP) certification.
State parks in southwest Ohio participating are: Indian Lake, Lake Loramie, Buck Creek, Caesar Creek, Cowan Lake, East Fork, Hueston Woods and Rocky Fork. Drawings will also be held for the Mercer Wildlife Area at Grand Lake St. Marys and Spring Valley and Clark Lake.
Each hunter can apply for only one duck blind permit and nobody may apply or draw for another person. There is a $50 non-refundable permit fee for the state park lottery winners. There is no fee at Mercer. Lottery winners have 45 days to construct their blinds, and all blinds must be dismantled by March 15, 2013.
For information about hunting seasons and regulations, call (800) WILDLIFE or visit wildohio.com.
Park office doors open at 7:30 a.m. with drawings scheduled to begin at 8 a.m. (unless otherwise noted in the list below).
Duck Blind Drawings
— Buck Creek S.P.: (19 blinds). Doors open at 8:30 a.m. Drawing at 9 a.m. (937) 322-5284.
— Caesar Creek (21). Meet at main beach house. (513) 897-3055.
— Cowan Lake (10). (937) 382-1096.
— East Fork (24). (513) 734-4323.
— Hueston Woods (Acton Lake) (12). (513) 523-6347.
— Indian Lake (35). Doors open at 8 a.m.; drawing at 8:30 a.m. (937) 843-2717.
— Lake Loramie (19). (937) 295-2011.
— Mercer Wildlife Area (71). Drawing at wildlife area headquarters, 5116 Ohio 703, Celina. (937) 372-9261.
— Rocky Fork (16). Meet at campground amphitheater. Doors open at 8:30 a.m.; drawing at 9 a.m. (937) 393-4284.
— Spring Valley (6) and Clark Lake (7). Drawing at Dist. 5 Wildlife Office, 1076 Old Springfield Pike, Xenia. (937) 372-9261. (Each site has one blind set up for a handicapped hunter).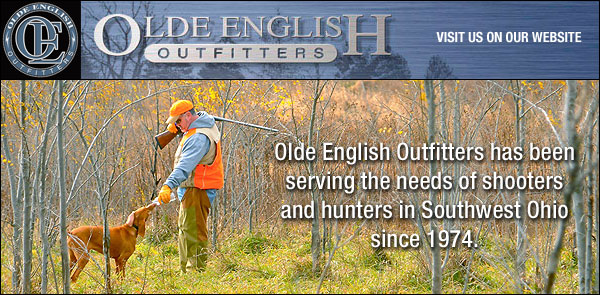 Our comprehensive selection includes over 1500 guns, a full line archery "Pro Shop", shooting & hunting clothing, boots, ammunition, reloading equipment, gun cases, holsters and a multitude of other shooting & hunting accessories.
Olde English Outfitters meets the needs of serious sportsmen and casual enthusiast alike. This is truly a store for all your shooting and hunting needs.
Open this year's hunting season with a trip to Olde English, proud to sponsor outdoors columnist Jim Morris on Press Pros Magazine.com!