As Dave Miller starts his seventh season in Covington, he looks ahead to 2013 with no regrets over missed opportunities in the past, of unfulfilled expectations, or for what might have been.  His goals for the Buccs again rests on character, hard work, and talent, with which he's amply blessed.
It starts again in a few days, August 5th to be exact…two-a-days and the official start of the 2013 Ohio high school football campaign.
It marks the start of another school year and new hopes, a new beginning for coaches, players and programs disappointed by missed opportunities and unfulfilled expectations of seasons past…of last season!  "Wait 'til next year", the Brooklyn Dodgers used to say, frustrated over what seemed their perennial frustration with falling short of a World's Championship in baseball to the New York Yankees.  Simply put, it hurts to lose.
In southwest Ohio a good argument could be made for the Covington Buccaneers being the Brooklyn Dodgers of high school football, which is ironic. For one, contemporary kids in Covington aren't aware that there ever was a team in Brooklyn, a team known in the 50s for its habit of losing the last game of the season…of falling one game short.
For you see Covington is the perennial winner of the Cross County Conference title, a league which is typified by the big "two" (Covington and Miami East), and occasionally three when Bethel, Bradford, or Tri-County North rise.  The other seven schools are left to scuffle amongst themselves for a .500 record, one mediocre year after another.
But the Buccs, deservedly or not, are also known for falling one game short, 61-11 in the past six years under head coach Dave Miller, and 143-25 since 1999, the modern genesis of football at Covington under coaches Ted Peacock ('99-2002), Kevin Finfrock ('03-2006), and Miller.  During that time the Buccs have won an amazing 85% of their football games, a stat that stands heads and shoulders above the rest of what was then Region 24 of Division VI.  But alas, that last game of the season, the playoffs…and the frustration of losing to Marion Local, Delphos St. John, and Coldwater, the bad boys of Mercer County and the Midwest Athletic Conference.  Throw in the occasional loss to Lehman (twice) and to Mechanicsburg (once), and the record of frustration is everything, and more, the fans and critics of the Brooklyn Dodgers ever suffered.
For the past 23 years the start of another season has meant "starting over" at Covington, at least in the sense of picking up the pieces from a year fallen short.  Great athletes, and great expectations, year after year, always wondering if this is the year when the Buccs finally break through.
It means overcoming heartache, heartbreak, and natural human letdown.  It means overcoming negative emotion and energy.  It's about coming back with a new plan, new optimism, and personality capable of lifting the psyche of 40 adolescent boys.  For most, literally, it means…starting over.
But Dave Miller is having none of that, the negative thoughts, the letdown, and the disappointment of again falling short of a goal.  There's no such thing of feeling sorry for what might have been…what didn't turn out to be.  In the minds of many, his 2011 and 2012 teams were the best in the history of that 23-year span of 147 wins, only to get knocked out, and that emphatically, by Coldwater, the eventual Division V state champion last year.  Tough, yes.  But lest anyone pity, don't dump your sorrow and regrets at the feet of Miller.
"I really don't believe one bit that we're 'starting over',"  he said last week after wrapping up Covington's pre-two-a-day camp schedule with a passing scrimmage against Thurgood Marshall.  "We're not starting over.  I want that to be understood.  Maybe it's just me, but I feel as confident about this team, this year, as any I've ever been around.  You have to think that way in this business.
"If we can stay healthy, stay together, and keep working, this might be the team that can get us over the hump.  And I admit…I thought last year's team could have, because they were over-achievers, but that's football."
The perennial question:  Can Covington finally break through to win a state championship?  Well, Miller's not making such a statement, but he is confident for the fact of competing against any or all, his Buccaneers now playing in the new small-school Division VII.  He takes nothing for granted, and he's quick to give credit where credit's due regarding the recent past.
"Losing A.J. (Oullette) in 2011 was a tough thing for us to overcome in the first Coldwater game.  And I question now whether we were mentally ready for that game.  But we're down 10-7 before half, and we had the fourth-and-one play that we didn't convert…and I take full responsibility for that…and they go down the field and score.  We were never a factor after that.
"Last year we had the three turnovers, a pair of interceptions and a fumble.  Another missed fourth-and-one.  And, I give them a credit for what they did defensively with their free safety in that game (Brody Hoying).  He created problems for us that we hadn't expected.  Again, I take full responsibility.  But Coldwater is a great football team.  They went on to win the state title and they were deserving."
But if there was a silver lining to that 20-0 defeat by Coldwater in last year's regional final, Miller is quick to identify, and quick to downplay the fact of having to "start over" in 2013.
"We're down 20-0 at the half and I walk into the locker room a little frazzled,"  he says.  "And then I look at the kids.  They're up and they're ready to go.  They believed that they were still in the game.  If we had connected on a couple of passes, and done a better job of blocking the free safety, they knew we were capable of playing with them.
"Our first two drives in that game were killers.  We fumbled on that fourth down play.  We had a touchdown brought back for a penalty.  We didn't control the ball, and we got off schedule too much.  We didn't play the way we play. There was a third down play where we have Austin Bruns sacked and he made a miraculous throw off his back foot and they scored on the very next play.  Long story short, Bruns was a great quarterback and Coldwater was a helluva' team, but I was super proud of my kids because I walk into that locker room and they're not down.  They were ready to go."
And they're not down now.  All-Ohio candidate A. J.  Ouellette, acknowledged by nearly everyone as the best player in the league, and one of the best in the state, returns faster, stronger, and more determined.  He has help from lineman Dalton Bordelon, who anchors what Miller swears by as another great Covington offensive line.
And, there's more from a core group of seniors that Miller characterizes simply for "hard work" and buying in to the concept of what they can accomplish as a team.  There are no player interviews granted at Covington, as per the players' wishes…no individualism, no "me", just commitment to each other and learning from their past mistakes.
"It makes you better,"  says Miller, not happy about losing, even to the state champions, but appreciative still for the experience of competing with the proven best.  "Every year you come back with that experience, and these kids have been through that now two years in a row.  And this year we get another good test right away, and I'm happy for that."
Struggling for years to prepare for the post-season "heavys" by playing in the underachieving Cross County Conference, Covington opens its season on the road this year with St. Henry, state champions twice in the past decade.
And the Buccs also take another step toward fulfilling what some coaches point to as perhaps their biggest competitive disadvantage.  Their present roster has swollen to near fifty, a full third more than the numbers of the average program in their league.  Football minds acknowledge:  It's hard to beat 70 with 35, and Miller nods readily in agreement.
"I'd say if there was one thing that stands out as something that's hindered us in the past it's depth…and our consistency.  I won't use depth as an excuse, but competition within your program is so valuable.  Our JVs were undefeated last year and really gave the varsity fits in practice.  It's nice to have the extra player if you have an injury, and nice to have more on the way coming from our junior high program."
And nice to come back to practice on August 5th with the mindset that everything bad that's happened in the past was little more than a picture of what yet needs to be corrected before that long-awaited breakthrough at Covington…even that long-awaited trip to Massillon!
"You know,"  said Miller.  "The night we got beat by Coldwater last year I sat up in bed at 2 in the morning and said to myself, 'We're going to be fine.  We're not starting over.  We weren't devastated by that game.  Our kids 'get it'.
"And I really mean that.  I think the group we have right now could be the one, and my wife laughs and tells me that I say that every year.  We've got great seniors and we have leadership.  Urban Meyer talks about that constantly.   We have some sophomores right now that are pushing for playing time, a quarterback that's going to be very good, hopefully this year.  Hey, we took a great quarterback back last year (Bruns), sacked him eight times and shut him out in the second half.  If we get our offense going it's a different game."
He smiles more than the average frustrated coach you meet.  In fact, if Dave Miller "is" frustrated it's because he understands the process so well.  Football is a game of many pieces…offense, defense, individual technique, elimination of mistakes, and mental preparedness.  It takes time and you only learn through perfecting the process.  The physical part behind him, Miller looks to that last component that he hopes will eventually set his program apart, that will give the term "perennial" a new meaning at Covington.
"The mind is so huge,"  he adds before concluding our interview.  "To get to the point where you expect to win games like Marion Local and Coldwater when you take the field for games like that.  The reality is you're going to be in those situations sometimes.  You can't blame it on your league, you have to 'max out' and practice hard on every play.  You look at what Marion did last year, and how they did it.  Triple overtime in the regional final.  You've got to get beyond that one play, or one team, or one player.  We're that close with this group."
"That close," he repeated as he walked to his car.  Sports and competition can be cruel, but no sorrow and no pity for Covington.  Dave Miller's not buying it.  Success now it's a matter of finite degrees.
So says the "master" of starting over.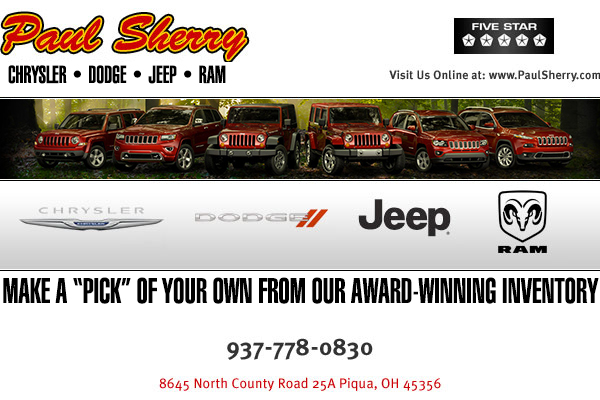 Paul Sherry Chrysler, Dodge, Jeep is proud to sponsor the "Friday Night Picks" again this year on Press Pros Magazine.com.