You can buy a license from a dealer, online and now special one-day and three-day licenses are available over the phone. There also a special one-day Lake Erie charter license.
  I always buy my fishing license early. That way, if an opportunity to go fishing comes along, I don't have to worry about that aspect of the outing.
I know a lot of folks are buying their licenses online at wildohio.com. That's fine. It's quick, efficient and you can do it in your underwear in front of your computer.
I prefer to buy my license from a genuine bait and tackle store. I like doing business with Mom and Pop. They are the backbone of fishing. And the way the economy has been, they sure can use your business.
By now, I would think most anglers would have their licenses. If you don't, it's easy enough to get one. You can even get a one-day or three-day license on the phone.
The Ohio Division of Wildlife has come up with a phone service for licenses. It's strictly an emergency situation. Suppose you are ready to shove off and at the last minute realized you forgot to buy a license. You look around and there is no license vendor in sight. Instead, you pick up your phone and call (866) 703-1928 between 5 a.m. and midnight. The operator will issue you a 10-diget number that gives you the one-day or three-day license. If you carry that number with your driver's license it's the same as a fishing license.
I suppose you could even do it from a boat – if there is cell service where you are. Make sure you have paper and pencil or pen. Oh, and there is a $5.50 charge for that service.
Another good thing: you can use $10 of the emergency license fee toward the purchase of a permanent annual license at a later date.
Here's another new service offered by the division:  Anglers have the option of buying in advance an $11 "Lake Erie Charter 1-Day Fishing License" allowing them to wait and validate the license at the dock the day of the trip. Waiting to sign and date the license allows for its future use in case the original fishing trip is cancelled due to weather or other circumstances. This license is not available for purchase over the telephone.
Check out all the options at wildohio.com where you can also buy a regular license on line. Phone questions can also be directed to (800) WILDLIFE.
Deer Limits Increase
As expected. the Ohio Wildlife Council recently increased bag limits for a large portion of west-central Ohio by shifting seven counties from Zone A to Zone B. That means if you hunt in       Auglaize, Darke, Mercer, Miami, Montgomery, Preble or Shelby counties, you will be able to take two deer this coming season instead of just one.
But wait, it gets even better. If you hunt with a bow, you can purchase two antlerless permits, meaning you can take two more during the special antlerless season, Sept. 29 to Nov. 25.
On top of that, if you hunt in an urban zone, you will be allowed to take six more deer with the proper permits. The closest urban zone to the Dayton area runs down the east side of Montgomery County into Warren and Butler Counties and then into Hamilton and Clermont Counties.
Theoretically, a resident of Montgomery County – or one of the other counties in the urban zone – could legally kill 10 deer and never leave his own county.
Here are the deer seasons for 2012-2013:
 Archery season – Sept. 29 through Feb. 3, 2013
Special area muzzleloader hunts – Oct. 15-20
Youth deer-gun season – Nov. 17-18
Statewide deer-gun season – Nov. 26 through Dec. 2 and Dec. 15-16
Statewide muzzleloader season – Jan. 5-8, 2013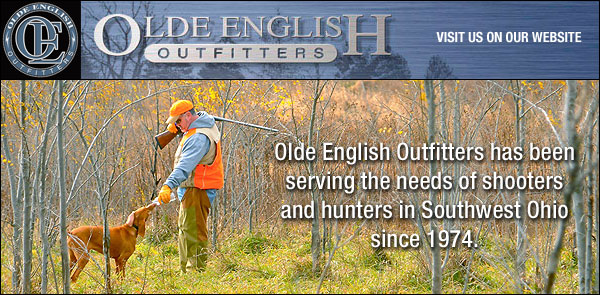 Our comprehensive selection includes over 1500 guns, a full line archery "Pro Shop", shooting & hunting clothing, boots, ammunition, reloading equipment, gun cases, holsters and a multitude of other shooting & hunting accessories.
 Olde English Outfitters meets the needs of serious sportsmen and casual enthusiast alike. This is truly a store for all your shooting and hunting needs.
 Open this year's hunting season with a trip to Olde English, proud to sponsor outdoors columnist Jim Morris on Press Pros Magazine.com!