Farmers are some of the most important people in the world. They produce the food that feeds out nation. But at the same time, one practice by farmers is hurting people economically and recreationally, contributing to the pollution of many lakes. Farmers don't seem to get what they must do right now to solve the problem. And at the same time the state's politicians have to realize it's time to step up.
Gov. John Kasich is running for president, but there is something he and every politician in Ohio carries around with them that the public should pay attention to. All of these big shot Ohio politicians have a red mark on their report cards as office holders – blue-green algae blooms.
Yes, Kasich has paid attention to the harmful algae blooms (HAB) at Grand Lake St. Marys, Buckeye Lake and Lake Erie, but he has yet to solve the problem. He has ordered studies, formed committees and has even thrown money at the growing problem. To his credit, Kasich has addressed the HAB, certainly much more than his predecessors.
Senator Sherrod Brown has also been paying attention lately, but has so far not made much headway in solving the issue. It has, of course, taken a growing bloom at Lake Erie to get any kind of national attention to a problem that has been brewing at Grand Lake St. Marys for years.
While nobody should blame these politicians for the problems at Lake Erie or GLSM, by the very act of running for office, these people take on the responsibility of solving public problems and HAB is definitely a public problem.
After all the studies and all the committees, everyone involved knows exactly what the harmful form of bacteria is and where it comes from. They have thrown money at it in the form of expensive alum treatments, dredging and equipment to filter the water. But the toxic blooms are still there.
In fact, with all the rain that has hit the area this spring and summer, the toxins have returned to the levels of a few years ago, prompting the Ohio Department of Health to issue "recreational no contact" advisories for all of GLSM's beaches. For more information, visit ohioalgaeinfo.com.
The thing is, everybody knows what is causing the problem, but they are dancing around it. Just as Nero fiddled as Rome Burned, Ohio politicians are dancing while GLSM, Lake Erie and other lakes deteriorate at an alarming rate.
The problem clearly is the runoff of phosphorus from farmers' fields. If you stop the phosphorus from flowing into streams that feed the lakes, the harmful bacteria will not only die of starvation, they will never grow in the first place.
Phosphorus comes from manure. Farmers spread manure on their fields to dispose of it and to help crops grow. If they could keep the manure on their land, there would be no problem. So saving the lakes is a delicate dance between the politicians and the agricultural community. Obviously, we need farms and the grains and livestock they produce. But agriculture must be able to exist along with clean lakes and streams.
To do that, I propose the politicians grow a backbone and push through laws that prohibit spreading manure and phosphorus-based fertilizers on land in distressed watersheds. They have created laws against spreading manure on frozen land, but I think the ban should be year-round. The only exception might be for farmers who have established filter strips on every parcel of land that comes up against a ditch, pipe or stream that feeds ground water into rivers and lakes.
Farmers know this will help solve the problem much more than any other step that has been tried, but they don't seem to want to comply on their own. We keep hearing how the farmers are on board with plans to fix the lakes, but how many filter strips do you see when you drive the backroads of Mercer, Auglaize or Darke Counties?
Sadly, it is time to get the politicians to step in and mandate farming practices that will clean up the cesspools some of our beautiful lakes have become.
Yes, there are other sources, like too many geese, too many rough fish and residential fertilizers, but we are only kidding ourselves if we don't realize the lake pollution and toxic algae blooms are almost 100 percent due to farm field runoff. This must be addressed right now, because our lakes aren't getting any cleaner own their own. Even if such measures are started today, it will take many years to begin making a difference.
Even this won't be enough. People are going to have to keep working at dredging and filtering water going into the lakes. Building wetlands is a key maneuver.
 
Wetlands Workshop planned for September
A Wetland Habitat Workshop will take place Sept. 12 from 8:30 a.m. to 3 p.m. at the Mercer County Central Services Building, 220 W. Livingston Street, Celina.
The first half will be indoors and the second half will be at a nearby wetlands. There's a $10 per person charge that includes light breakfast, refreshments, lunch, and reference materials.
All participants must pre-register with the Mercer Soil & Water Conservation District at (419) 586-3289. The registration deadline is Sept. 4.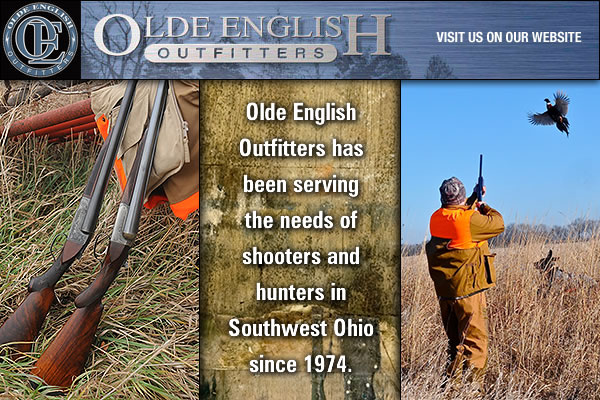 Our comprehensive selection includes over 1500 guns, a full line archery "Pro Shop", shooting & hunting clothing, boots, ammunition, reloading equipment, gun cases, holsters and a multitude of other shooting & hunting accessories.
Olde English Outfitters meets the needs of serious sportsmen and casual enthusiast alike. This is truly a store for all your shooting and hunting needs.
Open this year's hunting season with a trip to Olde English, proud to sponsor outdoors columnist Jim Morris on Press Pros Magazine.com!