For the Ohio Wildlife Council to vote against a recommendation by the Division of Wildlife it would almost take an act of God. Almost. The council voted 4-3 against a new recommendation for the 2013-14 deer season back on May 15. If approved by a legislative committee on June 12, it appears the DOW will get what it originally asked for – before the politics started.
Although to some it appeared the Ohio Division of Wildlife was shot down like a duck on the wing this month when the Ohio Wildlife Council voted against its proposed deer seasons for 2013-14, it appears to me the agency got just what it wanted in the first place.
This past winter, the division came up with a somewhat drastic change in its deer seasons and bag limits. As per the custom, the proposals went through the local open houses and a state hearing, picking up input from the public along the way.
The new plans – as changes often do – drew criticism from hunters around the state. When State Senator Chris Widener (R–Springfield), with the backing of some 28 other legislators, voiced his opposition to the changes to Wildlife Chief Scott Zody, an entirely new plan was rushed to the wildlife council for approval.
Most of the controversy had to do with the extra two days of the gun season held on a December weekend. The DOW's original plan called for elimination of those gun days. That and the elimination of urban deer zones were the main concerns.
Apparently, Widener's letter got Zody's attention, because not long after that the DOW came back with a new set of seasons and dates. The December two-day gun weekend wasn't restored – not exactly. It reappeared in the form of two extra gun days tacked on the beginning of the annual muzzleloader season in early January. The idea was to allow hunters to use regular shotguns and handguns for those two days, but only primitive weapons on the following three days.
That's what the Wildlife Council voted against on May 15. So the DOW can now go forward with its original plans, which have been submitted to the Joint Committee on Agency Rule Review (JCARR). If approved by that legislative committee at its June 12 meeting, the dates become official.
Some saw the 4-3 vote by wildlife council members as a defeat for DOW – something that rarely if ever has ever happened. I don't. Because I think Zody and company got just what they wanted.
Here is what the 2013-2014 white-tailed deer hunting seasons will look like if approved by JCARR:
 — Deer archery: Sept. 28, 2013-Feb. 2, 2014;
 — Antlerless deer muzzleloader: Oct. 12-13, 2013;
 — Youth deer: Nov. 23-24, 2013;
 — Deer gun: Dec. 2-8, 2013; and
 — Deer muzzleloader: Jan. 4-7, 2014.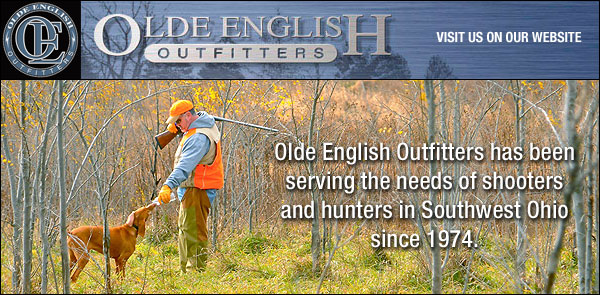 Our comprehensive selection includes over 1500 guns, a full line archery "Pro Shop", shooting & hunting clothing, boots, ammunition, reloading equipment, gun cases, holsters and a multitude of other shooting & hunting accessories.
Olde English Outfitters meets the needs of serious sportsmen and casual enthusiast alike. This is truly a store for all your shooting and hunting needs.
Open this year's hunting season with a trip to Olde English, proud to sponsor outdoors columnist Jim Morris on Press Pros Magazine.com!