After many complaints from Ohio anglers, the Division of Wildlife modifies the new rule forcing fishermen to leave entire skin on filets; identifying patch will now work.
As expected, considering the large amount of displeasure among anglers, the state has changed its recent directive forcing fisherman to leave the skin on all fillets caught on Ohio waters.
"Many Ohio anglers have expressed that they were confused about the fillet rule so I asked our Division of Wildlife to clarify the rule so no innocent angler stands a chance of getting in to trouble when trying to follow the law," said ODNR Director James Zehringer.
Zehringer was aware of the new rule, but had not heard about the upheaval it was causing when he spoke at the annual Outdoor Writers of Ohio meeting in Wilmington on April 21. He told several writers he and leaders at the Division of Wildlife would discuss changes and act accordingly. The rule change handed down a few days ago would be the result.
The rule, Ohio Administrative Code 1501:31-13-08, states that it is unlawful to possess or transport a fish unless the fish is in the round or a complete fillet with skin attached until a person reaches their permanent residence. The confusion surrounding the question of whether the skin had to be kept on the entire fillet or whether a patch of skin to identify the fish species would suffice.
Many anglers complained that leaving the entire skin on a fillet ruins the flavor of the meat, giving it a "more fishy" taste.
Scott Zody, chief of the Division of Wildlife, specified that the rule should be interpreted to mean that only a patch of skin, enough to identify the species of the fish, is required to be left on the fillet.
He said changes will be made this fall during the regular rule-making sessions to further clarify the requirements.
"Our goal was to protect the state's most valuable fishery (Lake Erie)," said Zody. "It was not our intent to create a hardship for anglers, who bring a tremendous economic benefit to the state."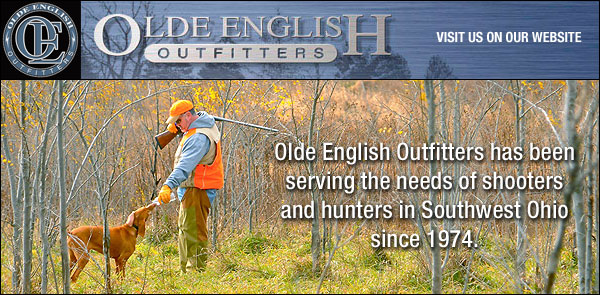 Our comprehensive selection includes over 1500 guns, a full line archery "Pro Shop", shooting & hunting clothing, boots, ammunition, reloading equipment, gun cases, holsters and a multitude of other shooting & hunting accessories.
 Olde English Outfitters meets the needs of serious sportsmen and casual enthusiast alike. This is truly a store for all your shooting and hunting needs.
 Open this year's hunting season with a trip to Olde English, proud to sponsor outdoors columnist Jim Morris on Press Pros Magazine.com!