ODNR hears protests to recently imposed filleting rules; some modifications may be in the works.
There is a chance a new rule recently imposed by the Ohio Division of Wildlife will be reviewed and modified in the near future.
About a month ago, the division sent out a news release stating:  "Anglers must leave the fish they catch in public waters in the round (whole) or as a complete fillet with skin attached until they reach their home. This regulation is necessary to deter over harvest of certain species of fish. The rule was designed to be a law enforcement tool to protect the fishing resource, and allows wildlife officers to identify fillets in an angler's possession, so that they can enforce Ohio's fish bag limits. The new rule was modeled after surrounding Great Lakes province and states' existing regulations. Ontario, Wisconsin, Michigan, New York and Minnesota all employ similar regulations."
About a day after the release came out, my friend Chip Hart, host of The Big Outdoors on WLW, went on the warpath. He started firing out emails protesting not only the new rule, but the way the division imposed it on anglers all over Ohio.
Hart's points are well taken. He says leaving the skin on a walleye fillet between Lake Erie and Cincinnati – where he lives – leaves the fish tasting much more "fishy." (Another friend reported skin left on crappie fillets made them slimy and unappealing.)
Secondly, he said the rule leaves no exception for people who take the fish to other places, like a friend's house, a campsite or a rental cabin.
Another of Hart's objections concerns the way the rule was simply shoved down anglers' throats with no prior discussion, no chance for public comment and no public consideration by the Ohio Wildlife Council.
The idea of leaving the skin on a fish filet is not new – it's just new in Ohio. Having fished in Ontario many years, we became used to leaving the skin on. And the law became sillier and sillier each time we fished there. In the early years of our Ontario trips, you could catch all the panfish you wanted and freeze them in packages. You had to leave a patch of skin on walleyes, bass, pike and muskies. I think it had to be an inch square.
Then the rule changed. Instead of leaving just a patch, you had to leave the whole skin for all fish caught. Not only that, you had to freeze the fish flat, so each fish could be examined.
Ontario game wardens seemed to love to catch people who didn't fillet or freeze their fish properly. They would hang out around the road that approaches the bridge back to the U.S. and check people pulling boats. If those fish were not presented perfectly, the officers could take the fish.
Nothing like fishing for a week in Canada and then have the game warden take your fish away because you didn't display them properly.
I always wondered how Ontario could advertise itself as this wonderful place to fish – and it is – but then have it all ruined by some chickenshoot ruling about proper skin display on a bluegill. Great PR, eh?
Is that where Ohio is heading? I hope not. Simply changing the rule to a 1-inch square patch of skin would help. Chucking the law altogether would be better.
A group of Ohio outdoor writers recently discussed the new law with a group of Ohio Department of Natural Resources administrators. While the three men reiterated the point of being able to enforce bag limits on certain species, they admitted some of the wording of the law should be changed.
They promised it would be reviewed.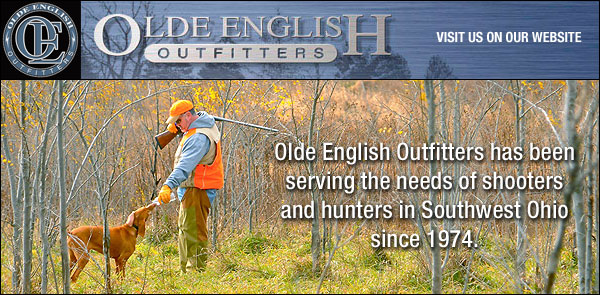 Our comprehensive selection includes over 1500 guns, a full line archery "Pro Shop", shooting & hunting clothing, boots, ammunition, reloading equipment, gun cases, holsters and a multitude of other shooting & hunting accessories.
 Olde English Outfitters meets the needs of serious sportsmen and casual enthusiast alike. This is truly a store for all your shooting and hunting needs.
 Open this year's hunting season with a trip to Olde English, proud to sponsor outdoors columnist Jim Morris on Press Pros Magazine.com!