Despite a less efficient effort than a week ago, Lehman had no trouble with an out-manned but scrappy Troy Christian team, and now can turn its sights on the Fort Loramie Redskins.
By Joe Neves
Sidney – Things started badly for the Troy Christian Eagles and never got better.
For the Lehman Cavaliers, another quick start led to another easy win, and set up a showdown for the conference title next week.
Lehman dominated from start to finish, scoring 4 times in the first quarter of a 48-20 rout of Troy Christian, the Cavaliers fourth straight lopsided win.
"It was all right," smiled winning coach Dick Roll in the Cavalier locker room. "I thought the first half was solid again, we scored on the first possession of the second half,  then we made some substitutions and didn't play as well. But I think each time we go out, we get better."
The Cavaliers recovered an Eagles fumble on the first play of the game, and scored two plays later when Nick Rourke hooked up with Homecoming King Nick Slater for an 18 yard scoring pass. (Elizabeth Edwards was crowned Queen in pre-game ceremonies.)
The combination of Rourke and Slater hooked up again for a 16 yard score less than 4 minutes later after the Cavs partially blocked a punt, and the rout was on. Greg Spearman scored the first of his two touchdowns on a four yard run and Rourke capped the first quarter explosion with a perfectly executed read option for a 35 yard score.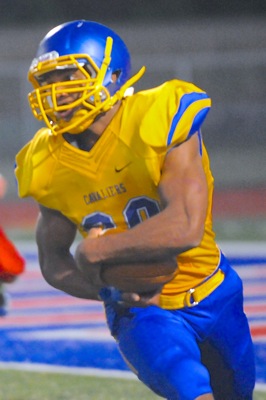 The Eagles, to their credit, did not pack it in. After stopping the Cavaliers on downs, Troy Christian put together a 13 play, 91 yard drive that culminated in a Luke Dillahunt 9 yard touchdown run. The junior finished unofficially with 113 very tough yards on 27 carries, and is now over 1,300 yards for the season with four games to play.
Leading 35-7 at the break, the Cavaliers quickly scored after Spearman returned the second half kickoff 78 yards to the Eagle 2. The senior, who had 85 yards on the night, scored on the next play to give Lehman a 42-7 lead and start the infamous running clock. Personally, if there is a dumber rule in organized sports, I don't know what it is. The rules changed three different times in the second half based on the score.
Eagles Coach Steve Nolan was realistic about his team.
"We played a little better in the second half," said the coach. "We had an injury at center a couple of weeks ago and that disrupted us offensively right from the very beginning. They are a very, very quick team. But our kids hung in there."
Numbers, or lack of numbers, continue to plague the Eagles.
"We have had so many injuries," lamented Nolan.  "We can't practice. You can't practice special teams, or returns or coverages, and that showed up tonight. They had field position all night."
Indeed, five of Lehman's 7 touchdown drives started in Eagle territory, and only two took as many as five plays to complete.
"We need more bodies," said the veteran coach who won 202 games as coach of the Troy Trojans. "We only had 25, and one of them is a soccer player who only kicks for us. Then we had the injuries, and it's hard to practice with 18 kids. But the kids are great here. Our running back (Dillahunt) has about 1300 yards now and he's a great kid. And we'll get back to more our level the next four weeks. We'll finish strong."
Meanwhile the Cavaliers passing game, so efficient last week against Riverside, wasn't as sharp against the Eagles. Rourke was 8-20 for 111 yards but did throw for three scores. The senior has not thrown a pick in the first 6 weeks of the season.
The numbers didn't disappoint the Cavaliers coach.
"I'm not unhappy with what we threw for tonight," Roll said. "We didn't throw it as much, it was windy, and we had a couple of drops. It is what it is. But overall, our passing game has been pretty good."
"We took advantage of the opportunities we had. We gave them too many chances, we fumbled the ball too much and too many penalties. Those are things we have got to clean up for next week."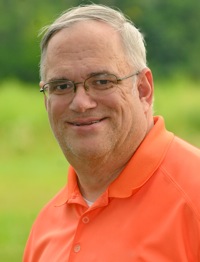 Now, after four lopsided wins in a row, the Cavaliers can finally turn their full attention to a Fort Loramie team that humiliated Ridgemont 69-0 and has won three straight after a 1-2 start.
"We told the kids, it's Fort Loramie week. It's the biggest week of the season for us. We have to be ready to play. We will have to prepare for a lot of formations, just as we did this week. It's a big rivalry game for us, it's a Shelby County game, and it will probably decide the championship of the league. And they are playing a lot better, just like we are."
The showdown is Saturday night at Sidney Memorial Stadium, and after a slow start, a conference title and playoff berth are within reach. You can be sure that the Cavaliers will be ready…ready for the Redskins!
(Edited by Julie McMaken Wright)