The Friday night tradition has taken a bit of a hit in Troy the past two seasons. But make no mistake.  Third year head coach Scot Brewer and his Trojans are eager for the challenges ahead as they look to climb above the .500 mark.
By Joe Neves
Troy – If enthusiasm and optimism alone won football games, the Troy Trojans might never lose.
"Camp has been great," said a relaxed coach Scot Brewer in the coaches room at Memorial Stadium after a brief practice Friday morning. "The kids have been awesome, everybody's working really hard, and we have seen a lot of growth since the start of two-a-days. We are looking for growth each week, and hopefully that carries on throughout the season."
Brewer's first two seasons since replacing Steve Nolan at the helm have been full of near misses. Eight of the combined 13 losses have been by 10 points or less, and have come in various ways. In 2012, Troy held five opponents to ten points or less, but went just 3-2 in those games. Last season, the offense put up 27 or 28 points 5 times, but the Trojans won just one of those games.
"The reality is, we were really young coming in as a staff that first year, and we knew we were going to struggle on offense and have to win ugly," Brewer explained. "We were probably 5 plays away from winning four or five more games. We did a lot of studying about the offense in the off-season, but last year just didn't have the bodies defensively to get stops when we needed them.
"We've worked really hard during the off-season and through training camp, and hopefully we will be able to put the two together, along with the kicking game, which should be stronger with Zach Thompson back."
Thompson sat out last season, but gives the Trojans a potent weapon they did not have a year ago.
"He is a Division one kicker, there is no doubt about that. He will give us deeper, higher kickoffs, which will help the defense, and he was kicking 52 yard field goals in practice the other day like it was nothing. So that definitely gives us another aspect of the game."
The 2013 Trojans featured a big, experienced offensive line, a home run hitter in 1,600 yard running back Miles Hibbler, and a two year starter at quarterback in Matt Barr. All of that is gone this year, and Brewer said there will be changes when the Trojans have the ball.
"We will miss Miles, obviously, but Barr was a big part of that because he could stretch the field with that big arm. We don't have that this year, but we do have two guys fighting for the quarterback position (Billy Smith and Hayden Kotwica) who can make things happen with their legs. So we are going to play to their strengths, and try to stretch the field more laterally."
Brewer said that the new offensive line has been a positive thus far.
"We have a really nice, cohesive group up front that are working hard together and playing hard for each other. We have three juniors and two seniors there right now, and what they lack in size I think they will make up for by playing together as a unit."
The first five games of the schedule features 2013 playoff teams Chaminade-Julienne, Northwest, Miamisburg, and Wayne, along with an emerging Xenia team that has taken the Trojans to the wire each of the last two seasons. Then it's GWOC North Divisional play, finishing again this season on the road at arch-rival Piqua.
"We know what's ahead of us, the kids know what's ahead of us, we put the schedule on the back of the camp shirt for a reason," Brewer said. "We know there is a big task ahead. But this is Troy football and we aren't going to shy away from anyone. We still get everybody's best shot. All we can do is control how we play. As long as we are improving and growing every week, we're doing a good job. It would be nice to pick up some wins along the way, but we just have to get better each week."
Scot Brewer is as competitive a coach as you will find anywhere, and as a former Trojan player, he knows what the Troy tradition is all about. He also knows that 7 wins in two years is not in keeping with that tradition.
"It means everything to me to get this program turned around," Brewer acknowledged. "I have Tom Massie on my staff who was here during the Gordon Bell years, and I have done a lot of research over the years and know how important Troy football is to the community and alumni who come back for the special events that we hold. I am doing everything in my power to get things back to where they were."
Brewer acknowledges that now is a tough time to coach football, from the safety issues that impact all levels of football, to convincing a teenager to make a commitment for 365 days so he can be on the field for 10 games in the fall.
"These kids put in about 400 hours a year so they play 25 hours of football. It's a once in a lifetime opportunity, but to convince kids of that gets tougher and tougher every year. I'm so proud of the fact that we have over 90 kids out in grades 9 through 12, and they understand that the time is now to start building on to the tradition that we have here."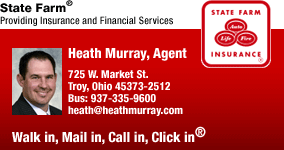 The numbers at Troy are up at a time that many schools are struggling with declining numbers because of the safety issues. Interest in Troy football seems to be alive and well, despite the recent struggles on the field.
"Part of that is our strength program," said Brewer." Part of that is a credit to our coaches, who love to be around the kids, and the kids like to be here around us. We have kids who want to play football, who come out and work hard, and who appreciate the time and effort that we put in as a staff."
But as much as he enjoys being around the players, and teaching the game of football, Brewer knows that the bottom line is what happens on the field on Friday nights.
"I felt pressure when I was a player. We went 9-1 my senior year and you would have thought we were 0-10.  That's the way it is here. My first year back, we went 7-3 and everyone in the office was happy. I didn't think that was good enough for Troy football.
"Would I have taken 7-3 the last couple of seasons? Absolutely!" Brewer said with a laugh. "All we can do is the best we can do every day. Sure there is pressure. I put enough pressure on myself, I don't worry about any outside pressure. I want to win as badly as anyone else, and anyone who has played with or against me, and coached with me knows that."
Brewer acknowledged that a Friday night win is the best feeling in the world, but also had an admission.
"I hate Friday nights. If I could just coach all week long and avoid Friday, just be around the boys, I would do it. We had an inter-squad scrimmage last week and it was great. Couldn't win, couldn't lose, we got to coach the kids, and they got to play, and hit, and it was like Christmas. There was no one booing in the stands, and it was nice. That's the reality of a head coach, it's not about Friday nights. It's about teaching and coaching. Getting a win on Friday night is the greatest feeling in the world, and we would like to experience a few more of those."
After two tough seasons, the enthusiasm is still there, and the numbers are up. Scot Brewer and the Troy Trojans are on a comeback trail!