Special hunts for men, women, youth and physically handicapped are available for deer and waterfowl hunters at Ohio places like Magee Marsh, Killdeer Plains, Mercer Reserve and more.
Hunters wanting to participate in Ohio's fall controlled deer and waterfowl hunts have until July 31 to submit permit applications for a random drawing. These special hunts are held on selected public areas to provide additional hunting opportunities for Ohio's hunting enthusiasts.
All applicants, youth and adult, must possess a current hunting license and meet the age requirements in order to apply for a controlled hunt.
Hunters can apply for the controlled hunts by completing the application process online using the Wild Ohio Customer Center at www.wildohio.com or by calling 1-800-WILDLIFE (945-5433) and requesting a mail-in application. There is a non-refundable application fee of $3 per hunt.
Hunters will be randomly drawn from submitted applications. Successful applicants will be notified and provided additional hunt information by U.S. mail and email.
Applicants are encouraged to visit the Wild Ohio Customer Center at www.wildohio.com to view the status of their application and if selected, print their controlled hunt permit.
Some of the locations are Magee Marsh, Ottawa National Wildlife Refuge, Killdeer Plains and Mercer Waterfowl Preserve. More specific information about hunt dates and locations, including opportunities dedicated to youth, women and mobility-impaired hunters, can be found at www.wildohio.com.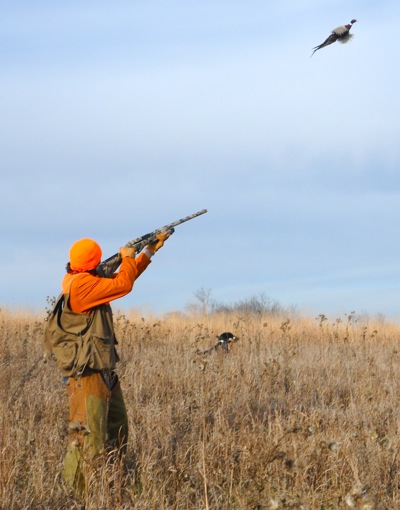 Open house in Mercer County
The Ohio Division of Wildlife is putting on a special open house on Saturday, June 30 from 9-11 a.m. at the Mercer County Sportsmens Club, 7052 Ohio 703, Celina.
"This open house will provide attendees an additional chance to comment on Grand Lake St. Marys waterfowl regulations with wildlife biologist and management staff," said Brett Beatty, acting District Five wildlife management supervisor. Regulations will be discussed and attendees will be provided comment forms to officially submit their input.
Sycamore ponds get special stocking
The ponds at Sycamore State Park are among five ponds on state property across Ohio to receive special fish stocking for youth fishing only. Beginning Saturday, June 30 the family-friendly fishing areas will be open to young anglers who are encouraged to bring their families throughout the summer.
"This is an excellent way to encourage kids to spend time outdoors and fish in a stocked pond," said Ohio Department of Natural Resources (ODNR) Director James Zehringer. "We hope many families take advantage of this opportunity to create fishing memories."
The designated youth-only fishing areas will be at Sycamore State Park, Trotwood; Delaware State Park; Maumee Bay State Park; Caesar Creek State Park and the Wildlife District Three youth fishing ponds in Akron.
Special youth events will be held on June 30 and Aug. 25 from 9 a.m.-3 p.m. for anglers 15-years-old and younger. Bait and assistance from volunteers will be provided at no charge on these dates. Youth are encouraged to bring their fishing poles; however, poles will be available during these events.
All young anglers must be accompanied by a parent or guardian while at the youth events, but adults are not required to have a fishing license. Adults are not allowed to fish in the youth area, but they may assist their young anglers. Picnic tables and restroom facilities are available and young anglers are encouraged to wear hats and sunglasses to protect themselves while casting their lines.
State park ponds will be stocked with catchable channel catfish and hybrid bluegill just prior to each youth-only fishing event and will be open daily.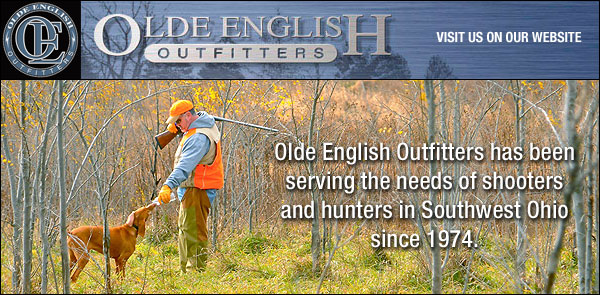 Our comprehensive selection includes over 1500 guns, a full line archery "Pro Shop", shooting & hunting clothing, boots, ammunition, reloading equipment, gun cases, holsters and a multitude of other shooting & hunting accessories.
Olde English Outfitters meets the needs of serious sportsmen and casual enthusiast alike. This is truly a store for all your shooting and hunting needs.
Open this year's hunting season with a trip to Olde English, proud to sponsor outdoors columnist Jim Morris on Press Pros Magazine.com!