After 40 years of touring, recording, and surviving, singer B.J. Thomas is the living proof that some things never change.  And sometimes…they even get better!
Ed. Note:  We're often asked about the most popular posts from a particular season or year.  As summer nears August, we're pleased to share a story from August 1, 2015 that not only garnered local attention, but a considerable following nationally.  Singer B.J. Thomas liked our characterization of his performance at Fraze Pavilion so well he put it on his Facebook and fan club page.  If you missed it then, we're pleased to share again a good read about a true American original.
Kettering –  B.J. Thomas stuck out his hand like a long-lost classmate from grade school.  His body language, his personality, was tinged with a shyness that seemed to apologize for having been away for so long.
"Nice to see you.  Have we met before?"  he asked.
Well, not physically in person, but like the packed house that descended upon Kettering's Fraze Pavilion Saturday night it really didn't matter.  Anyone who'd ever heard Hooked On A Feeling, Eyes Of A New York Woman, This Time The Girl Is Gonna' Stay…and Raindrops Keep Falling On My Head…needed no introduction, or even reintroduction to the popular Texas crooner.  They just wanted to hear B.J. Thomas sing again.
Born August 7, 1942, the soon-to-be 73-year-old came out of Houston, Texas fifty years ago with one of those voices, those styles, that just lent itself to fan popularity and feel-good.  He was to become a recording sensation in the late 60s, an iconic sound, considering the immediate success of two million-selling records (Eyes Of A New York Woman and Hooked On A Feeling) before he was 30 years old.  And, his ability to maintain the uniqueness of his musical presence over the next 45 years is still packing them in.
His fans, those who showed up Saturday will tell you…you can still get hooked on the feeling that comes with Thomas' mellow articulation of his lyrics, and the consistent trueness with which he performs his time-honored arrangements.  They sound the same now as they did in 1972, and that's what they came to hear…every note, every word, and every familiar harmony.
"I guess it's pretty close,"  he laughed in his dressing room thirty minutes after his performance, comparing Thomas then and Thomas now.  Dressed in black, running pants, a pullover, and Nikes, his off-stage demeanor was every bit as relaxed as his on-stage personality.  "I don't mean to sound too immodest.  I have to work at it now.  I have to live right, eat right, and get enough rest.  If I do those things I'm still alright."
He's not self-deprocating by any means, but B.J. Thomas understands that in the twilight of what has been a blessed career – the voice, the necessary breaks, longevity, and a supporting marriage for 46 years to wife Gloria – that one cannot take himself too seriously.  You simply do what you can, as best you can, for as long as you can.
Appearing in Dayton Saturday with Ronnie Milsap to support the Cystic Fibrosis Foundation, his hour-long performance was pure reminiscence.  Like so many of the classic voices of his generation…Patti Paige, Ray Charles, and Johnny Mathis, for instance…his ability to recreate that which his public longs to hear, over and over, borders on the unimaginable.
"You know I've appeared with Patti Paige,"  he smiled, picking his words carefully.  "I've worked with Ray Charles and Mathis, so it's a compliment to be thought of like that.  An honor."
His voice is one in a million, but like most anyone else who works at a trade long enough, it's something that he once took for granted.  Now, he's more appreciative as he considers the long and sometimes harmful twists of his fifty years in music.
"I used to smoke in my thirties, and I drank back then.  I've had issues with drugs, and those things are hard on your throat.  Many of my peers still smoke and drink and they can't perform anymore.  When I saw that happen to them I grew afraid that it might happen to me.
"I've had some throat problems.  Nearly everyone does at one time or another.  You lose sleep and you do too many nights in a row.  Your throat can get ragged and that happens even now if I don't get any sleep.  If you try to do too much it's a struggle."
His issues with drugs and alcohol (back in the day, as he likes to characterize) are well documented.  But blessed with a sound and desire to perform that sound, Thomas has persevered.  Those demons behind him, these days he still enjoys giving people what they come to hear.  His ability to sound true to his legend…remarkable!  Belting out one hit after another Saturday, someone yelled during a break between songs, "Don't you ever quit?"
"What would I do?"  Thomas asked, directing his answer to the crowd.  It drew a warm and supportive response of applause.
"I'm gonna' do it 'til I can't do it anymore.  When I'm not pleased with myself and how I sound I'll quit,"  he says.  "I need to do it, because if I don't do it I won't have peace of mind and serenity.  I appreciate what I've done and what I am.  I understand what my place is now, but I still appreciate myself.  I'm proud of what I've done and I think my voice stands up to anyone.  I hate to say that because I don't want to sound pompous…I'm not Elvis or Tony Bennett.  I still get a thrill and payoff when I perform, but I want to make sure I maintain the quality that people expect.  I don't live in the old days anymore, and I don't have any regrets.  I certainly did take it for granted back then when I was younger, but I don't now."
Midway through his performance Saturday lead guitarist Tom Wild swung into the familiar electric sitar intro to Hooked On A Feeling, the signature hit from the early days that instantly brought people to their feet and dancing in the seats.
"That was fun,"  he admitted afterwards.  "I certainly appreciate the career impact of Raindrops (Keep Falling On My Head), and I probably could have lived without it, but I'm glad I didn't have to.  But I love Hooked On A Feeling and that really is my favorite song to perform.  The people who come to see me…that's the song they seem to react to the most."
And fortunate for the 72-year-old who will celebrate a birthday next week, there's never been anyone, then and now, who can perform a signature Thomas song and make it sound like the original, a fact that brings a broad smile when it's brought to his attention.
"It's karma, I guess.  You have to have the gift of the voice, of course.  But when I was younger and playing around a lot of bands I noticed that a lot of the other singers always tried to sound like other people.  Some of them I really admired, but they lost themselves, trying to sound like other singers.  That was the first thing I learned when I was seventeen…don't try to cavort your voice and imitate others.  You have to be yourself."
He sang the old Hank Williams standard I'm So Lonesome I Could Die at the end of his performance, one of his very first recordings in the 60s, a soulsome rendition with every one of his trademark articulations.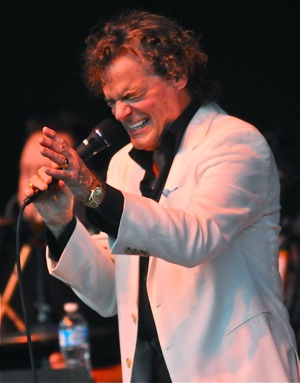 He sang, a cappela, the old gospel favorite Peace In The Valley.
He sang the raucous Jackie Wilson hit from the 60s, Higher And Higher.
He nailed them all with the familiar Thomas range and perfect intonation.  At 72 he would still ace "American Idol", while admitting that he seldom rehearses or vocalizes at home. "If I've been off a couple of weeks I'll grab my guitar and sing "I'm So Lonesome" for a couple of days before I go out again,"  he says.  "But I don't do what the opera singers do."
Yet, B.J. Thomas speaks of his life and times with humility and the appreciative respect for those who rose in unison to applaud as he left the stage Saturday night, proud of his journey, and thankful to still be relevant.  Inimitable, he is the gracious icon.
A patron from Centerville clutched a copy of the "Greatest Hits" CD as she waited outside the pavilion for a hoped-for autograph before heading home.
"His music reminds me of the best years of my life,"  she cooed.
Still…hooked on the feeling.