They did it with a back-up quarterback and the nicks, knocks, bruises, soreness and stiffness that comes with 15 weeks working in the NFL.  But they did it – the Bengals clinched the playoffs for the fifth straight year.
CINCINNATI — Give them this. No one is crowing or pounding their chest. Nobody is bouncing around bragging about what's been achieved or how good they are.
On Sunday, the Bengals went to town on the San Francisco 49ers, beat them 24-14 and pitched a shutout until they were well into the third quarter, and—yes—when they seemed to ease off on the throttle just enough to let this sad sack bunch slip back into the game.
With the win, their record is 11-3 and they clinched a playoff berth for the fifth straight year, sixth in the last seven. Were it not for Pittsburgh's 37-24 comeback win over Denver (at one point the Steelers trailed, 20-7) they would have claimed the AFC North title.
They did it with a back-up quarterback, A.J. McCarron and without Tyler Effort, one of the top red zone threats in the league. They did it with safety George Iloka, riding the bench with an injury; A.J.Green limited by an aching back, and they did it with the nicks, knocks, bruises, soreness and stiffness that comes with 15 weeks working in the NFL—15 weeks of life in an ongoing car wreck.
And, they did it with humility, and a notable acknowledgment that there are holes in their game that must be fixed, repaired or, at the least, improved, to make a long run in the playoffs.
McCarron, the Alabama man who must carry the water until Andy Dalton's right hand heals, said it best.
"We had our good moments and we had some bad moments," he said. "There are things we need to fix. We need to finish better—as a group."
McCarron, who played a controlled, smart game, completing 15 of 21 passes for 192 yards and a touchdown, was not alone in that assessment.
Carlos Dunlap, who absolutely tore it up (a stripped fumble recovery and a blocked field goal) was right there with him.
"Obviously, we put a lot of the load on our defense (today) because of the situation we were in on offense with our quarterback," Dunlap said. "We wanted to keep the points down…
"We did that. You look up at that scoreboard in the third quarter and see the zero (24-0, following Mike Nugent's 22-yard field goal at 8:40) and you want to keep that, run it out. But then some things happen that gave them good field position and they get a couple of scores…Shouldn't be. Still, we did a pretty good job, but it needs to be better."
Granted, the Niners are a mess. But the Bengals forced four turnovers: Dunlap's fumble recovery, and interceptions by Adam Jones, Vontaze Burfict and Shawn Williams. They recorded three sacks, two by Gino Atkins and another by Domata Peko.
In third down situations, the Niners converted two of 14 attempts. They were forced to punt seven times. Until the Bengals showed signs of that  slight letdown, San Francisco's longest drive was five plays for 24 yards.
"Any time you've got a defense like we have and you don't commit turnovers, you got a pretty good chance of winning," McCarron said. "That's the way we played it."
And that's the way they will play it until Dalton returns, if he does, and there is no assurance that he will. The defense will lead the way and the offense will take what it can, when it can, trusting McCarron's heady play to improve with each practice and each start.
McCarron isn't the immediate concern. (He can flat throw. He completed passes of 47 yards to Marvin Jones, 37 yards to Green and 20-yards for a touchdown to Tyler Kroft.) The concern is the running game. They cannot run the ball worth a lick.
Sunday they ran the ball 36 times for 68 yards an average of 1.9 yards per play. Jeremy Hill carried the ball 19 times for 31 yards. Gio Bernard got it 14 times for 33 yards.
Hill did score the Bengals first two touchdowns, both from the 1-yard line, but it was his fumble in the third that gave the Niners the ball on the Bengals 46 and led to their first score.
This trouble with running the ball is not new. Last week in the loss to the Steelers they managed 64 yards, but that was different circumstances. They had fallen behind early and were playing catch-up ball all afternoon.
Sunday Hill couldn't make headway between the tackles and while Bernard is genuinely and potentially more productive, the tandem just isn't working, and that's a fact that doesn't mix well with the overall situation on offense.
For McCarron to work against a top-notch defense, he has to be supported by a solid running game and given more protection. Sunday he was sacked four times for 18 yards. Otherwise, you are hanging the Alabama boy out to dry.
No one on the coaching staff is pointing fingers, not publicly—not yet. But you can bet it will be high on the agenda during Monday's meetings at Paul Brown Stadium.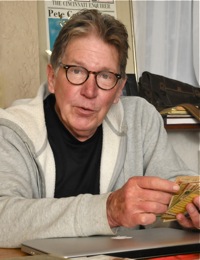 At this point in the season, the irony is that coach Marvin Lewis was saying the same thing he always says, that thing where he sighs and somberly says, "We've got work to do."
He was doing that again Sunday. He'll probably trot that out no matter what happens down the stretch.
"We've got to keep going," he said. "We have to be more consistent…throughout, all parts of the game."
Thing is, he's right. He's been right from the start, and now—with perhaps the most important game of the season coming up Monday night at Denver—the issues are more complicated and there are no easy answers.