Promoter Jody Witsky of Mount Vernon has had success with outdoor sportsman shows in northeast Ohio and Fort Wayne. Now he's going to try to crack the Dayton nut in March, 2013.
I wasn't sure what to think.
When I received an email from a friend a few weeks ago, telling me someone is planning to promote an outdoor show for Dayton next year, I had to sit back and take a second look.
But that's what he said – a Dayton outdoor sports show in 2013.
So I checked it out.
The guy's name is Jody Witsky of JW Promotions. He's experienced, having put on shows in northeast Ohio, and more recently Fort Wayne during the past 12 years.
Hmmm. Sounds interesting.
But putting on such a show in Dayton isn't exactly the same as putting one on in Dalton, Ohio.
It's not that I doubt Mr. Witsky. Heck, I haven't seen him in action yet. So I am not ready to judge.
What I do doubt is Dayton. Can Dayton support any kind of show? Has the economy recovered enough to bring people out on a March (8-10) weekend? And let's face it, the Dayton Airport Expo Center (100,000 square feet) is a huge facility. Having it only half full of vendors won't work.
So I had lunch with Witsky and we talked Dayton outdoor show – past and future.
Naturally, my first question was: with two shows failing to sell enough space and unable to open the past two years, what makes you think you can be successful?
"Our reputation with the vendors that follow us and the speakers we will bring in will make it a good show," Witsky said. "We put a lot of emphasis on the first year of any show to get it built up. For example, we'll do a ton of advertising."
Witsky's philosophy is to offer a variety of attractions – hunting, fishing, boating, kayaking, archery and more. He'll bring in boat dealers and RV dealers with plenty of vendors selling accessories, travel destinations, charter boats and fishing tackle.
It sounds good. And having met with Witsky I am impressed with his determination.
I just hope he's not like the guys who announced they would have Dayton shows only to put a half-hearted try into selling them and eventually pulling the plug on them before the doors could open in 2011 and 2012.
If you have any suggestions for Witsky or would like to reserve booth space, he can be contacted by email at info@OhioSportsmanShow.com or jodywitsky@earthlink.net.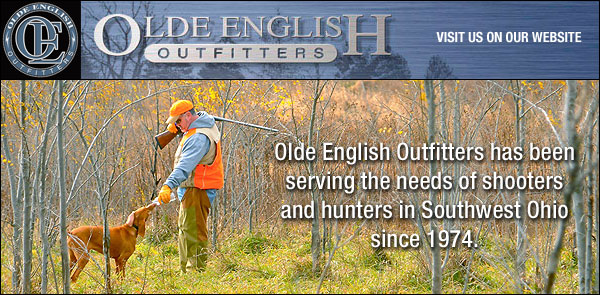 Our comprehensive selection includes over 1500 guns, a full line archery "Pro Shop", shooting & hunting clothing, boots, ammunition, reloading equipment, gun cases, holsters and a multitude of other shooting & hunting accessories.
Olde English Outfitters meets the needs of serious sportsmen and casual enthusiast alike. This is truly a store for all your shooting and hunting needs.
Open this year's hunting season with a trip to Olde English, proud to sponsor outdoors columnist Jim Morris on Press Pros Magazine.com!