The system by which the All-Star team is selected clearly doesn't work…if the idea is to bring the players who give the respective leagues the best chance to win.  And if you think it doesn't matter, consider what's at stake.

It is time to reshuffle the deck and come up with a new deal — with no dealing from the bottom, no stacked deck and no marked cards. Or is that Cards, with a capital 'C,' as in Cardinals.
And Tony LaRussa can be standing at the table, wearing an eye shade and arm bands, dealing the cards.  When one man, that man being LaRussa, can hold the All-Star life of two players in his sweaty palms, it is time to change the system.
The All-Star team is supposed to be a carrot on a stick, something dangled in front of players to push them toward being the best they can be.
And in some cases, such as Cincinnati Reds pitcher Johnny Cueto, the carrots can be carats — a bonus clause in his contract that pays him extra if he makes the All-Star team.
Tony LaRussa doesn't manage any more. He retired after last season, retired on top of the mound with an incredible and unimaginable World Series win for the St. Louis Cardinals.
They came from way, way back in the National League Central to take second place and capture the National League Wild Card. Then they breezed through the playoffs and won the World Series.
It was a feather as big as any ever worn by a Native American chief for LaRussa, a way to bow out as a legend, which he is.
As such, even though he is retired, LaRussa comes back to manager that National League All-Star game, because the pennant-winning managers in each league are afforded those honors.
Why? Why should he do that? He is retired. He is no longer managing. It is assumed, because he is a baseball nut and still works for Major League baseball, that he keeps up with the game. But do we know that? Do we know that he has followed what Johnny Cueto and Brandon Phillips have done this season.
We must assume that he has, which indicts him even more for not adding Cueto and Phillips to the National League roster.
There are others who were ignored — snubbed is the word of the day — pitchers like LA's Chris Capuano and Milwaukee's Zack Greinke. But there no odor attached to those snubs.
With Cueto and Phillips, it stinks to high heaven and smacks of vindictiveness on LaRussa's part.
As we all know, as the entire baseball world knows, it was Phillips (the antagonist with words) and Cueto (a protagonist with his kicking feet) who were the two main characters in the 2010 street riot on the Great American Ball Park involving LaRussa's Cardinals and Dusty Baker's Cincinnati Reds.
So how bad does it look when LaRussa ignores baseball's best defensive second baseman and one of the best overall second baseman and when he ignores one of baseball's best pitchers over the last two seasons?
Bad indeed. And it isn't the bad associated with a Hothead burrito — the bad meaning good in that case. This bad is the original meaning of the word. Bad, b-a-d.
LaRussa tried to cover his tracks by saying Cueto would have made it if he weren't scheduled to pitch Sunday in San Diego, meaning he couldn't pitch in the All-Star game Tuesday in Kansas City. And he even aimed a barb at Baker by saying, "If Dusty Baker was so set on Cueto pitching in the All-Star game then he wouldn't pitch him on Sunday."
Typical condescending words from LaRussa, who treats some members of the media as if are babbling idiots (well, not all of us are).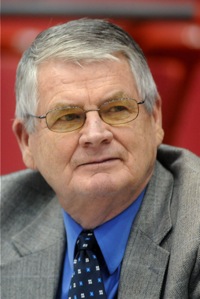 By uttering those words, LaRussa indicted himself. When the last basic agreement was signed, it stipulated that no pitcher should be left off the All-Star team because he pitched the Sunday before the game. He should still make the team and be part of the festivities. The manager (LaRussa) could replace with another pitcher on the roster who can pitch, but the other pitcher (Cueto in this case) still would be considered an All-Star and be at the game.
What makes this even worse is that the All-Star game does mean something — the winning league gets home field advantage in the World Series (games 1,2,6,7).
So it behooves a manager to try to win the game for the good of his league. In this case, the National League team is less powerful without Cueto and Phillips.
After some All-Stars were picked by the fans, managers, coaches and players, LaRussa got to pick nine more players for his team.
Did he pick Cueto or Phillips? No, instead he really slapped them in the face by picking teammate/outfielder Jay Bruce. Bruce is having a decent power year with homers and RBIs, but he is not having the year Phillips is having, especially with his daily WebGems at second base.
There are those who argue that there are several second basemen with better offensive numbers than Phillips. And they'd be right. But nobody can lift his glove.
If only offense was to be considered, LaRussa can look at a former St. Louis Cardinal Ozzie Smith. He made the All-Star team 15 times and not one time was he told not to forget his bat. He was told, "Don't leave the glove at home." Most years, Smith couldn't batter his way out of a dark closet with Paul Bunyan's axe.
The Reds do have three All-Stars — first baseman Joey Votto was voted on by the fans, pitcher Aroldis Chapman was voted on by the players and Bruce was added by LaRussa.
Some Cincinnati fans think those three players should cover their snubbed teammates' backs. They think maybe Votto, Chapman and Bruce should boycott the game, cross their arms and say, "Hell, no, we won't go."
While it is a nice militant thought, there is no reason for those three to punish themselves for something LaRussa did.
Maybe they can surrepticiously wear 47 and 4 somewhere on their uniforms, the numbers worn by Cueto and Phillips.
Or they can just strike LaRussa off their Christmas card list.

Hal McCoy's coverage of the Reds on Press Pros is proudly sponsored by the Buckeye Insurance Group, insuring the heartland for 130 years.