The high school phenom was once well-known for his disdain for writers and for being his own man when he came to the major leagues.  The "odyssey" about Reds starter Homer Bailey?  The journey his personality has taken along with his status as one of the league's top young pitchers.
CINCINNATI — Homer Bailey wasn't the most likeable guy ever to put on a major league baseball uniform when he walked into the Cincinnati Reds clubhouse for the first time in 2007.
In fact, he was rude, condescending and cantankerous — and remained that way for a couple of years.
Then, as if somebody slipped 'Get Nice' powder into his Gatorade, Bailey did a '180' and today is one of the most cooperative and fun guys with whom to talk — and not just about baseball.
He is a voracious reader, a country music lover, a horseman, a hunter and, oh yeah, a doggone good baseball pitcher.
For two years Bailey barely spoke to me, walked past without so much as a 'hi.' Then, on the first day of spring training in 2009, I was walking from the parking lot to the front door of the complex when somebody behind me said, "Hey, Hal, how are you doing?"
I turned around and saw only one person. Bailey was climbing down from his white pickup truck with monster tires. It couldn't be him speaking to me, could it? It was. The transformation had begun.
And there is total transformation now. Here was Homer Bailey on the morning of the day he pitched against the Pittsburgh Pirates.
On the day they are scheduled to work, some starting pitchers retreat into their inner self, turn their back on the world, cover their ears with headsets and turn the back on their teammates and stare into their dressing stall wall.
If you say hello, they look at you as if you've just lifted their wallet, watch and Mercedes.
When John Smiley pitched for the Reds, nobody could talk to him for two days prior to taking the mound.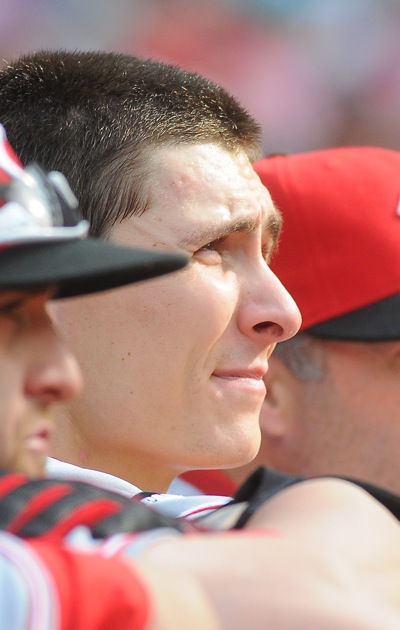 Homer Bailey is not cut from the same bolt of flannel. He chatters like a parrot on caffeine.
Early Thursday morning, just two hours before his start against the Pittsburgh Pirates, he sat, face out and no headphones, talking to whomever might listen.
"There are two things that are very good about (clubhouse manager) Rick Stowe," he said. "He furnishes us with big Styrofoam cups and his coffee is great."
The Texas native is, of course, partial to cowboy boots and wears one pair nearly every day. He has another light tan colored boots and said, "I don't really like these, but I wear 'em for road trips. I just wear 'em for dress, like for weddings and funerals. Of course, wedding and funerals are the same thing," he added with a laugh.
During his previous start, a 6-0 loss to Milwaukee, Bailey gave up a home run and said, "My first home run of the year at home. I'm sure it won't be the last, though. How do I know. That time of year — hot and humid. When I hit one into the upper deck in batting practice it is time to get concerned."
And he did give up a home run, but he left after six innings with a 2-2 that the Reds' bullpen coughed up in the seventh inning.
What people forget is that Bailey was drafted No. 1 in 2004 out of high school in a small Texas town, LaGrange, and was only 20 years old when he arrived in Cincinnati.
A writer told him Wednesday, a day before he was to face the Pittsburgh Pirates, "I'm going to be frank with you, I didn't much like you when you first came up."
Bailey smiled and said, "That's OK, I don't blame you. And I didn't much like you guys, either."
While some people credit maturation with Bailey's personality makeover, Bailey shakes his head and says, "Nobody talked to me about it. When I first got here it was culture shock."
He looked up from his dressing cubicle and began counting: "Ten," he said. "There are 10 media people in the pre-game clubhouse. And after games you get four or five cameras shoved in your face."
It took adjustments, a lot of adjustments, for a kid who experienced nothing but unadulterated success in high school — 41-4 record, 0.98 earned run average, 536 strikeouts in 298 innings. And after he led LaGrange to the Texas High School championship in 2004 as a senior, he was named National High School Player of the Year.
Heady stuff, very heady.
"I don't like people who ask stupid questions or think that their opinions should matter," he said with a laugh. "I'm very much an independent person. Most of the time when I first came up it was spring training.
"And all these media people surrounded me and I wondered, 'Why are you asking me these questions? I didn't do anything. Why? What did I do?' I was always asked things about stuff I had no control over."
So when he arrived in Cincinnati, that independence and high school success worked against him. He knew it all. Nobody could teach or tell him anything. But he gradually began accepting suggestions and coaching and critiques.
And he has improved yearly and at age 25 last season he pitched a no-hitter against the Pirates.
His appearance Thursday will be in the early afternoon, something he doesn't like. But he does like heat and high humidity, "Texas weather. I like to sweat." And he does that profusely. By the second innjng his uniform top looks as if it has been used all day as a towel in busy car wash.
"I don't really like pitching in day games because most of our games are night games," he said. "So for day games you have to change your routine, you get used to a certain routine. Then, boom, they throw a wrench at you with a day game. You get up way earlier than you are used to doing. You can't eat your four to six eggs for breakfast. Can't do that before you pitch at 1 o'clock. It just won't be pretty."
But Bailey says it doesn't matter, day or night, about his body reacts to pitching six or seven innings. "I weighed myself once before a game this year and I was 229. After the game I was 221. But it's all water and I put it right back on."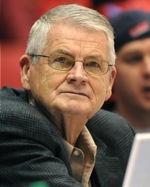 Even though his personality is emerging, Bailey still likes being The Mystery Man.
He loves country singer Dwight Yoakam and says, "I swear to you, my earlier memory is being in my crib hearing Dwight Yoakam sing. He is still my favorite. I never met him until this year. My mom had a couple of his old vinyl albums (the 33 1/3 RMP records and I took them with me and he signed them.
"I team row. I take a lot of pride in my horsemanship. I read books about a lot of different things. I do a lot of things that people don't know about," he said. "If you keep 'em fooled, that's good. If  they expect down here (holding his hand close to the floor) and if you give them just a little more it's, 'Hey, good job.' If they expect this (hands held up to his head) then if you don't reach it you're a failure."
Bailey kids about staying at low expectations, but expectations always have been high for the 6-4, 230-pound right-hander and he is fulfilling them.